Animals love the Story Massage Programme too! We've been hearing from people enjoying Story Massage with pets of all shapes and sizes. Read on to find out how 9 year old Sienna helps calm her rabbit, Daisy, with gentle massage strokes and story.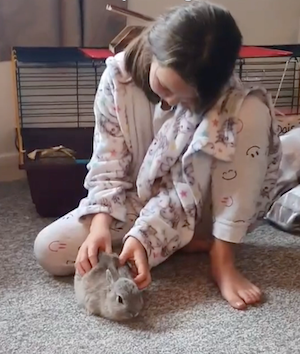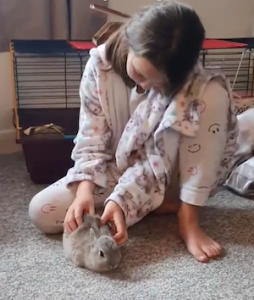 Sienna is in Primary 6 at Thorntree School in Glasgow where the Story Massage Programme is very popular with pupils and staff. Sienna's Mum, Pamela, works at the school and has seen the benefits for the children, including reducing aggressive and hyperactive behaviour. But she was totally surprised when she saw the same calming effect on Daisy, the rabbit.
Story Massage with Pets
"Daisy was being very hyper coming up to bedtime," says Pamela, "So Sienna decided to give her some Story Massage. She loves Story Massage and knows it helps her to feel calm in body and mind, so she thought it would work for Daisy too. And it was really amazing how Daisy totally relaxed. I still can't quite believe the impact of Story Massage with pets!
This video was taken by Pamela. (The sound was turned down but you can get the feel of the story with the massage strokes.)
 Hello Little Daisy
And here are the words of Sienna's massage story:
Hello Little Daisy (The Calm)
I know you're feeling hyper (The Sprinkle)
Its time to calm down and relax (The Wave)
It's nearly your bedtime (The Squeeze)
So here are some cuddles for you to relax. (The Calm)
More about the Story Massage Programme
Has Sienna inspired you to share Story Massage with pets? You can find out more about the Story Massage Programme and training and resources here: The Story Massage Programme