We love to share ways in which others are using Story Massage at home or in their work – or even on their holidays! When Sarah Williams planned her two-week holiday to Cape Town she was determined to use it as an opportunity to do something positive. So as well as exploring the sights, she decided to look at ways of making a difference, however small, to the lives of people surviving in such hardship in the townships. And she believed that the benefits of positive touch through Story Massage was a good place to begin so she approached The Earthchild Project.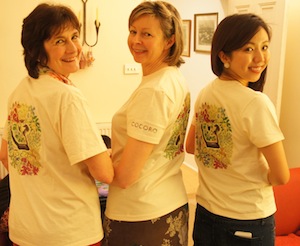 ---
Here is Sarah's story:
The feedback from people who have visited South Africa is always so affirming, especially regarding the quality of lifestyle and particularly the outdoor life due to the warm, sunny climate.  What most people also know about South Africa is the less attractive side, that of people living in a real state of poverty.   What struck me the most and really surprised me was the volume and vastness of the townships which can be seen within just a few miles of the most opulent areas of the city. (Photos kindly taken by Nigel Millett)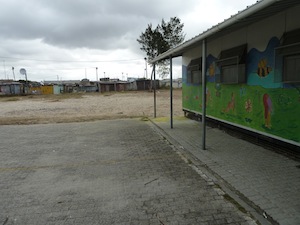 If you imagine an allotment dotted with various tiny sheds and structures, this is sort of what a township resembles, but the difference in the townships is there are no spaces between the crudely built structures and certainly no green areas where fresh vegetables can be grown and tenderly cared for.  People living in townships may not be homeless, true, they have somewhere to shelter, but it isn't just a matter of sheltering – this is home – and life can be very hard as the illustration on the side of this school wall shows.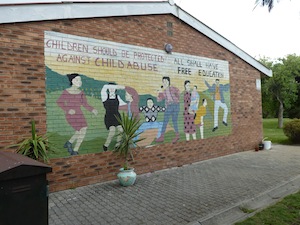 Before this trip most of my travelling experiences were when I was in my 20s and early 30s. Now I'm closer to 50 and believe life experiences have taught me more about compassion, and then there are the role models and mentors that I have been lucky enough to connect with.  For example, I was very touched to hear how Mary Atkinson had used Story Massage in the tsunami disaster stricken area of Japan in 2012 with positive effects for the school children and families in helping them to cope with the trauma of their losses and to give them hope.
---
Story Massage and The Earthchild Project
When I researched the charities working in and around Cape Town one stood out to me more than any other.  The Earthchild Project works directly with schools in the most impoverished areas to teach "practical skills in how to live a holistic, balanced lifestyle with a focus on self-awareness, health and the environment."  They have facilitators working directly in schools providing classes which include yoga, meditation and organic gardening.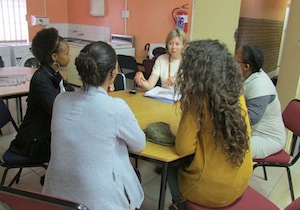 There were great similarities between the work of the Earthchild Project and the ethos of Story Massage that could not be ignored and I could see the potential of making a link between the two.  So this is where it all began.  I sent an email to Janna of the Earthchild Project and arranged to meet Mary Atkinson, co-founder of Story Massage, before I left the UK. I have always been inspired by Mary's work with Story Massage and vulnerable children, and she was a real help to me. This all led onto my being invited by Janna to visit the Sakumlandela School in Khayelitsha, Cape Town where I demonstrated the Smiling Flowers story massage, first to the teachers and facilitators who gave it their approval and then to a class of 9-11 year old school children.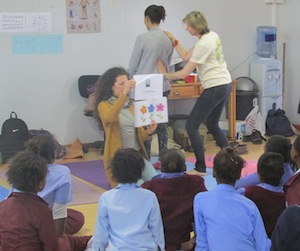 ---
Smiles and Laughter
The concentrated faces of the children as they watched the demonstration soon turned to big smiles and laughter as they joined in and happily participated in delivering the Smiling Flowers story massage to one another.  At the end of the workshop the children were asked if they had enjoyed the new experience and if they thought Story Massage should be included as part of their teaching programme – there was an indisputable thumbs up!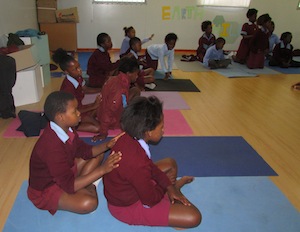 At the end of the workshop the children were told about how Cocoro Charity had used Story Massage to help the children in Japan after the tsunami disaster.  They were told how the red heart is a symbol of hope for them and is a way of showing them that they are not forgotten.  Each child was then given a paper red heart and a photograph was taken of them holding out the hearts to be sent as a message of love and hope to the Japanese children and their families from the children in South Africa.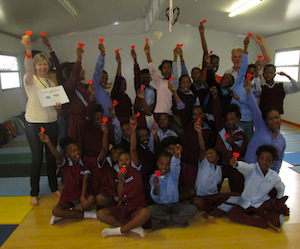 ---
Story Massage Book
We have since heard directly from Janna to say how much the children enjoyed the Story Massage workshop and that they are going to include versions of massage stories into their yoga classes. Indeed, Janna is already recommending the Story Massage Book.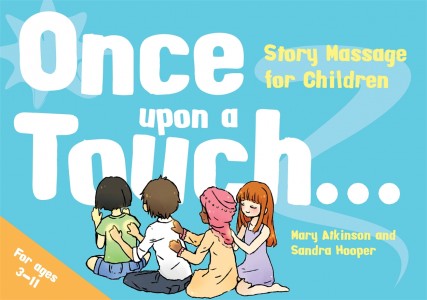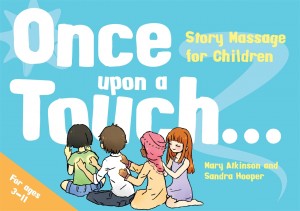 "There is a choice of massage stories for children of all ages in the book.  Story Massage opened up a whole world of possibilities, giving us fun and creative ways to incorporate massage into our existing lesson plans." The Earthchild Project