We are delighted to welcome Jo Grace, founder of The Sensory Projects to our Story Massage Programme blog. Jo writes about the rewards and challenges of taking her training days on tour – whilst also being pregnant! If you are supporting people with profound disabilities, at home or at work, you will find Jo's training days are full of inspiration, ideas and information. Over to Jo…..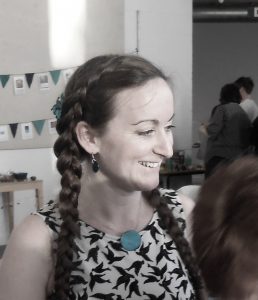 ---
"I am Jo Grace, I run a thing called The Sensory Projects. My working life involves rattling around the country on trains providing staff training to teams who support people with profound disabilities. It is a lot of fun and I constantly have to pinch myself to check whether I am dreaming, can this really be my job?
"Once a year I try to do a different job, I work out how to book venues (there have been some horrendous errors doing this when I first attempted it, including accidentally booking an empty night club – no chairs, no tables, dreadful smell – for a teacher's training day – don't worry I have learned my lesson). I attempt to market tickets. I work out travel arrangements. I do a whole load of stressful things, and the result…
"…well the result is not more money for me. To be very frank with you, in terms of paying my bills and buying food and frocks I make about the same amount of money for a day when I am booked in-house (and someone else deals with everything, I just turn up and have fun) as I do for a day I run myself.
So why do it?
"The answer lies in the content of the days on my tour. This year I am touring five events. These are all suitable for people who support those with profound disabilities or sensory differences. Please click on title of each course, below the poster, for more information.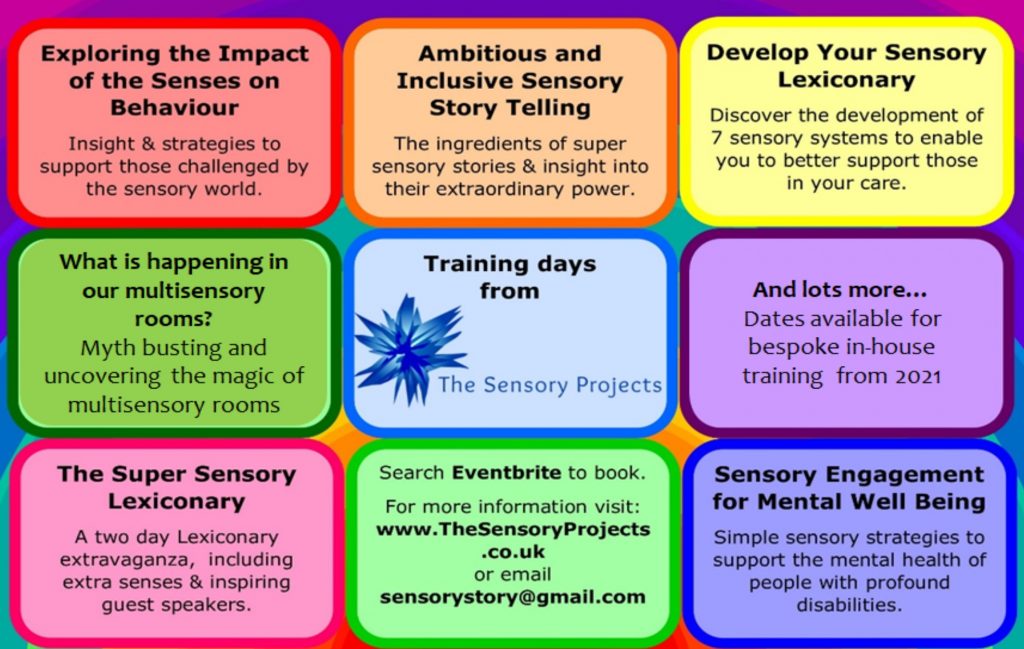 ---
Brighton – 30th April 2020 and Birmingham – 13th May 2020
"People with profound disabilities are at dramatically increased risk of experiencing mental ill health and yet very little is available to those who support them and want to learn more about how to promote their mental health. You will learn simple sensory strategies that people can implement immediately to promote mental health for people with profound disabilities.
When I first created this day, I hoped settings would book it, but at first they didn't. I thought it was an important topic, but it wasn't on the top of other people's lists. I realised the only way it would happen is if I did it myself. It was the first course that I took on tour. Now five years on, it is the day I get booked most to do in-house and I am delighted.  Last year it became CPD accredited via the Goldsmith Centre."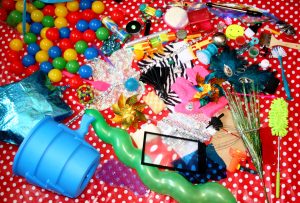 ---
Norwich – 5th June 2020
"The Lexiconary also ran that first year. Again this day was so niche I thought it was either 'do it myself or not at all'. The information, if you work supporting someone with profound disabilities or sensory differences, is like gold dust, and if you do not it is like a very strange episode of QI – perfectly entertaining but puzzling. It has also gained it's CPD accreditation.
The day teaches delegates the development of seven sensory systems and shows them how to apply this knowledge to promoting cognition, communication, engagement and wellbeing for people with profound disabilities. It was so successful that the next year I ran a bumper edition over two days with guest speakers and extra senses covered….
…this two day event is called: The Super Sensory Lexiconary 
Birmingham – 14th and 15th May 2020
This is my favourite two days of the year (last year I organised it for my birthday because of this!). This year one of the guest speaker's on the Super Lex will be Mary Atkinson, co-founder of the Story Massage Programme, and I cannot wait to sit at the back and listen to her wisdom. I actually enjoy eavesdropping a lot during my courses as the people who attend are always full of insight. I learn as much as I teach, if not more.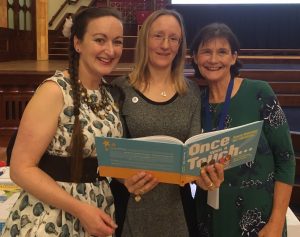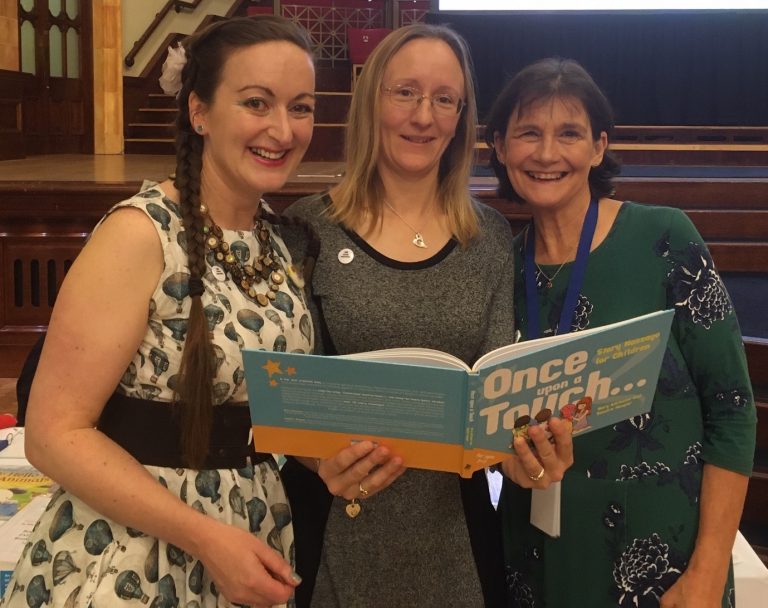 ---
Brighton – 29th April 2020 and Sheffield – 12th June 2020
This courses this does exactly what it says on the tin (I get a lot of emails asking me what Lexiconary means!). You will learn sensory strategies to support, and communicate with someone who expresses their difficulties with the sensory world through their behaviour. You will discover how the senses and sensory responses can alter a person's emotional state and ability to respond to typical behavioural management techniques.
---
Sheffield – 11th June 2020
This is a new course for 2020. It is the result of two years of exploring current research and practice in multisensory rooms and multisensory environments. It promises to be a myth-busting reflective adventure. Perfect for anyone looking to maximise the potential of their multisensory room. You can read a review of the book by Mary Atkinson, co-founder of the Story Massage Programme here: Multiple Multisensory Rooms.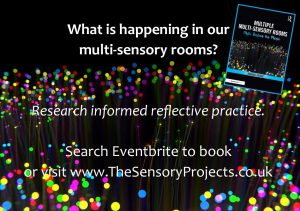 ---
(This was in March 2020 but is still available as an in-house training day.)
This day is designed to show you how to extend the impact of your sensory stories. It is suitable for everyone wanting to develop their sensory storytelling practice, including those who have never used a sensory story before and those who have years of experience of using sensory stories – but still want to learn more and do more!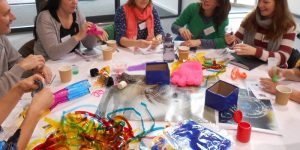 ---
Join Jo on Tour
"This year will be my fifth year of touring, most of the early kinks have been ironed out. (I promise there will be tables and chairs and you won't be sat in a stinky nightclub in the daytime). I have some lovely venues, including one in Brighton a stone's throw from the beach, and a retreat centre on the outskirts of Birmingham that is so peaceful you'll feel restored just by being there.  I've worked out where to get great food and I have so many colours of tea, choosing will take you the whole of your break. You should leave stuffed with knowledge and snacks.
"At the time of writing I am 5 months pregnant, so by the end of the tour I should be waddling and you may need to haul me up out of my chair, but we will have loads of fun. I look forward to welcoming you if you are able to attend!"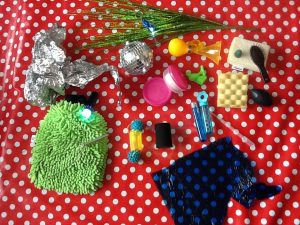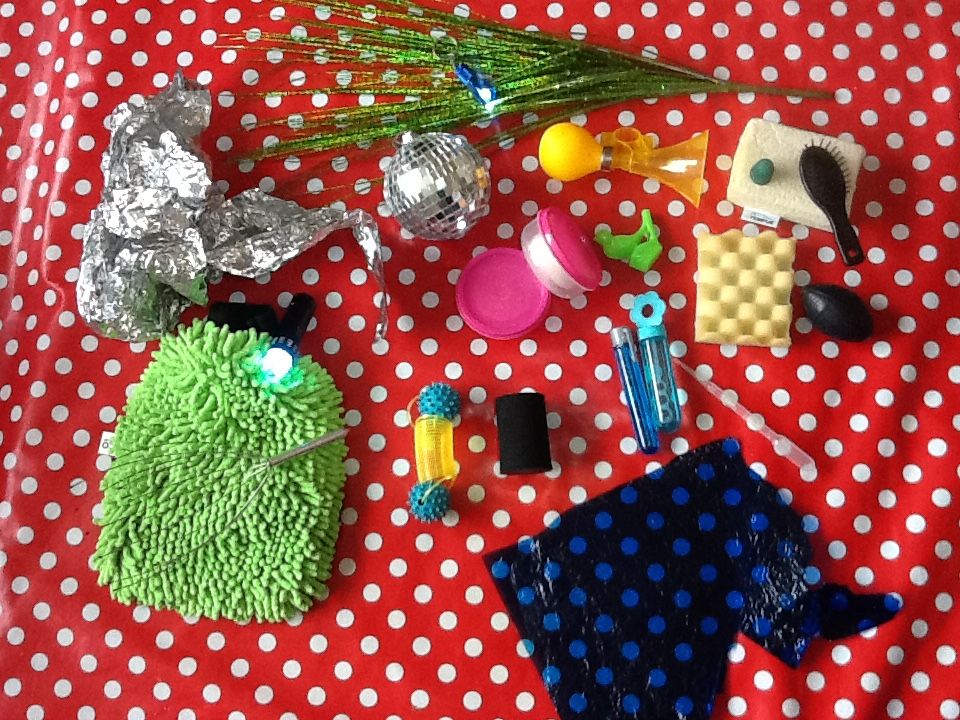 ---
How to Book your Place
For more information about any of these events do get in touch sensorystory@gmail.com
Early bird tickets and discounted tickets for students, carers, and groups of three are available.
Booking is via Eventbrite.