The Story Massage Programme has helped children from the Chernobyl disaster with well-being and bonding with host families. The session was part of a programme of events and activities for children for 12 children, all aged around 10 years old, and their host families organised by the Portsmouth and Hayling Island link to the Chernobyl Children's Lifeline. This is a national charity set up in 1992, to raise money and support children of Belarus and Ukraine, whose lives will be forever affected by the aftermath of the Chernobyl nuclear disaster in 1986.
---
Making a Difference
The charity arranges for children to have a four week recuperative break in Great Britain, away from contaminated food, water and air with the aim of boosting and recharging their depleted immune systems to make a real difference to their health and well being. During their stay all of the children receive medical attention such as dental care and eye tests. It is a once-in-a-lifetime chance for them to meet with others, to see new sights and enjoy uplifting experiences. Most importantly, it shows that others around the world care about them.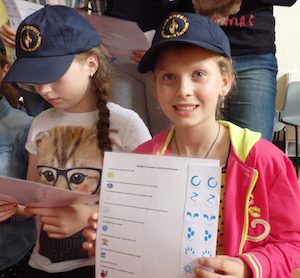 ---
Welcome to England Massage Story
This is the second year that we have been invited to run a Story Massage session for the children and host families. The first session proved so successful in helping the children to bond with each other and settle into a new country that they asked us back again. This time we wrote and illustrated a story massage entitled 'Welcome to England' especially for the children. The story was translated into Ukrainian and then laminated to create an A4 sized story massage book. Each of the 12 children were also given a small version of the book to take home.
---
Positive Feedback from Children and Adults
We had originally planned the session as a children's peer massage activity but, with everyone's permission, we soon found that the young at heart were joining in too – and having great fun! It became a very happy and supportive team effort with all ages following the story massage moves on each other's back through clothes. The image of children waving flags, for example, was depicted by a zigzag movement made with one hand across the back.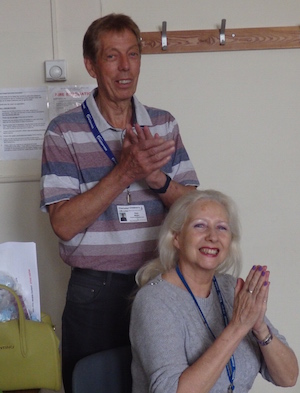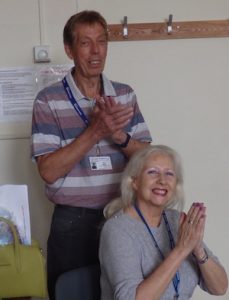 Feedback from both adults and children was really positive on many different levels. The children said they had really enjoyed it and felt warm and relaxed. We hope they will take Story Massage home to share with their families and friends back in the Ukraine.
---
Story Massage for Children Training
If you would like to use the Story Massage programme at home or work then you will love our flexible online course. All the information is here: Online Training Course.
You will learn how to share the ten Story Massage strokes, adapt familiar stories and even create some sensory stories of your own. Ideal for well-being coaches, therapists, parents, teachers, SEN staff, support staff, Early Years practitioners, those working with people with additional needs, everyone with an interest in sharing positive touch activities with adults or children.