We're celebrating the popular World Nursery Rhyme Week (7th -11th November 2016) by creating Story Massage activities from five different nursery rhymes. We will be sharing one every day this week. Today's choice is Hey Diddle Diddle.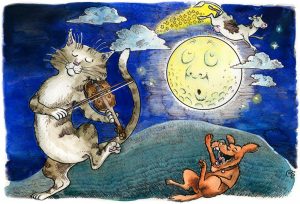 ---
Creating Hey Diddle Diddle as a Story Massage
We worked with staff from Stoke-on-Trent Libraries and Ysgol Pen Coch, a special school in Wales, to link the words of nursery rhymes to our Story Massage strokes. Everyone was very excited about sharing the rhymes with children at home and at work as part of World Nursery Rhyme Week 2016.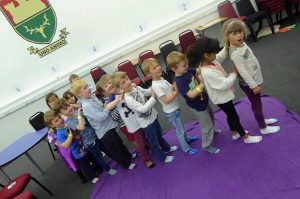 Janet, a librarian, and Sharon, a teaching assistant, opted to work with Hey Diddle Diddle.  They practiced to find the strokes which best illustrated the words of the nursery rhyme. Then they had fun choosing the stickers to indicate which strokes to use which each line.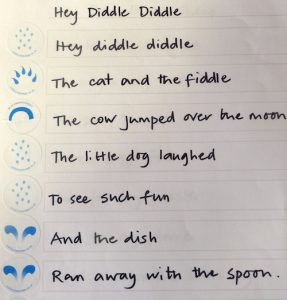 ---
Demonstrating Story Massage
And now you can see Lynne. a teacher, and Natalie, a teaching assistant, demonstrating the story massage. Look how the simple strokes illustrate the words of Hey Diddle Diddle.
"Story Massage is simple and fun. We immediately applied it in the classroom with the pupils. My own daughter loves it too. Lots of lovely ideas and fun to be had!" Lynne Harkin, Teacher, Ysgol Pen Coch
---
More about Story Massage
Ten massage strokes form the basis of Story Massage. These strokes have a simple, such as The Wave or The Bounce, and an easy to recognise symbol making it accessible for all ages and abilities. Our Story Massage book, which contains instructions with illustrations for the strokes and over 25 massage stories and nursery rhymes, is available from the resources page of our website. Story Massage Book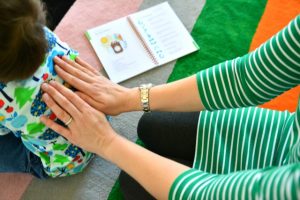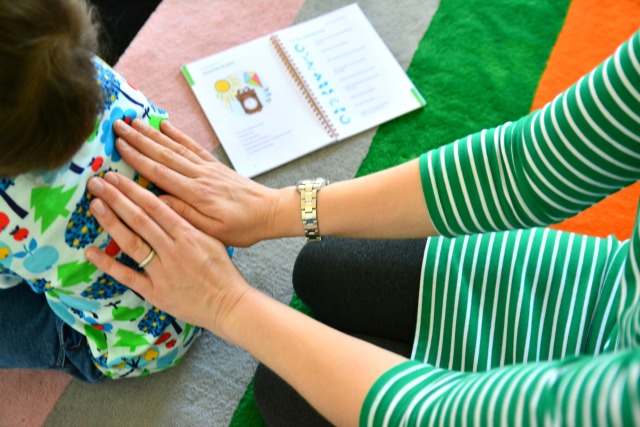 If you would like to introduce Story Massage in your home or work, then we hold a one day training course that is held around the country for individuals and groups. On these days we teach the Story Massage strokes and then work with you to adapt familiar stories and even create some sensory stories of your own. This will help build your confidence with using story massage in the way that most suits you – at work or at home. Story Massage Training
"I always say to the people that there is no right or wrong way to sing a song or nursery rhyme. We just give ideas and hope that you will join in and adapt the way that is best for you. And that's what I love about story massage. There is no right or wrong stroke to use to interpret a story or song. Individuals can use their own creativity. And this is explored to the full on a training day. " Abi Cotton, Owner of Piccolo Music and Story Massage Instructor.
---
More about World Nursery Rhyme Week
World Nursery Rhyme Week is a free initiative sponsored by Music Bugs (sensory music classes for children) and supported by music downloads and worksheets from Piccolo Music. The aim is to promote the important role that nursery rhymes play in early childhood by helping children master key skills such as language and communication and social, physical and emotional skills.
To find out more about how you can be involved in World Nursery Rhyme Week please visit the website: World Nursery Rhyme Week