Refresher course for

practitioners
Are you trained in the Story Massage Programme (either online or face-to-face)? Would it be helpful to have a reminder of the different strokes with ideas for objects, actions and emotions they can represent? Would you welcome some updates and new inspiration for massage stories?
Our new refresher course is designed especially for you! And you can complete it at your own pace in any setting – at home or work.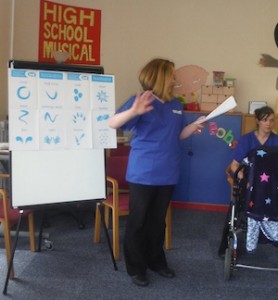 Who can take the

Story Massage Refresher training?
The refresher course is open to anyone who has taken the full Story Massage Programme training with Mary Atkinson and/or Sandra Hooper, either online or face-to-face. When applying for the refresher course we ask for the date that you completed the full course.
Owner of Mini Minds Matter
"I really loved all the updates in this refresher course. The information will help practitioners continue to use and understand the Story Massage Programme approach. I found the section on writing massage stories with the prompts very helpful. I know all Story Massage practitioners will enjoy this refresher course and find it useful and informative."
Mandy Worsley
Personal Assistant and Relax Kids Coach
"I found the downloadable programme very easy to work through, especially with the embedded links to the videos of the programme in action and also follow-along examples. Watching Mary speak to camera and role play with Emmanuel was really good for my confidence. It was nice to have examples of 'what to say' and 'what to do'. This refresher has been very worthwhile, and I'm now feeling much more confident."
Chaslind Stuart
The course costs £40 for individual bookings.
We offer a discount of £5 per course for bookings of 5 or more participants.
You can start at any time to suit you. It takes around 2-3 hours to complete. To gain your CPD certificate, we ask you to name three things you have learnt/re-learnt from the course that will help you share the benefits of the Story Massage Programme with others.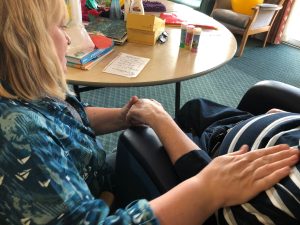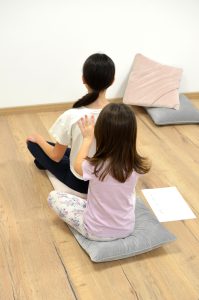 Makaton Tutor and Communication and Well-Being Facilitator
"I absolutely love the Story Massage Programme. The course reminded me of all the many benefits and ways it can be adapted which is helpful when spreading the word. I spent a very inspiring time watching the videos and reading articles on the blog, something that I hadn't regularly accessed but plan to do so from now on."
Karen Harvey
Teacher at a Special Needs School (working with PMLD students)
"It's a lovely course. It's a simple and comprehensive way to refresh previously learnt knowledge. I found it very helpful to watch the videos and see the programme in action in so many different settings. If I could recommend one course for those working with PMLD students, it would be the Story Massage Programme."
Clare Perry
Student Mentor and Coach at the Open University
"I enjoyed going through the manual and videos including the demonstration of the strokes. It was genuinely good as a refresher to update skills and knowledge and have ideas to tweak my practice following the training. Everything is very clear and easy to follow. I am excited about trying new skills, including hand massage, with my students. And the course has also reminded me of the importance of taking time to gain consent and saying or signing 'thank you' to the person being massaged at the end of the massage."
Emma Vance
What does the course

cover?
The course booklet and supporting documents will take you through a step-by-step revision and includes videos to watch, blogs to read, and massage stories and prompts, to help you reinforce and expand the work you are already doing. There are five sections:
Introduction to the Story Massage Programme
The Ten Basic Strokes
Story Massage Strokes in Action
Story Massage Strokes on Different Parts of the Body
Suggested Guidelines
Choosing and Writing a Massage Story
Benefits of the Story Massage Programme
Ongoing Support
Gaining your CPD Certificate
Please email
info@storymassage.co.uk
for an invoice.
Once payment is made, we email your course booklet with supporting documents.