Many congratulations to Story Massage Practitioners brining fun and wellbeing to so many individuals. What an inspiration you are! Here is a brief look at just some of many ways that the Story Massage Programme is bringing benefits within a whole range of settings.
---
Babies and Pre-School Children
Gemma Brown
Gemma is a self-employed Infant Massage Instructor and Massage in Schools Instructor at Me and My WellBeing in Sileby, Leicestershire. Gemma uses the Story Massage Programme as a successful follow-on from Infant Massage classes. She also runs weekly sessions at a local playgroup where the children have really embraced asking permission, saying thank you and practicing the strokes on each other. Gemma says it can be a bit daunting for young children at first so it is important to let them know it's okay if they don't want a massage, there are plenty of other ways they can join in.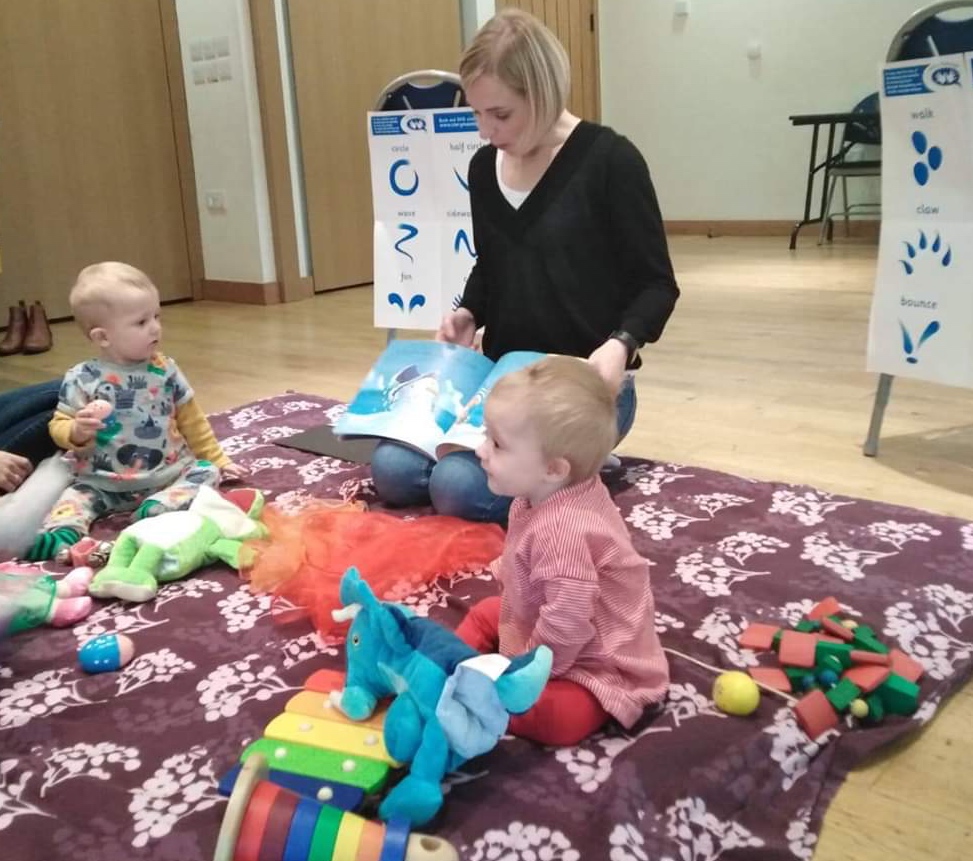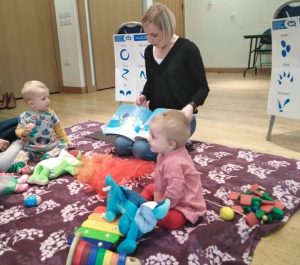 ---
Anne Schuetz
Anne is a self-employed Massage Therapist at Massage for You and Your Child with a special interest in family treatments, workshops and baby massage and yoga classes. Anne set up a weekly Story Massage group in a local independent bookshop in Bedford. She adapts well known picture book stories and nursery rhymes for these sessions.  Anne encourages the children to learn the Story Massage strokes by massaging a cuddly toy and then progress to massaging their parents.  She has noticed how they grow in confidence and concentration with weekly sessions. Anne says it is so special to see young children sharing affection through gentle touch.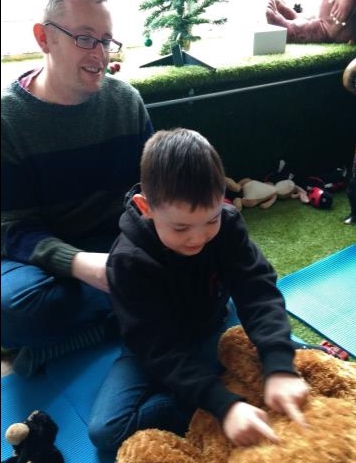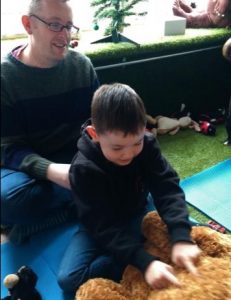 ---
Primary School Pupils
Lizi Atkinson
Lizi is a SENCO Assistant at St Luke's Primary School in Brighton where the Story Massage Programme is enjoyed in class sessions and end of term assemblies. Lizi uses it within her small social skills groups and when working one-to-one with children with autism and cerebral palsy. She encourages the children to create their own massage stories, either as a group or individual activity. One girl with autism and learning difficulties was nervous about transition to secondary school. She asked Lizi to help her to write a massage story about herself to share with her new key workers as she felt confident to introduce herself in this way. As a result, she quickly settled into the new school.
"The Story Massage Programme helps our pupils to have confidence with body autonomy. They are able to say if they like the massage, if they want a change in pressure and if they want it to stop. They are always certain to make sure that everybody has asked permission!" Lizi Atkinson 
---
Stephanie Lawson
Stephanie is a P 1/2 class teacher and lead for nurture at Glenboig Primary School in North Lankarkshire. She says the children have completely embraced the Story Massage Programme and have requested it as one of their most popular Golden Time activities. They have even written their own school massage story and this is often used at the end of assembly. Stephanie loves the way the programme encourages imagination and creativity and she is building up a bank of the children's massage stories. Another noticeable benefit has been the way it has helped build more positive and healthy relationships between pupils.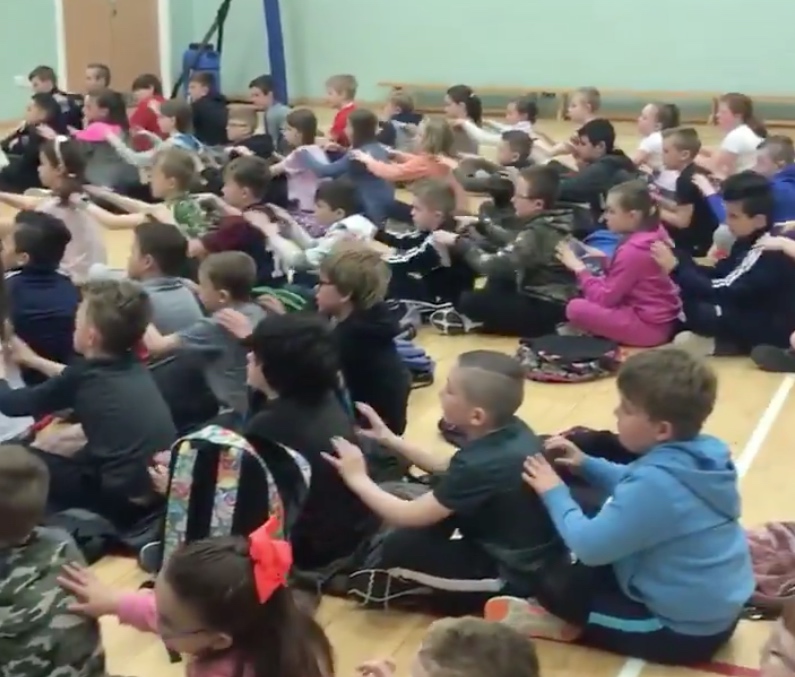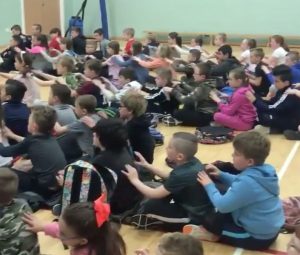 ---
Louise Roberts
Louise is a Higher Level Teaching Assistant at Hywel Dda Primary School, Ely, in Cardiff. She uses the Story Massage Programme as a calming activity at the end of Health and Wellbeing lessons – from nursery to Year 6. Louise says that children with learning and/or speech difficulties are able to join in as equals as it doesn't matter if they don't get it quite right. The children are very keen to have copies of the massage stories to practice at home and this family link helps promote wellbeing and strengthens the learning partnership between home and school.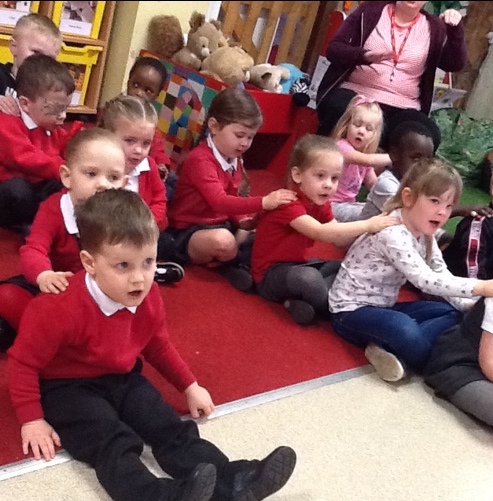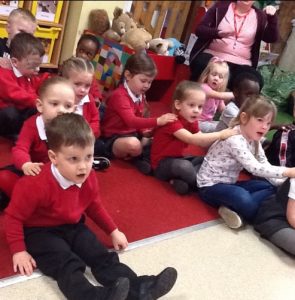 ---
Relax Kids Sessions
Kirsty Pearson
Kirsty is a Family Wellbeing and Relaxation Coach at Relax Kids York and Selby. She uses the Story Massage Programme weekly in her Relax Kids Little Stars Community class for pre-school children and also within her Relax and Restore family workshops. Kirsty loves the fact that all ages really enjoy it and finds it relaxing so families can join in together and adapt the strokes and stories to suit them. Kirsty gives out copies of the massage scripts at the end of each session so those that come regularly have a bank of stories to use at home.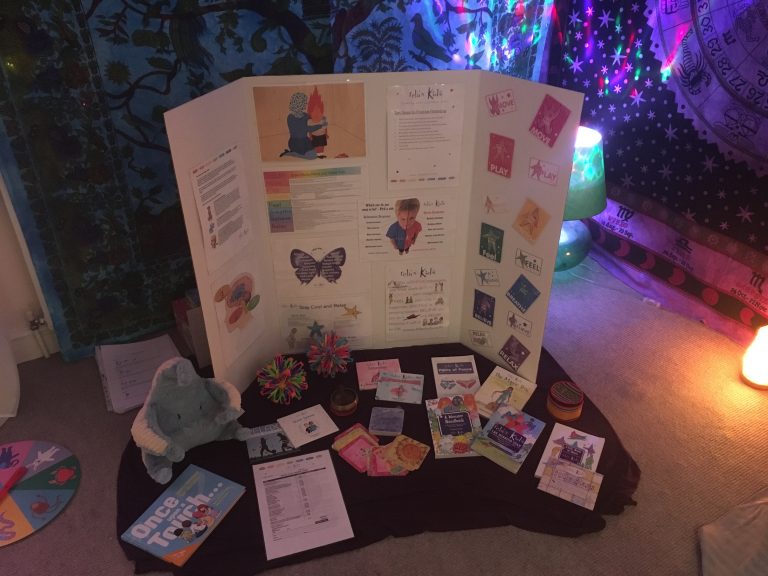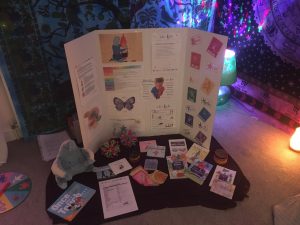 ---
Gayle Keenan
Gayle is a Relax Kids Coach at Relax Kids Wigtownshire and a Learning Assistant running nurture group sessions for children from P1 to P7 in a primary school. She says that Story Massage is always a favourite part of each session with children getting themselves organised and sitting down calmly without being asked. Gayle finds that sharing massage stories can encourage children to mix better with their peers and is an aid to communication for children who don't want to speak. They are more able to express how they are feeling by giving a massage.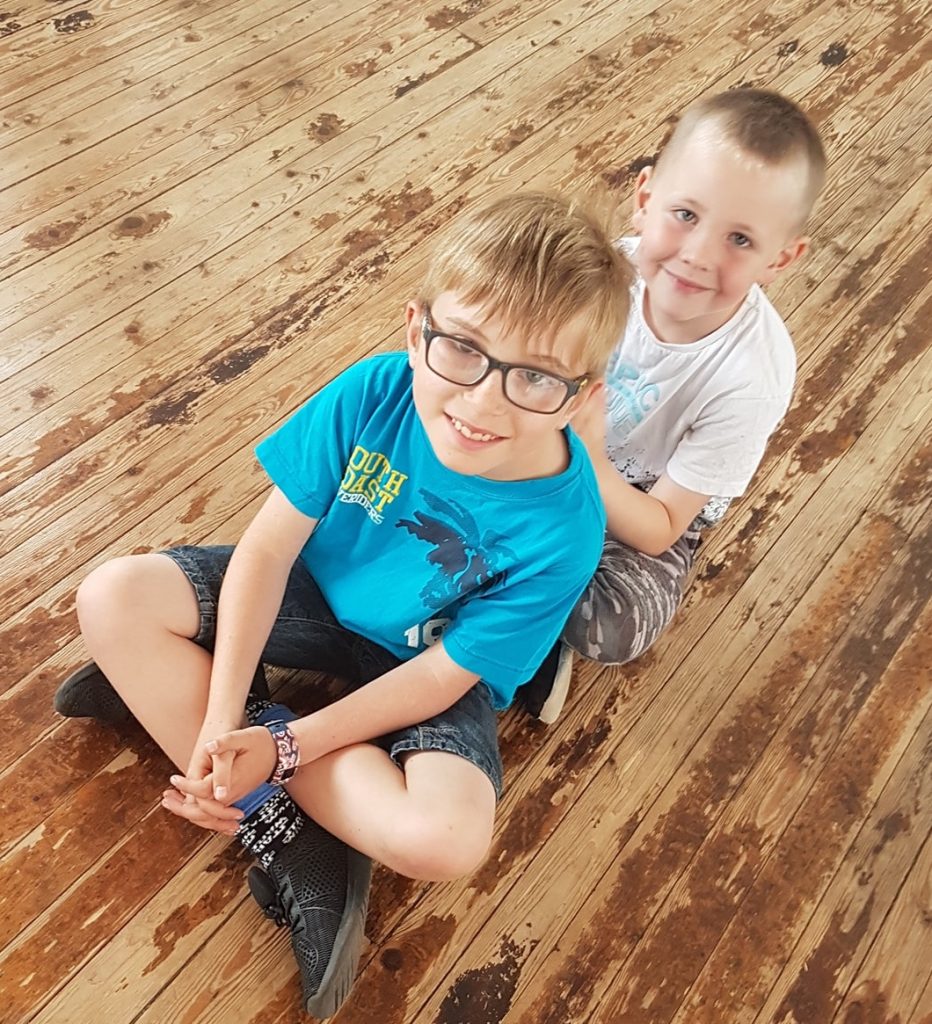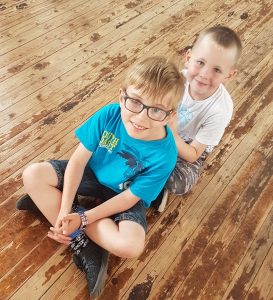 "Quite simply I cannot imagine a life without the Story Massage Programme! I use it at least once a day, 5 days a week. It has become such a natural thing to do. I think it brings benefits to all the children who use it – and everyone loves it." Gayle Keenan, Relax Kids Coach
---
Foster Children
Jessica Pagett
Jessica is a Therapeutic Support Worker at Pyramid Care Foster Service in Worcestershire. She has found the Story Massage Programme to be especially beneficial for supporting foster children with difficult transitions – to a new home, new school or new school year. Jessica runs activity sessions for foster children aged 5-15 years old, and uses the Story Massage Programme to support positive touch and relationships within the group. At a recent session, they explored feelings about change, how it is different for everyone and how it can be more challenging for those in foster care. The children were invited to make up their own personal massage stories about change and share these with others if they wished. It proved a very valuable experience for those involved.
"The Story Massage Programme offers our foster children an avenue to open up about their emotions in a new, expressive way which may not have happened through conversation alone. Children are often more willing to listen and they become more understanding of others' difficulties when they are shared through massage stories." Jessica Pagett
---
Young Adults with Learning Difficulties
Jacqueline Elliott
Jacqueline is a Senior Learning and Skills Facilitator in Special Education Needs Department within Hertford Regional College. Jacqueline's classes are challenging as students have a variety of learning difficulties and degenerative diseases. However, she has found that, with patience and repetition, they are all able to engage fully in Story Massage sessions. One young man with autism would stand in the corner and bounce up and down, staying well away from his peers. Jacqueline let him watch the Story Massage sessions allowing him time. Gradually he allowed his 1-1 to massage his hand, then his shoulder and finally his back. When he nodded that he would be happy to massage his friend, Jacqueline says it was a very profound moment.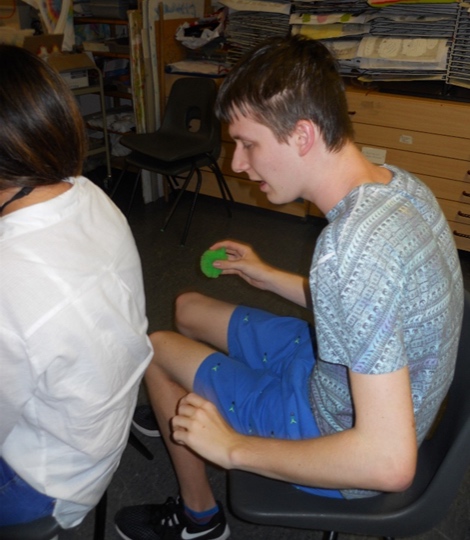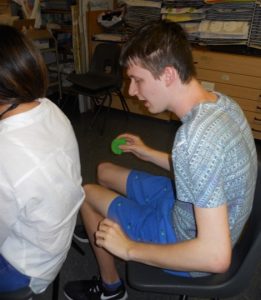 "We find that our young adults with learning difficulties engage better when we work in pairs. That way the person receiving the massage has 1-1 undivided attention, rather than trying to concentrate on the moves to give to the person in front. I tend to do short stories and songs so they can swap and everyone gets the benefits of relaxation and fun." Jacqueline Elliott
---
Claire Taylor
Claire is a Complex Needs Teacher at Oak Grove College in Worthing. She works with students with PMLD aged between 11 and 19. She says the benefits on communication skills has been amazing and it is now a positive part of the curriculum. Students have learnt to give permission, choose songs/stories, ask for more and also evaluate in a variety of ways using yes/no switches, grid players, a prox pad, symbols, signing and vocalisations. Claire has also seen an increase in eye contact, anticipation and above all, it is a fun activity that everyone can join in. And the staff love it too – they  look forward to it every week.
"Our students with PMLD are really enjoying their Story Massage sessions. Some even squeal with excitement when the Story Massage box comes out. There is always lots of laughter and happy faces!" Claire Taylor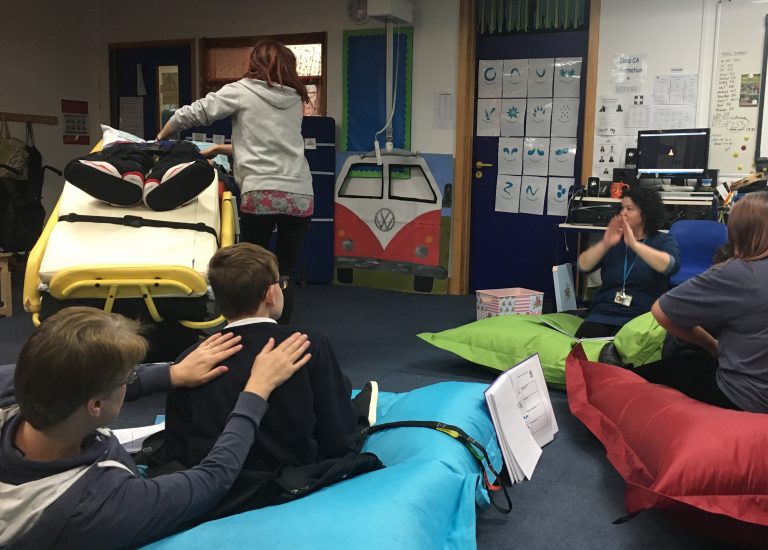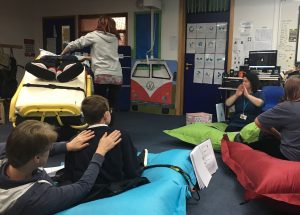 ---
Lorraine Leveridge
Lorraine is a Wellness Tutor with Young Epilepsy, St Piers College in Surrey. Lorraine works with students aged 19-23 with all levels of abilities. She incorporates the Story Massage Programme as appropriate to their learning needs. The sessions with PMLD groups are themed with stories, poems and current songs (such as Katy Perry's Roar) to engage and expand their attention and positive interactions with peers. With higher abilities students, Lorraine uses the Story Massage Programme to enhance the teaching and reinforce learning. Subjects have included personal hygiene, appearance and feeling good about themselves.
"During National Massage Day, one of our higher ability groups helped lead a group massage. They sat at the front of the hall, demonstrating the strokes to their peers who had not experienced it yet. I was extremely proud of the group as it can be quite daunting for them to do this." Lorraine Leveridge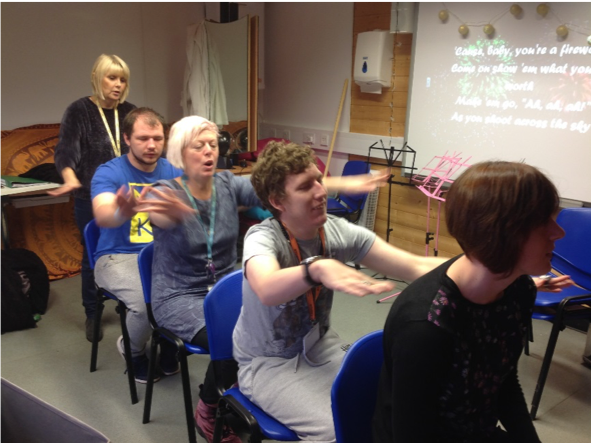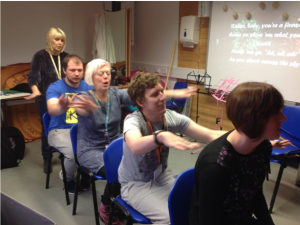 ---
Some More Feedback from our Practitioners
"It helps quieten a rowdy class extremely quickly, regardless of their age. It engages children and so even those who lack concentration and attention skills follow a massage story. Our nursery class of 40 children aged 3 and 4, learnt to sit still for much longer periods of time and really engaged with the activity. They were able to follow instructions and focus on a task with increasing enjoyment and skill." Louise Roberts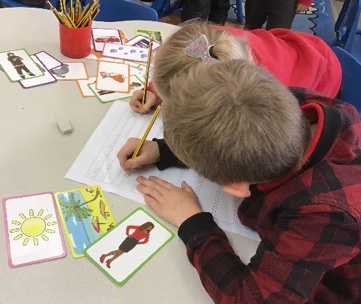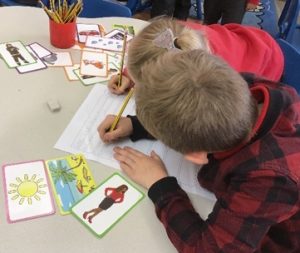 "Sharing positive touch has made a real difference in my upper school nurture groups, especially with some of the older boys who struggle with expressing emotions and self-esteem. It puts them in a calm frame of mind to go back and join their class." Stephanie Lawson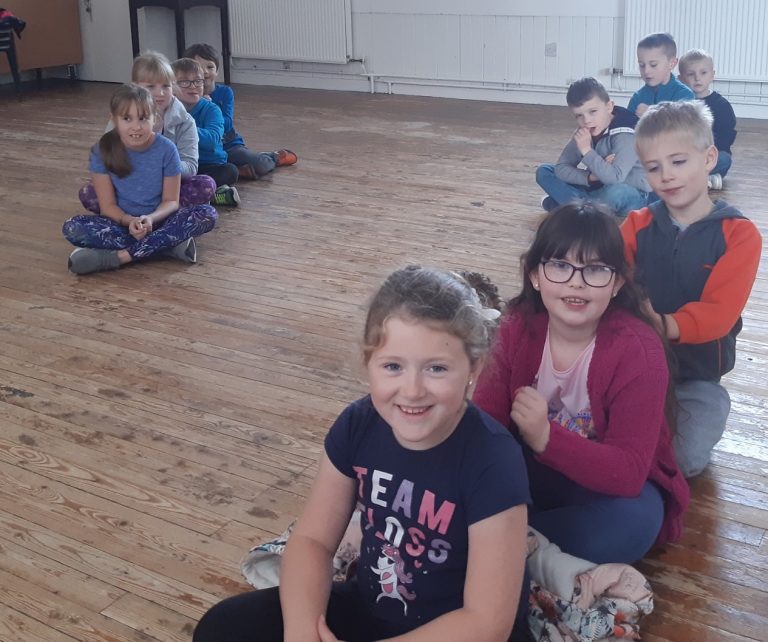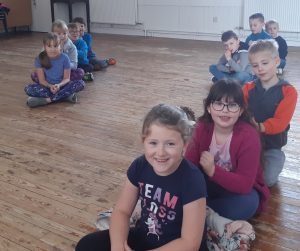 "My Family WellBeing Workshops are a mix of Story Massage and relaxation techniques. They are a fantastic way for parents and their children to connect through positive touch communication, to share different ways to relax with each other, and just be in the moment." Gemma Brown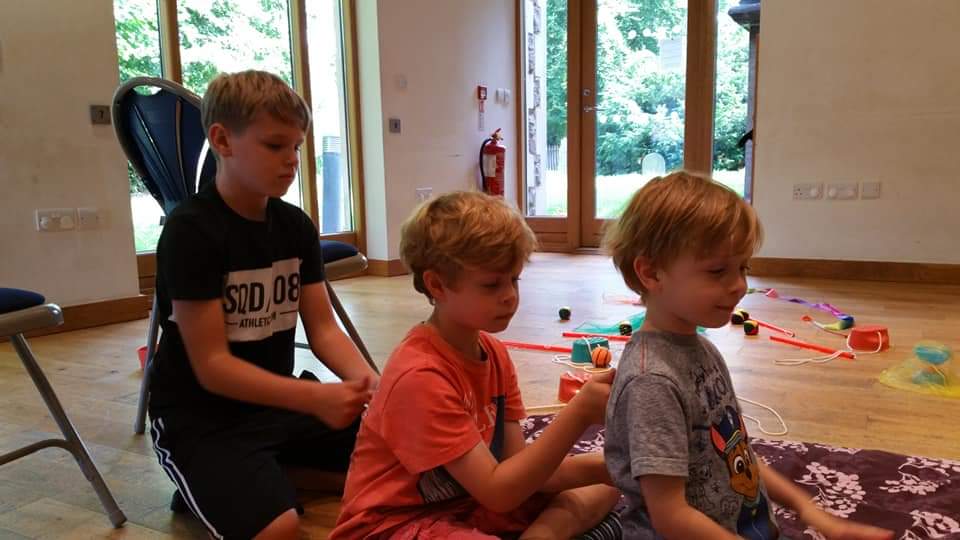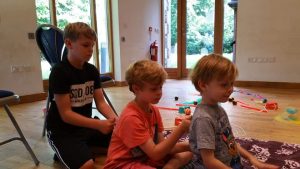 "Parents truly enjoy being touched by their children in a loving way. They repeat stories or songs at home and show older siblings and relations so the whole family can benefit from positive touch. Interaction between siblings can become much easier when they share a massage story." Anne Schuetz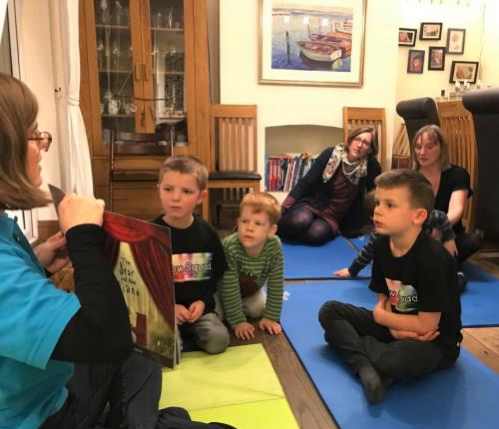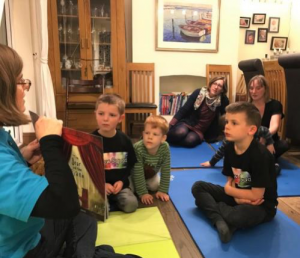 "My advice to anyone is just to enjoy sharing the Story Massage Programme and getting creative with adapting stories, rhymes and songs for it. It really does work for all ages and all settings, and is a fun but fabulous wellbeing tool. Let everyone get involved if they want to – writing their own scripts and being creative."  Kirsty Pearson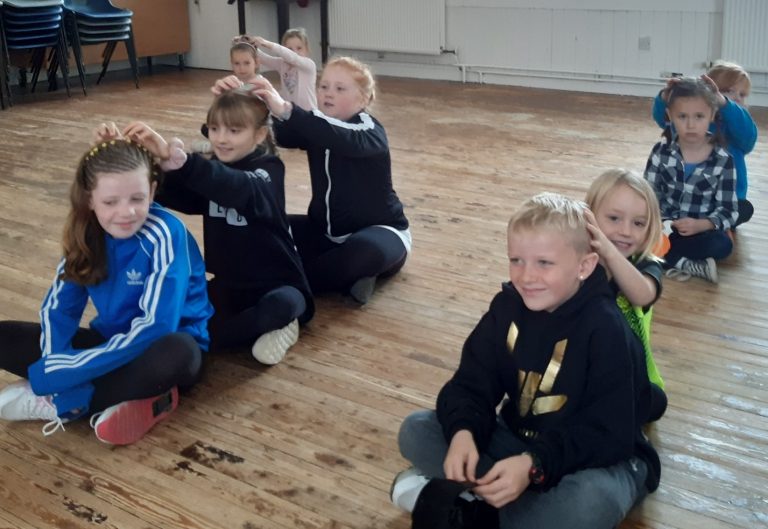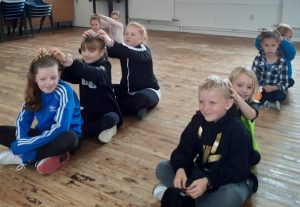 ---
Would you like to train in the Story Massage Programme?
Are you inspired by the work of our amazing practitioners bringing fun and well-being to individuals in a whole range of settings? Find out all about how to train to use the programme at home or work: Story Massage Online Training Option.