We are thrilled to announce our three latest Centres of Excellence – two schools and one college where the Story Massage Programme is proving beneficial for self-regulation for children and young adults. This prestigious award is presented to schools, charities and organisations where at least four members of staff are trained in the Story Massage Programme and they have been using it for over a year. Our Centres of Excellence show remarkable commitment and enthusiasm for delivering the benefits of the programme with care and respect for every individual.
---
Access School, Shropshire
The Story Massage Programme is used on a daily basis for pupils, ranging from 6 to 16, at this school providing therapeutic education within a Secure Base model. Many of the pupils have significant attachment difficulties and a lack of trust from childhood trauma. There has been a marked improvement in building strong and trusting relationships between peers and also staff and peers. The combination of positive touch and stories has also provided a flexible strategy for self-regulation and for pupils to be regulated and supported by an adult.
---
Department of Inclusive Learning, Hertford Regional College
The Story Massage Programme is an important part of tutorials and class sessions for adult learners with complex needs at Hertford Regional College. It has proved to be a fun and fully inclusive activity for learning life skills as everyone can engage at their own level. Participating in Story Massage sessions has improved confidence and self-esteem and helped learners to meet demanding targets, especially for communication and social interaction. Learners also experience staff in a different way, helping to build trust and positive relationships.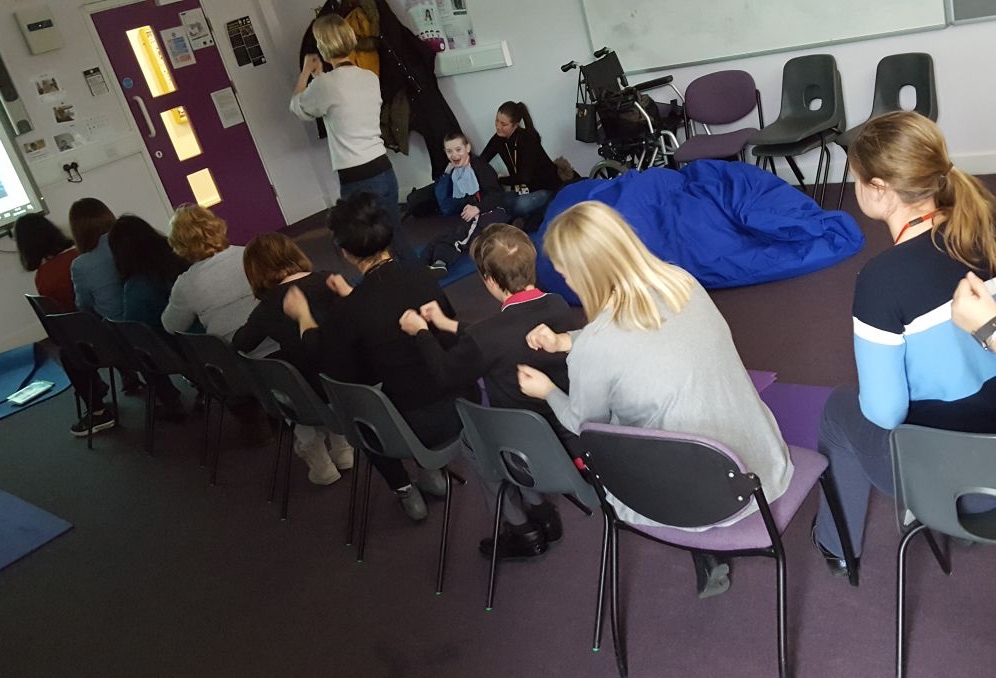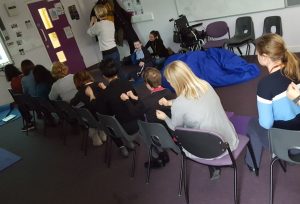 ---
Ty Gwyn Special School, Cardiff
Sensory experiences are significant to pupils at Ty Gwyn Special School and the Story Massage Programme has now become integral to the multi-sensory approach to learning within the school curriculum. It is used across the whole school with pupils aged from 3 – 19 with autism and/or profound and complex needs. Pupils clearly enjoy the sessions and there has been a noticeable improvement in eye contact, anticipation, engagement and body awareness. It has also become a successful intervention in calming extreme behaviours in some pupils.
---
Feedback from Practitioners
"We use Story Massage across the whole school in groups and individually – it is part of our school life now. Our pupils talk positively about the Story Massage Programme and feel confident in asking when they need one. Some of our more challenging pupils are finding they can use it to regulate at times of extreme emotion." Sarah Earing, Headteacher, Access School
"A key benefit for our adult learners with complex needs has been increased knowledge of positive touch and the ability to differentiate between touch that feels safe and touch that doesn't feel safe. Learners can say they don't want Story Massage and just listen. Everyone in the group learns that 'no' is fully respected and hopefully this will empower them to say a confident 'no' to unwanted touch in their future." Astrid Gilmartin, Life Skills Lecturer, Hertford Regional College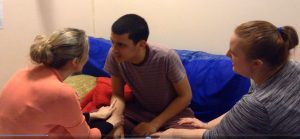 "The Story Massage Programme has had a particularly positive impact on one young man, aged 18, with autism and extremely challenging and disruptive behaviour. He requires a high staff ratio of 2:1. We have introduced Story Massage as part of literacy focused activities, and he is now able to participate and engage in the session calmly. He has a more positive relationship with the staff, allowing them to work with him and accept massage." Hollie Parsons, Senior Teaching Assistant, Ty Gwyn Special School.
---
Would you like to train in the Story Massage Programme?
Are you inspired by the work of our amazing Centres of Excellence? Find out all about Story Massage online course here: Story Massage online training.