We are thrilled to announce our three latest Centres of Excellence sharing the Story Massage Programme as a fully inclusive activity on a daily basis. This prestigious award is presented to schools, charities and organisations where at least four members of staff are trained in the Story Massage Programme and they have been using it for over a year. Our Centres of Excellence show remarkable commitment and enthusiasm for delivering the benefits of the programme.
---
Darnley Primary School and Visual Impairment Unit
Pupils attending Darnley Primary School and Visual Impairment Unit in Glasgow are so enthusiastic about the Story Massage Programme that it is used at every opportunity – class sessions, assemblies, golden time, special events such Literacy Week and Health Festival… and even standing in the queue for lunch or PE.  More recently they have asked for a Story Massage lunchtime club, and the Massage of the Month is a regular part of the After School service.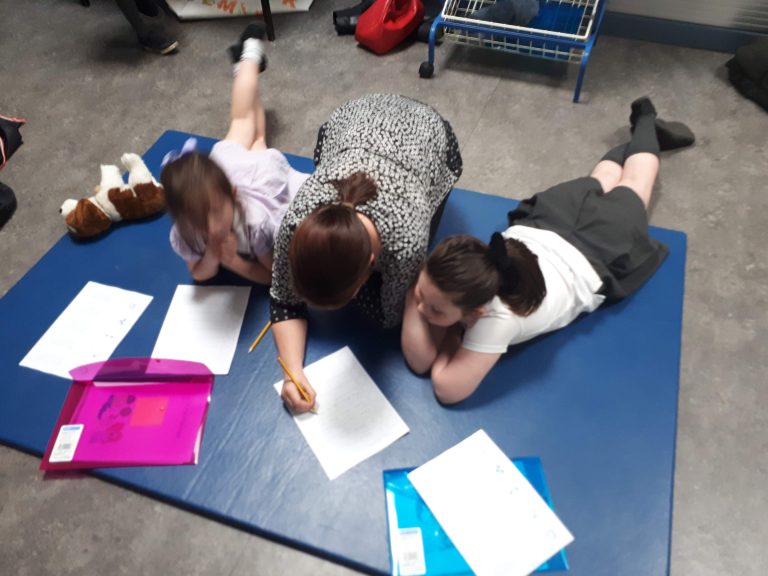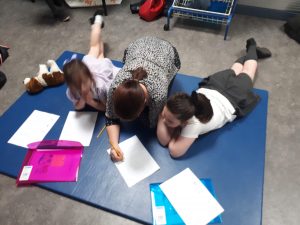 Since the introduction of the Story Massage Programme a year ago, the most significant benefit has been an overall sense of calm. The school has over 300 pupils and the atmosphere can change instantly in assemblies when they are engaged in massage stories. Transition times can be less stressful too. Class teacher, Valerie Colrain loves to be creative and encourages children to write their own massage stories. She gives the sessions a focus such as seasons, emotions or Christmas and then lets the children take the idea forward with amazing results. Pupil's self-confidence has grown because they can share their successes with peers and visitors to the school.
Valerie and her colleague, Lauren Buchanan, have organised several parent workshops which have been the most well attended parental engagement workshops in the school. Many said their children has been talking about it at home and using it regularly. Others said they enjoyed the quality time with their children and will definitely be using it at home.
"The Story Massage Programme is inclusive which means those with additional support needs can engage in the activity, thus promoting positive relationships with their peers. Children with literacy support needs can write a full massage story, and feel very proud of themselves. We have noticed an enhanced tolerance and respect within our school." Valerie Colrain, Class Teacher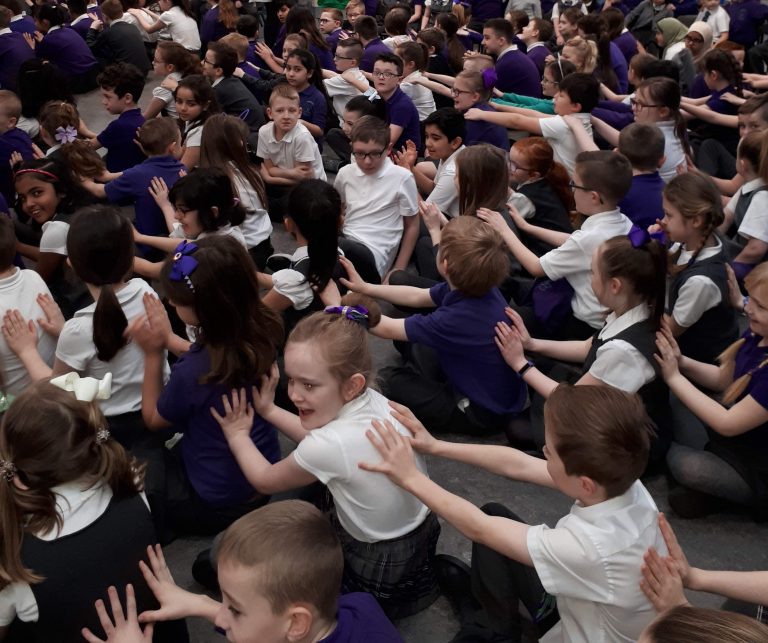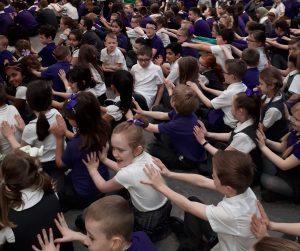 ---
Shotts Family Learning Centre
The Story Massage Programme is now fully embedded in daily activities at Shotts Family Learning attended by 3-5 year olds.  There are now 12 trained members of staff who run daily sessions to help calm the children, encourage social connection and develop a mindful approach. Children enjoy giving each other a massage and make up their own stories, often in the calm atmosphere of a quiet, mindful room.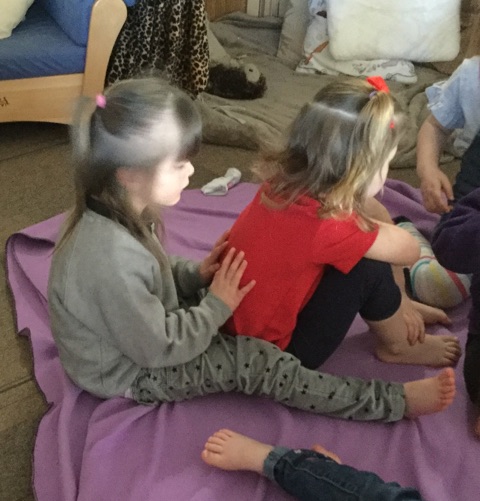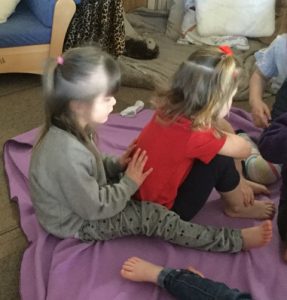 Parental engagement is key to the success of the centre and the Story Massage Programme is proving highly effective for promoting parental partnership. Feedback has been extremely positive with benefits including improved sleep and bedtime routines and less conflict between siblings. Parents/carers also say it provides opportunities for discussion about difficult issues and reinforces the bond between adult and child.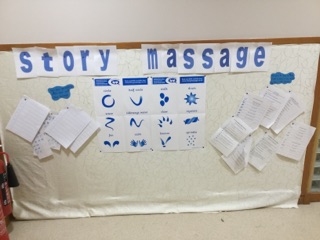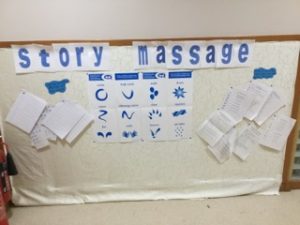 There is now an interactive wall within the centre to enable parents to take resources to make up their own stories with their children. The board features massage stories that the staff and children have written and parents/carers are invited to share their stories too.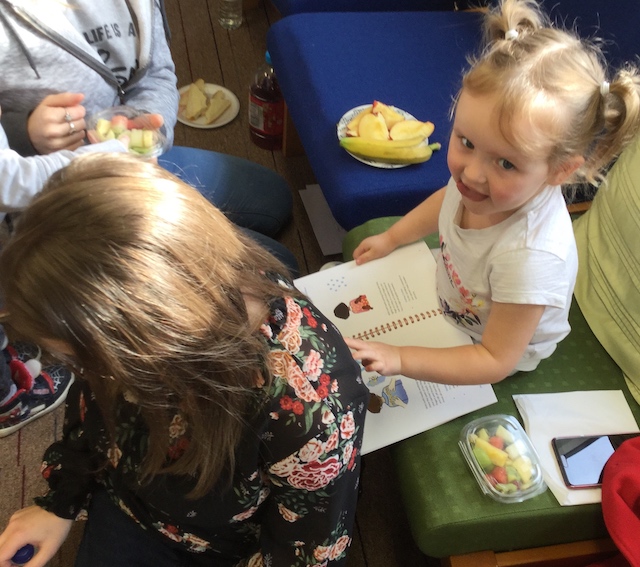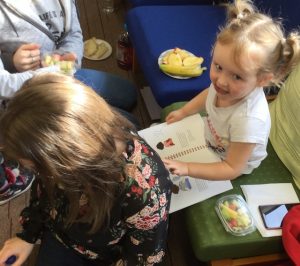 ---
Beatlie School Campus
The children and young people (aged from 3 -18) attending Beatlie School Campus, Livingston, have a wide range of additional support needs, varying from severe and complex to profound. Principle Teacher, Debbie McCulloch and three other staff members completed the Story Massage online course in August 2018.  It proved so beneficial to the pupils that 8 more members of staff are trained or currently training on our online course and it is now used across the the ASN nursery and the whole school.
The programme is explored as a 1-1 activity, with pairs and small groups, and often as part of large group celebrations and gatherings. It has helped to develop positive relationships between children and staff, and enabled sensitive approaches to children who may show aversion to touch. Staff observe responses closely and recognise enjoyment through facial expressions, body language and sometimes vocalisations. Some children reach out to an adult's hand to request more. Pupils are able to 'feel' a story or song in their own way and some start to anticipate what will come next.
"The Story Massage Programme is proving a big success within our school campus. It is very difficult to find a resource that can be used by all our children and is therefore beneficial for all our staff to be involved with. So we were delighted to find this fully inclusive positive touch activity. We enjoyed the flexibility of the online course and ongoing support. Being able to complete it in our own time meant that we could put forward a large number of staff for the training – and work together to develop and implement the programme." Debbie McCulloch, Principle Teacher
---
Would you like to train in the Story Massage Programme?
Are you inspired by the work of our amazing Centres of Excellence who share the programme as a fully inciusive activity ? Find out all about the Story Massage Programme online course here: Story Massage Training.