We are delighted to announce our four latest Centre of Excellence Award winners. This prestigious award is presented to schools, charities, and organisations where at least four members of staff are trained in the Story Massage Programme, and they have been using it for over a year. Our four new Centres of Excellence have shown great creativity, versatility, and enthusiasm for sharing the benefits of the programme with learners with complex needs of varying ages and abilities.
---
 Our Centres of Excellence 2021 are:
---
Evergreen Primary School
This community special school in Bishop Auckland is attended by pupils aged between 2 and 11 with severe, moderate, and complex learning difficulties, some of whom have a diagnosis of ASD. The Story Massage Programme was shared as a form of distance learning during recent lockdowns and continues to be enjoyed throughout the school and by families at home.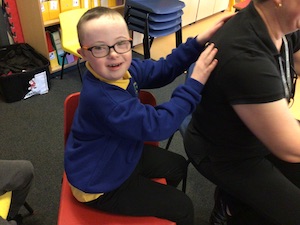 The four trained teachers have produced a folder of massage stories related to different topics and school themes with accompanying PowerPoint presentations. A display board shows the moves with a termly massage story reflecting topics and events.  Each class has their own approach and preferred setting for Story Massage sessions including literacy activities, reading lessons, circle time and sensory room interactions. Some pupils are now writing their own massage stories and sharing them in class.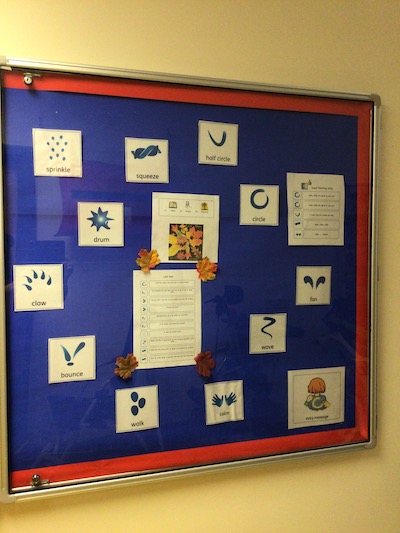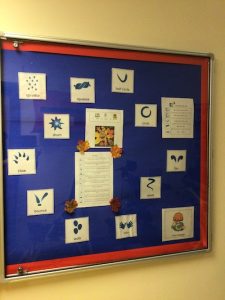 A key benefit within the school has been supporting pupils with understanding and expression during complex times such as life changes. For one pupil sharing massage stories was a reassuring, comforting and supportive activity from trusted staff to support him moving foster carers and meeting a new sibling. This helped share and reinforce information and became a valuable way to communicate feelings between those he trusted.
"I was reading a story that the children didn't seem particularly engaged in. When I added the Story Massage strokes, they all became very engaged! Some wanted to carry out the movements on an adult's back to retell the story." Evergreen Primary School
"One child was going into crisis. We brought out his favourite book (We're Going on a Bear Hunt) and staff matched some Story Massage strokes with the story. He loved it and it helped him to calm. He now asks for a massage story in the sensory room." Evergreen Primary School
"One child doesn't like people in their personal space but will accept some of the positive touch as a massage story. This is a really important benefit of introducing the Story Massage Programme for other pupils too." Evergreen Primary School
---
Fairfield School
The Story Massage Programme is used throughout this special school in West Yorkshire. As well as enjoying the programme in individual classes, the pupils aged 4–19 years with complex needs, take part as a whole school activity via My Teams over Zoom.  The most recent ones were based on National Massage Day and Children in Need 2021 with two different massage stories written by trained staff members – Rachel Holmes and Fatemah Tai.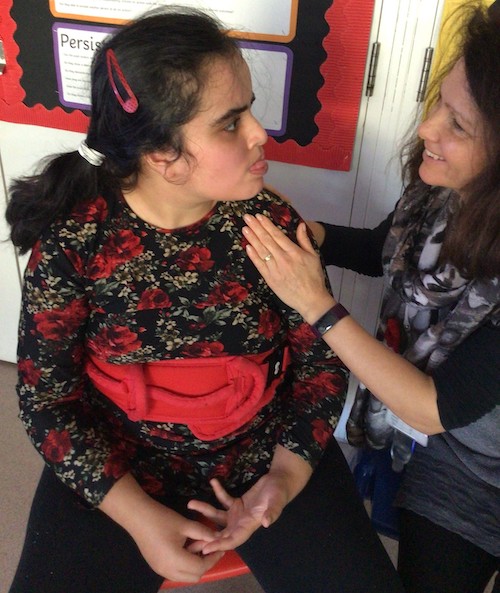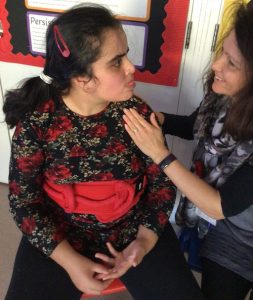 These live whole school sessions have proved very popular despite such a wide range of ages and individual needs. A link is sent to all classes and a recording made so staff can access it anytime in the future. There is plenty of time to ask permission verbally, by body movement or a switch, and be confident that the child wishes to participate. During the live sessions, classes can see each other which gives a real sense of community.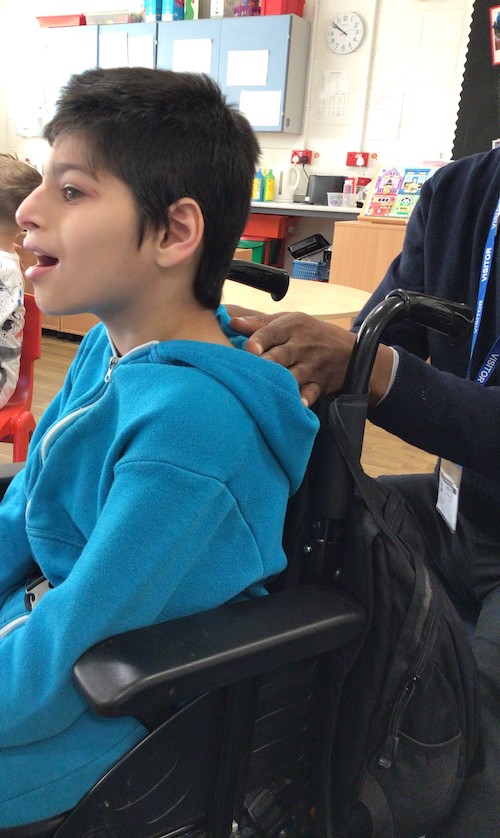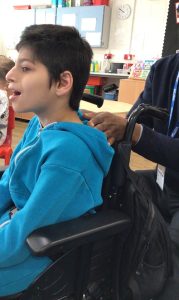 The Story Massage Programme is also used at least once a week in every class enabling staff to have one to one time with a student. These time-tabled sessions are usually just before lunch or in the afternoon. It has taken time and consistency, but staff report that the students have responded so well that it has become an essential part of their learning and has nurtured positive well-being in the school.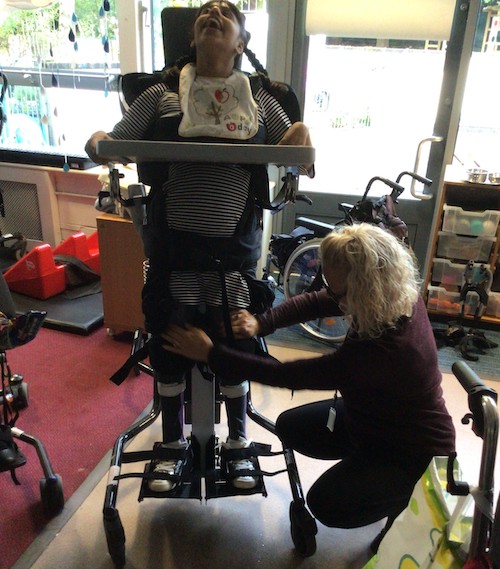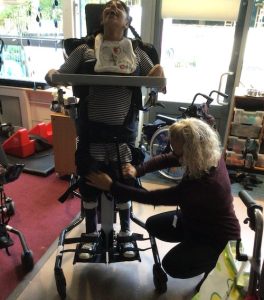 "We would encourage anyone to sign up to the online course. It is very good quality and easy to access. It has truly opened up so many ways to connect with our students and families. And there's lots of support afterwards. It is great to be part of such a welcoming community." Fairfield School
 "The sessions are very much led by the students. The adults working with the student takes the lead from them and watches how they respond. We spend a lot of time getting to really know a child and their likes and dislikes. If they don't want to take part, then they just observe." Fairfield School
 "Children of all ages and abilities can take part, and the massage can be given on any part of the body. This makes it very inclusive and flexible to meet individual needs." Fairfield School
---
Rutherford School
The Story Massage Programme has been an invaluable tool in helping staff at this specialist independent charity school provide a meaningful wellbeing curriculum for their learners. Based in Croydon, Rutherford School provides education for children and young people aged 3 to 25.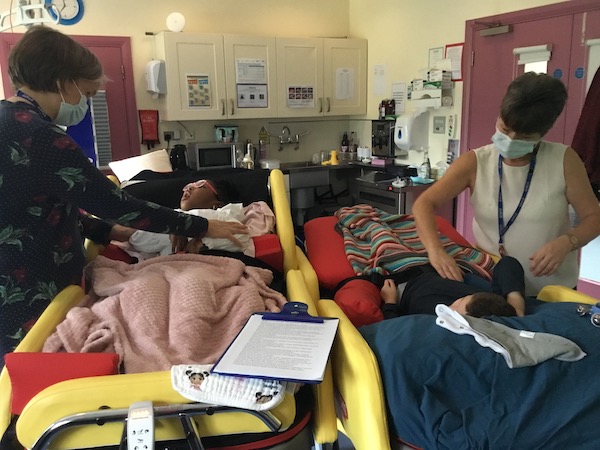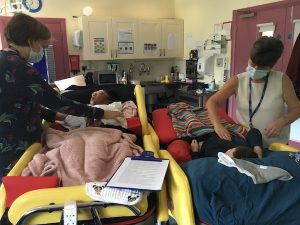 The programme was introduced by Catherine Halford, Wellbeing Specialist Teacher, during the first lockdown as part of home learning. Since returning to school, weekly sessions proved so beneficial that six more members of staff undertook the online training. They now take pride and ownership in delivering sessions in their own classrooms, with massage stories based on current topics to broaden the scope of how learners experience these topics.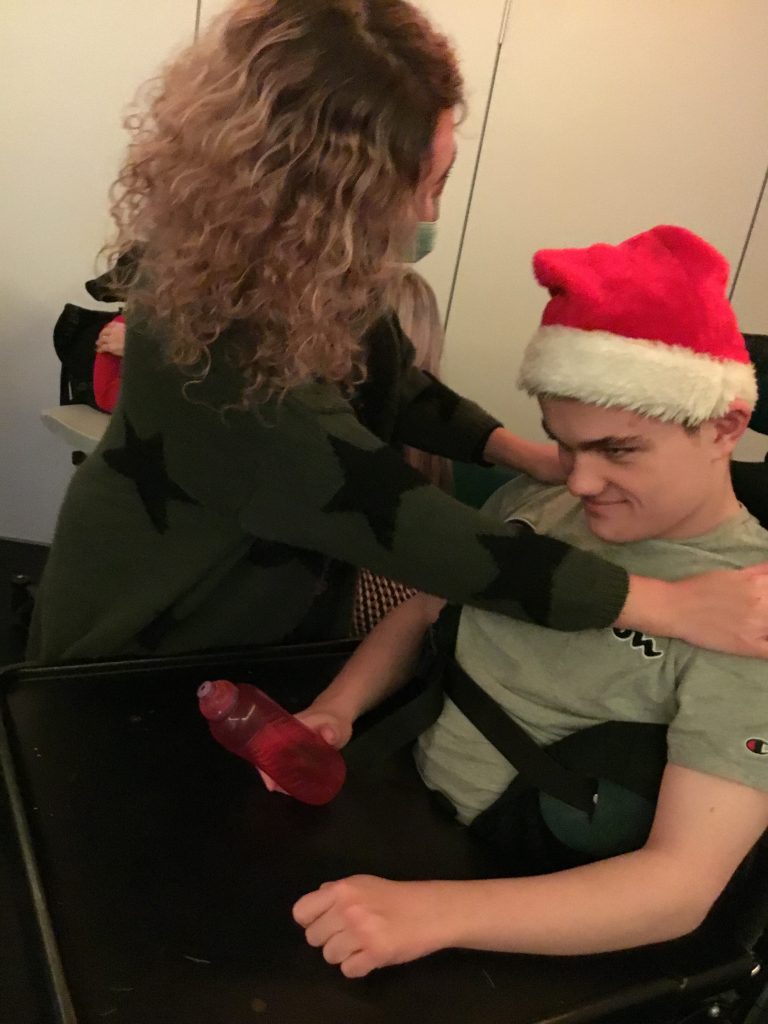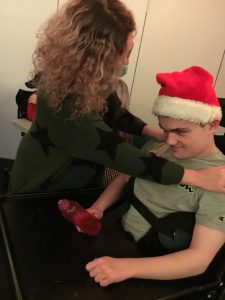 The versatility of the programme means that it can also be used collaboratively with the Music Therapist in a bespoke activity, tailored for the needs of learners. These 'This is Me' sessions combine massage stories, music, and progressive body scan meditative techniques. These sessions bring focus to different parts of the body increasing body awareness and encouraging body positivity, a vital message for PMLD learners.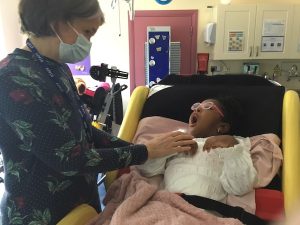 "At times, sessions have been noisy, fun and uplifting with students showing increased engagement and alertness. The room is filled with lots of happy vocalisations and laughter, and excitement. Other times, sessions foster a sense of calm, quiet and peace. Learners are relaxed and content." Rutherford School
"We tend to use a lot of repetition within our teaching, allowing an opportunity for our learners to become familiar with massage stories, and then build up their responses to them over time. We have seen some lovely responses as learners gradually become more aware of the stories." Rutherford School
 "Staff delivering Story Massage sessions often comment that it is their favourite activity in the week. It is such a positive, joyous and sharing experience." Rutherford School
---
Woolston 6th Form College
The creativity and flexibility of the Story Massage Programme is a key benefit at this sixth form college with SEN provision for young adults aged 16-19 years. It is now used to enrich communication and the course curriculum in a whole variety of ways appropriate to the learners. Indeed, staff report that it can be incorporated into any lesson as a totally unique way of learning!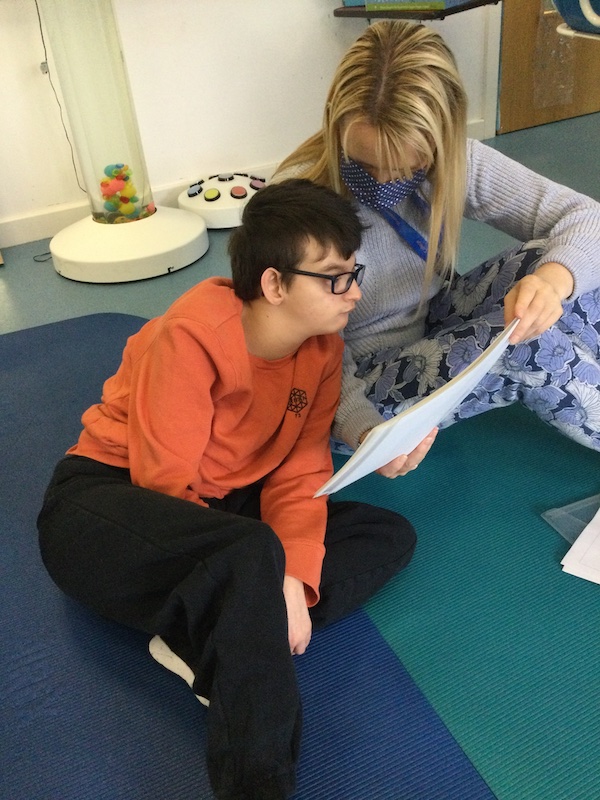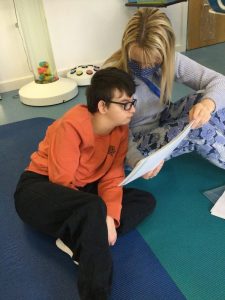 The Story Massage Programme provides a 1-1 focussed time and an important opportunity to practice giving or not giving consent by using a chosen mode of communication including symbols, following eye pointing or verbally. This builds up trust between students and staff. It can also help students explore their likes and dislikes and they are encouraged to indicate their preferences for different stories and strokes. After the session, students are always asked if they would like more or if it is finished, another communication opportunity.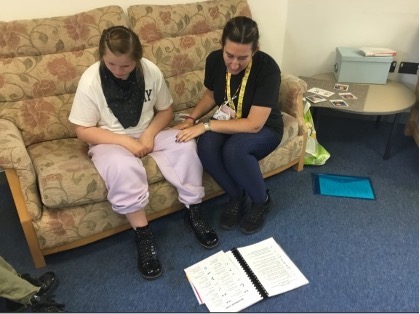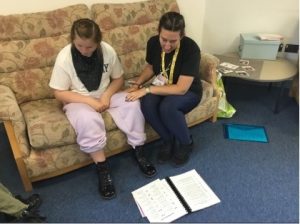 Another major benefit for students, some of whom have sensory processing disorders, is that it allows them to calm and ready themselves to learn in a positive way. An example is a 'How to Make a Piece of Toast' massage story which was used as a fun way to prepare students for the activity of making toast. One young lady now anticipates the story and giggles in certain parts. It has certainly helped her to focus on the task in hand.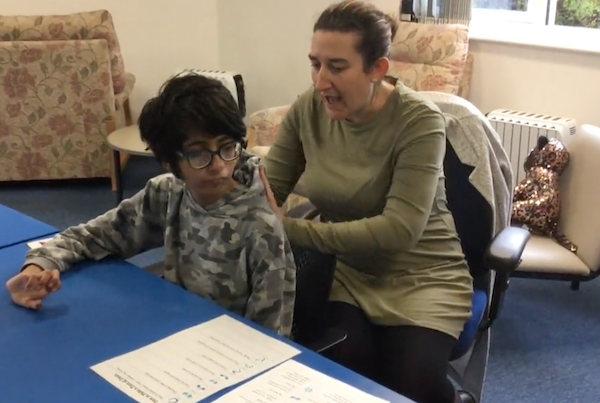 "Our students gain a great feeling of well-being and self-worth. They visibly relax, smile, and vocalise happily. They are able to take part in structured work activities positively." Woolston 6th Form College
"Staff always reflect on how they felt the session went, what they would change/keep the same, and discuss this with colleagues so we are continually building up our skills and adapting to individual needs."  Woolston 6th Form College
"With lots of other interventions/therapies, students often have to move or go to a different room which can make them feel uncomfortable or anxious. The Story Massage Programme sessions can take place where our students feel most comfortable and safe, and they benefit hugely from this."  Woolston 6th Form College
---
Would you like to train in the Story Massage Programme?
Are you inspired by the work of our amazing Centre of Excellence Award Winners with children and young adults with complex needs? Find out all about the Story Massage Programme online course here: Story Massage Training Online.