Story Massage, which combines positive touch with words, is now being used as a valuable way of exploring difficult emotions and encouraging children to understand and regulate their feelings. We introduce a massage story written to help children prepare for visiting the dentist.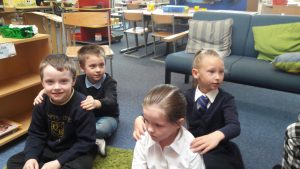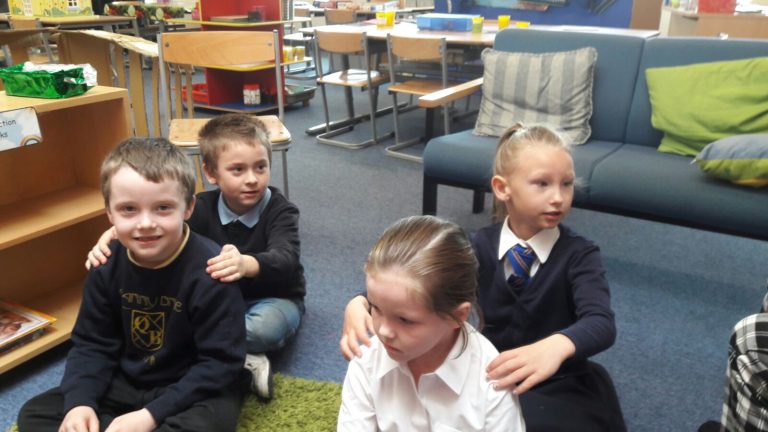 ---
Self-esteem and Skills Building
On our training days we teach the ten basic Story Massage strokes and then support you in using the strokes to adapt or create your own massage stories for children at home or within your work. We recently met with professionals from With Kids, a Glasgow based charity supporting children with difficult lives. Central to the work of With Kids are the core concepts of building self-esteem and the desire to "skill up" children and crucially also the carers of children. Fundamental to their many various projects is the value of each individual child and the power of love and care to transform their life chances.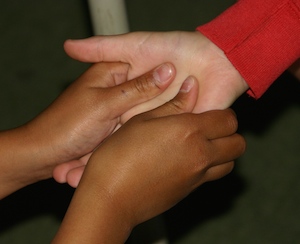 ---
Expressing Difficult Emotions
With this in mind, there was much lively discussion about the far-reaching possibilities of using positive touch activities to develop their work with the children and families in their care. The group were particularly interesting in using the combination of touch and words as a way of understanding and exploring difficult emotions. This massage story, created on the training day, invites a child and parents to explore the range of emotions that may be experienced when visiting the dentist. It could easily be adapted for other circumstances where a child may have difficulties in communicating how they are feeling. We have made a short (60 seconds) video to demonstrate the actions. The words are written below.
A Visit to the Dentist
Callum Crocodile is going to the dentist (The Walk)
He's hurt his tooth (The Walk)
But he's not worried (The Walk)
And that's the truth (The Walk)
Because he's rough and he's tough (The Drum)
And is made of stern stuff (The Drum)
But when Cal gets there and see the lights (The Sprinkle)
And hears the drill, he gets a fright (The Sprinkle)
He starts to shake, he really does care (The Wave)
So he runs and hides under the chair (The Wave)
Mummy crocodile sees he's in trouble (The Squeeze)
So she goes over and gives him a cuddle (The Squeeze)
You don't have to be tough and hide your fears (The Circle)
She strokes Cal's head and wipes his tears (The Circle)
---
Story Massage Training
To find out more about training to use Story Massage in your work with children please click here: Story Massage Training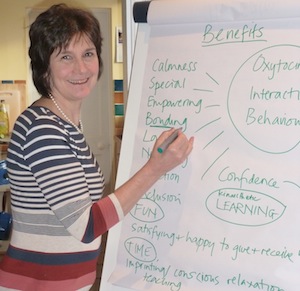 ---
Story Massage Resources
Our popular book Once upon a touch…story massage for children and our posters and stickers are available to buy here: Story Massage Resources