The Story Massage Programme has had a really positive impact on the pupils and staff at Thorntree Primary School in Glasgow. Indeed, Thorntree is now a Centre of Excellence. Depute Head Teacher, Justine Horn and Nurture Co-ordinator, Jennifer Monteith share the positive impact of the programme on pupils in nurture groups at the school.
---
Building Relationships in the Nurture Room
"The Story Massage Programme has made a real difference for children who have difficulties in establishing relationships with each other," says Justine Horn, "It has been quite amazing. They enjoy giving as well as receiving Story Massage and they are learning that it feels good to be kind to each other."
"Pupils find it helps with relaxation, well-being and regulating emotions. They have started to ask for Story Massage as they know it will help them calm down" says Justine, "We offer sessions during assembly for those who find it difficult to be in large groups."
Here's video showing how children learn the rules of the group through a massage story.
---
Peer Support via the Anti-Bullying Squad
The anti-bullying squad of Friend Fixers offer support to those pupils who find certain times difficult in the school day, especially during lunchtime play. The Friend Fixers have set up a special Story Massage area in the playground where children can have a massage and relax away from the playground. They have written their own massage story to help make children feel safe and know that Friend Fixers will listen to them.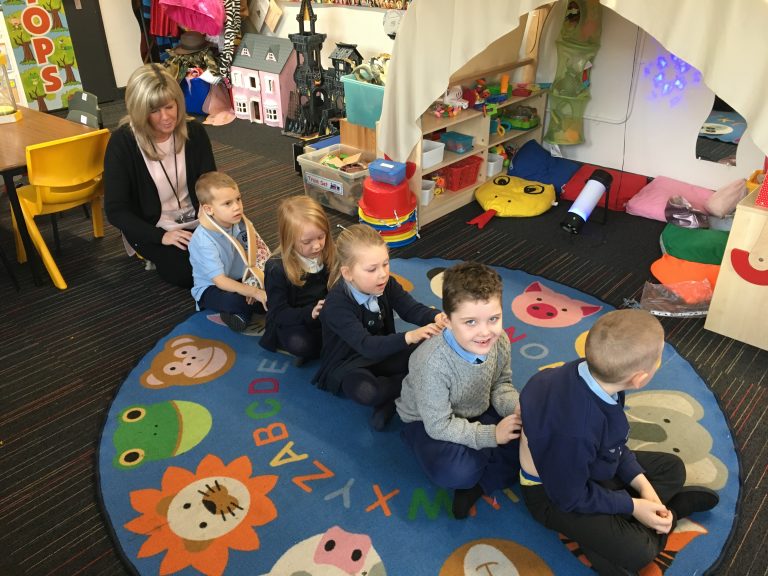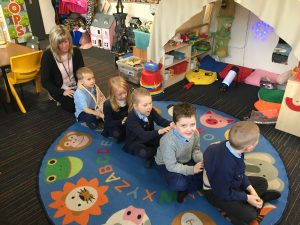 ---
Fun Activities in the Story Massage Club
There is a weekly Story Massage Club at Thorntree Primary where children can share Story Massage with each other. They share stories from the book Once upon a touch…story massage for children. They enjoy creating their own massage stories using the Story Massage stickers and template.
---
Building a Home-School Partnership
Children are encouraged to take Story Massage activities home to their families. Older pupils find it beneficial to write massage stories that are personalised for family members, especially their Mums when they are having a stressful time. It helps them to feel they are doing something positive to help them relax. "The children learn the Story Massage strokes at school and then share them in their own way at home," says Justine Horne, "We are not looking for perfection – just so long as the touch is positive, respectful, and enjoyable."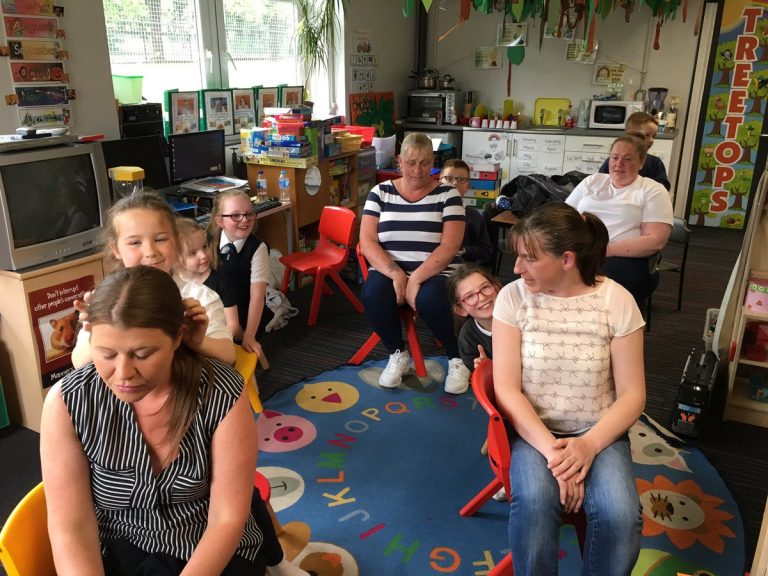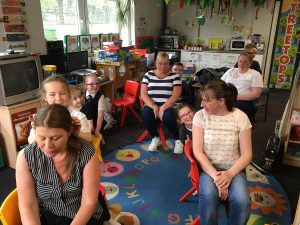 ---
Supporting Pupils through Difficult Times
The flexibility of the Story Massage Programme means that stories can be personalised for an individual child or group of children. Jennifer Monteith has worked with pupils in the nurture room to write massage stories to deal with problems such as family bereavement, divorce in the family or the loss of a pet. "Story Massage is a really good way of working with children to help them express their feelings in a safe and nurturing way and put those difficult emotions into words," says Jennifer.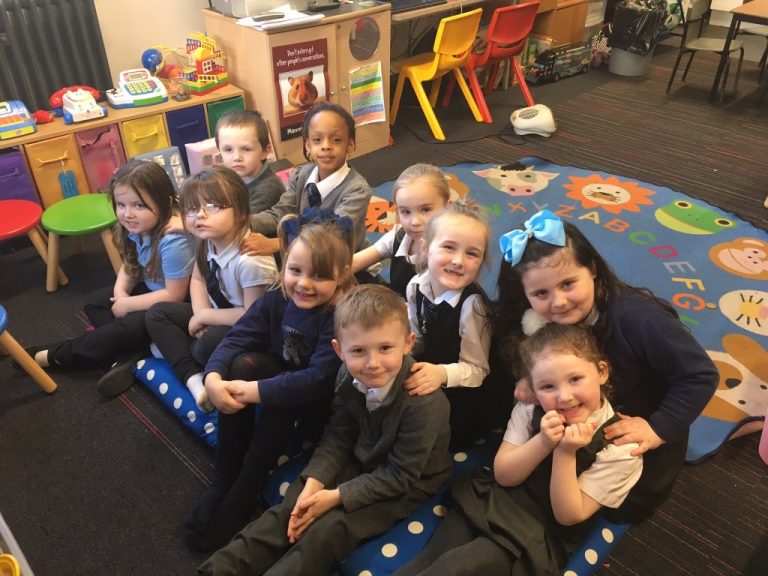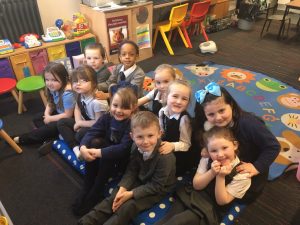 ---
More about the Story Massage Programme
The Story Massage Programme of ten strokes combines the benefits of positive, respectful touch with the creativity and engagement of storytelling. . These strokes have a child friendly name, such as The Circle or The Sprinkle, and an easy to recognise symbol making it accessible for all. It is a fully inclusive activity, no clothing is removed and no oil is used. Stories can be taken from our Story Massage book, adapted from favourite stories, or you can learn to help children create their own stories.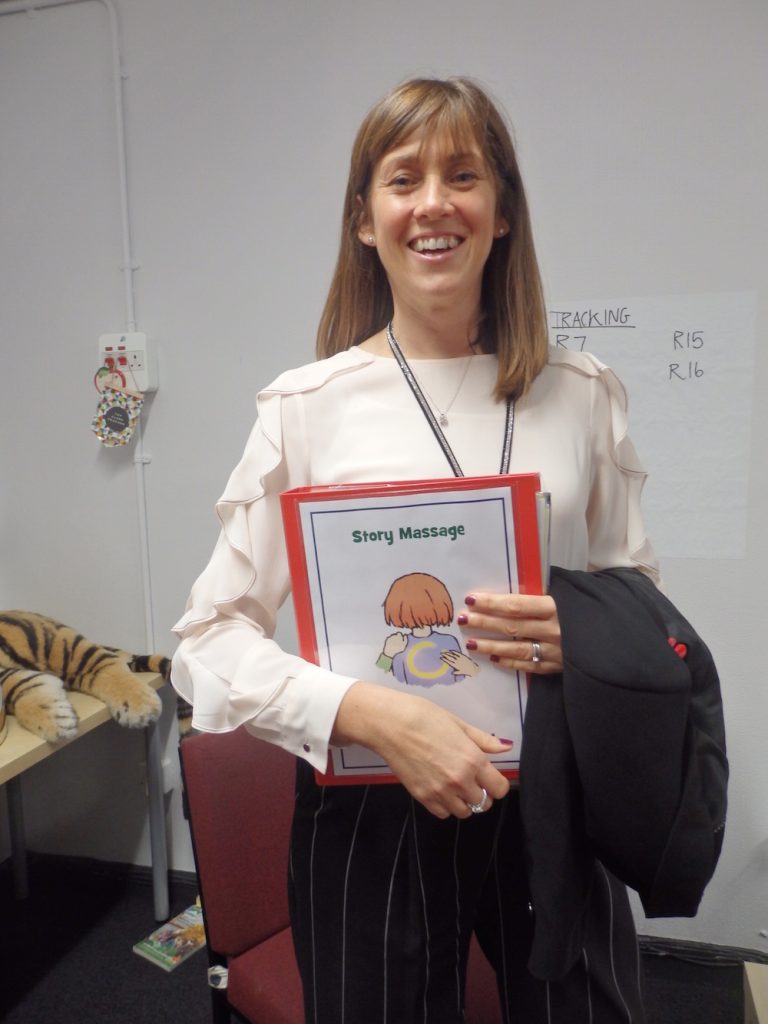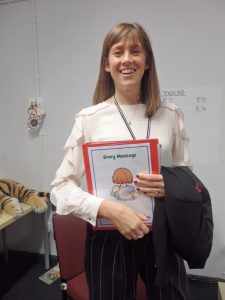 ---
Would you like to train in the Story Massage Programme?
If you would like to use the programme at home or work then you will love our flexible online course. All the information is here: Online Training Course.
You will learn how to share the ten Story Massage strokes, adapt familiar stories and even create some sensory stories of your own. Ideal for well-being coaches, therapists, teachers, SEN staff, support staff, Early Years practitioners, those working with people with additional needs, everyone with an interest in sharing positive touch activities with adults or children.