Are you looking at new ideas for In-House Training? Find out how Beatlie School Campus, a community special needs school in West Lothian, worked with our flexible online course to offer training to 21 members of staff.
Beatlie School Campus is open to boys and girls aged 3-18 with a wide range of SEND including physical disabilities and sensory impairments. The programme is so widely enjoyed across the whole school that it is now a Centre of Excellence.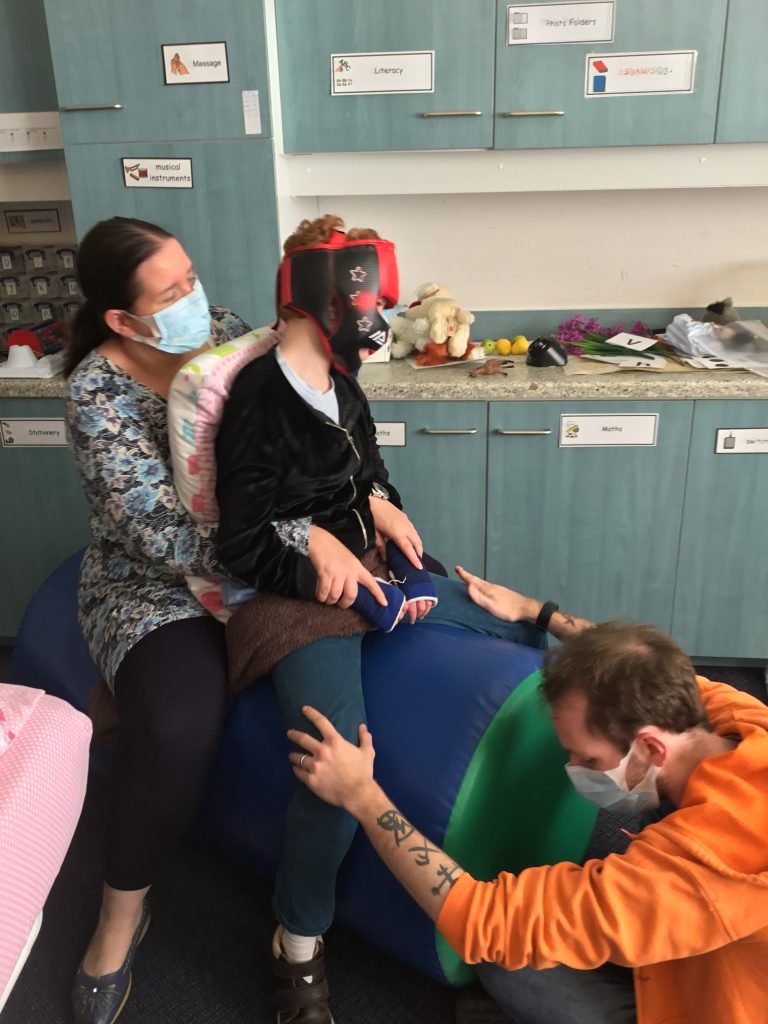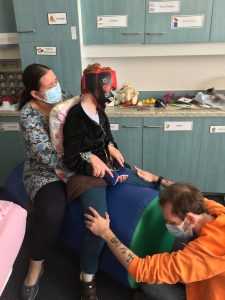 ---
Debbie McCulloch, Principal Teacher, who completed the online course in August 2018, offers 5 reasons why the online course has proved so successful in their setting:
1. Flexible Online Training
The course can be studied in your own time, at your own pace and in your chosen environment. It usually takes around 12-18 hours to complete and you have six months to finish. From a management point of view this avoids the barrier of releasing staff from school to attend training so opens it up to more people. The course is very flexible, just like the programme itself, and can be studied anywhere. Some staff members have enjoyed sharing the massage stories at home with their own families.
"The online nature of the course made it very accessible as I could complete it around my busy schedule. It was very well presented and enjoyable throughout. The assessment questions at the end of each module were straightforward but helped you to check your own understanding and progress. I think the stickers and resources are great too and so simple to use. The whole course feels very supportive and there are lots of links for further support and advice. There really wasn't anything I didn't like about it!' Susan McLean, Class Teacher.
---
2. Open to all Staff
The pupils at Beatlie School Campus have such a wide range of support needs that it is difficult to find a resource that can be enjoyed by all pupils and so useful for all staff. The Story Massage Programme is proving hugely beneficial for everyone – pupils, staff and families. There are now 21 members of staff who have taken the online training. These include Class Teachers, Nursery Nurses, Advanced Pupil Support Workers and the Principal Teacher.
"As a member of the management team, I have limited time in class but I am involved in various Hello and Goodbye Groups across the week. So I can continue using the Story Massage Programme in these activities and support other colleagues in their work." Debbie McCulloch, Principal Teacher.
---
3. Practical Group Study
The modules are straightforward with practical activities that really help to embed the training. At Beatlie School Campus, staff worked together in groups on the online course. They set up a chat group through the email system and were able to discuss any issues and suggestions. Training a large number of staff helps ensure a good understanding of the programme, it works like an in-house training. They are then able to support each other in school, developing and implementing the programme in a wide variety of ways and situations.
"Two support staff members took the training last year and began running sessions linked with school topics and events.  I could see the benefits of fun, positive touch and creativity. I have now completed the training and include it in our regular Goodbye Group to help pupils finish their day in a calm way." Erini Arkoudea, Class Teacher.
---
4. On Going Support
The main challenge of any online course is lack of opportunities to share with others but the Story Massage course offers support through a community facebook page and follow-along videos. There is also the option of joining virtual classrooms with others using the programme. There is a great sense of sharing and encouragement with access to a library of different resources, massage stories and ideas.
"I have really enjoyed searching and making Story Massage resources and taking the time to select the appropriate stroke for each part of the story. I love how creative I can be! I found the course really valuable and practical. It was fantastic." Louisa Nimmo, Advanced Pupil Support Worker.
---
5. Fully Inclusive Activity
The Story Massage Programme is now a regular part of daily activities at Beatlie School Campus. Massage stories are enjoyed on a 1-1 basis, in pairs, in small groups and in large gatherings for celebrations and assemblies. The content and duration of sessions can be tailored to individual needs. During lockdown, staff shared massage stories online with families.
"It is such a fun activity and the opportunity for staff and families to interact with the children is amazing. It is a perfect activity for all ages and has given me a different perspective on how to calm a child or young person. The course gave me lots of creative ideas. There are so many benefits for the children at our school. I highly recommend the online training. " Madge Goodbrand, Advanced Pupil Support Worker.
---
About the Story Massage Online Training
You can find out more about the content of the course, plus testimonials, and booking details here: Story Massage Online Course.
The Story Massage book (Once Upon a Touch… Story Massage for Children) is required reading for the course. There are two prices:
Option 1 – with the book – £134 (UK Customers only)
Option 2 – without the book – £115
GROUP DISCOUNT:
For every 10 courses purchased, we offer an additional place for FREE. Please email info@storymassage.co.uk to access this discount.