The Story Massage Programme is now a popular part of the school day at Baobab Kindergarten, near Nairobi in Kenya. This kindergarten is part of a charity school set up with UK support to feed and educate 100 of the poorest children, aged 3-12 years, giving them the chance to break out of a life of poverty and despair.
---
Popular Activity with Pupils
Kenyan teacher, Rose Ndegwa, completed the Story Massage training. She immediately recognised the benefits and was keen to return to the school to implement our ten basic strokes within the kindergarten and share massage stories from our book: Once upon a touch…story massage for children.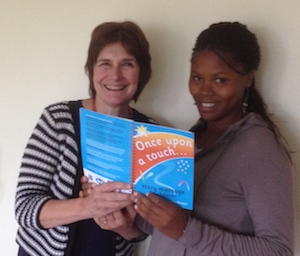 So we were delighted to receive news from Rose about the progress of the Story Massage programme. "I would like to thank you for teaching me the programme as it is one of the activities that the children enjoy the most," writes Rose.
---
Benefits of the Story Massage Programme
Rose highlights three main benefits for children in the kindergarten:
Relaxation: The Story Massage Programme helps the young pupils to relax in the afternoon. Indeed, she says they prefer story massage to taking a nap.
Fun: It is a fun activity that Rose introduces to break the monotony of something the children are not enjoying doing.
Learning: Rose uses massage stories to teach English with new songs and stories as the activity helps the children to remember the words.
---
Learning is Fun with the Story Massage Programme
Above all, Rose says she is delighted to have discovered a simple and effective activity that combines learning with fun. "It is awesome to have found a way to put these together," she says, "The Story Massage Programme works perfectly within the education system in Kenya and the Story Massage book and DVD are really helpful. We use the massage stories from the book, and also create our own."
---
More about the Story Massage Programme
The Story Massage Programme combines the fun and reassurance of story with the benefits of positive, respectful touch. It is enjoyed by all ages and abilities. Ten simple massage strokes form the basis of the programme. These strokes have a name, such as The Circle or The Sprinkle, and an easy to recognise symbol (as shown in Emma's massage story) making it accessible for all.
It is a fully inclusive activity, no clothing is removed and no oil is used. The online training is ideal for therapists, teachers, SEN staff, support staff, Early Years practitioners, those working with people with additional needs, Baby Massage Instructors, Relax Kids Coaches… everyone with an interest in sharing sensory stories and positive touch activities with children and adults. All the information is here: Story Massage Online Training