We are highlighting the work of seven Story Massage Practitioners who are sharing the Story Massage Programme in a whole variety of ways to help bring comfort, fun and wellbeing to children and families in the UK and overseas.
---
Claire Currie
Claire is founder and owner of For Baby and Me and also known as The Mum and Baby Expert. Claire runs a range of classes including baby massage and toddler yoga that continued online during lockdown and reached mums from all around the UK. Claire aims to incorporate the Story Massage Programme into all her classes using nursery rhymes and songs or relaxation and affirmations, depending on the age of the group.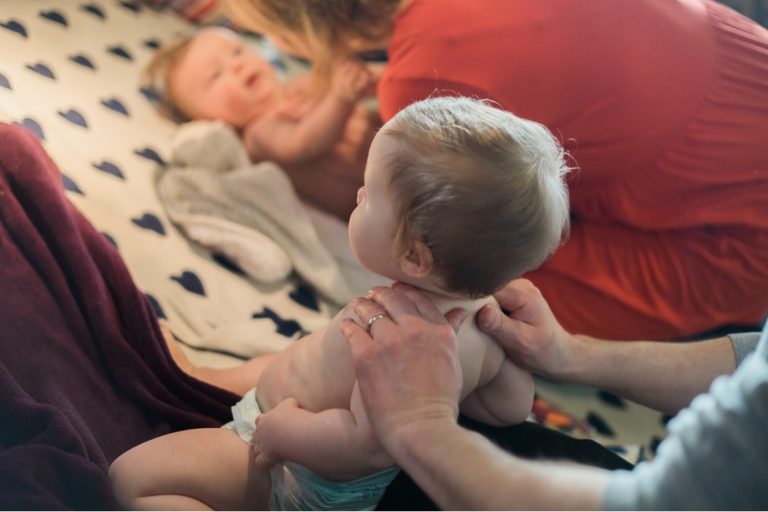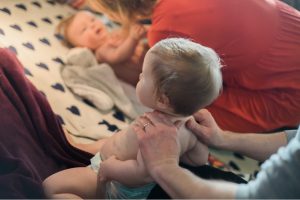 "I'm a massive advocate of the benefits of touch and try to regularly post on social media about the benefits and power of connection through loving touch, particularly important during this last year of the pandemic."
Parents tell Claire that sharing massage stories has helped to regulate their own breathing and 'do something' to feel calmer during the anxiety of the first lockdown. They also find it particularly helpful at bedtime. Claire ends her baby massage classes with a massage story to the first verse of You Are My Sunshine and it becomes a 'signature tune' for many families singing it before bed every night. Often years later!
---
Katrina Arab
Katrina is a class teacher at Three Ways Special School in Bath where she enjoys the Story Massage Programme with primary aged pupils with PMLD. Katrina runs regular Monday morning Story Massage sessions. She aims to keep her sessions at a slow pace, so pupils are relaxed and calm. She puts a 'Session in Progress' sign on the door to avoid being disturbed. Pupils are positioned comfortably; the lighting is lowered; and soft music plays quietly in the background.
"We tend to share stories that fit to our termly theme. At present we are sharing Goldilocks and the Three Bears which ties in with our Homes and Habitats theme."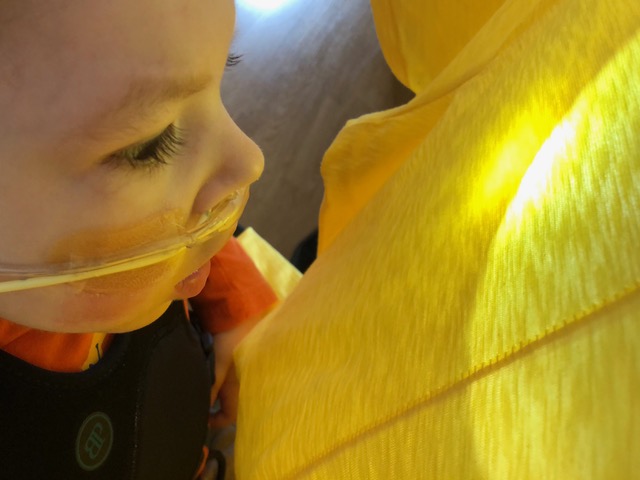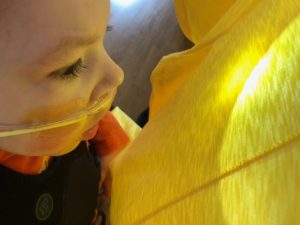 As well as running the programme as a calming and engaging class activity, Katrina also uses it within Storysharing® sessions to support pupils in sharing their own personal narrative in a small group setting. Katrina says this works particularly well for multi-sensory impaired and tactile learners. One learner, who is registered blind, found the simplicity, repetition and familiarity of the Story Massage strokes helped her engage with her personal narrative in a meaningful way without becoming overwhelmed by multi-sensory input.
---
Melanie Murphy
Melanie is an Infant Massage Instructor and administrator in a prevention and early intervention programme 'Preparing for Life' based in Dublin. At the start of the pandemic, Melanie familiarised herself with Zoom and started delivering thirty-minute Story Massage workshops aimed at parents and children of all ages so siblings could join in the fun. Melanie also posted short follow-along and introductory videos on social media to show that no special equipment or preparation is needed to take part in the workshops.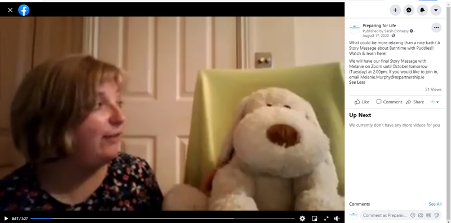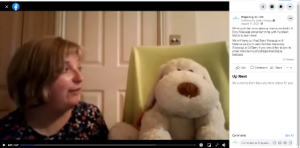 "I love the sheer joy that parents/guardians and children experience together. It is so heart-warming to see the enjoyment on their faces and to know that the children are developing skills in language, literacy and communication without them even realising!"
Melanie begins her Zoom workshops with 'housekeeping rules' that help everyone relax into the activity. She offers the option of using soft toys or cushions to practice as some children may not wish to be massaged at that time or may decide to take a nap. Melanie demonstrates on her stuffed toy dog 'Pebbles' that belonged to her sons when they were babies.
Since the pandemic, Melanie has introduced some of her groups to Self-Story Massage on the hands and arms. She says children as young as three years old are enjoying self-soothing with Story Massage strokes.
---
Jen Helmbolt
Jen is an Additional Support Needs Primary teacher and runs her own Makaton Training business Makaton Marvels.  She uses the Story Massage Programme within both these roles. Here you can see Jen signing Story Massage in Makaton (a language programme combining symbols, signs and speech).
For Jen, every session is different depending on the situation. She integrates the programme as a 1-1 intensive interaction, in class groups with peer-to-peer massage or adult-to-child sessions. Jen enjoys using familiar stories such as The Very Hungry Caterpillar as a context for Story Massage sessions for all ages and abilities. She finds that sharing familiar massage stories can reduce behaviours and provide self-regulating and coping strategies.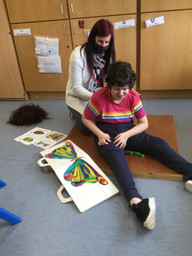 You can read about Jen's work with a combination of the Story Massage Programme and Makaton for a non-verbal 9 year old with very complex disabilities here: Sharing Sensory Stories on a Resonance Board.
"I am so pleased that I took the online Story Massage Programme training. It is a wonderful enabler for connection and relationship bonding and a fantastic skill to have up your sleeve especially for when children hit that emotional crisis point."
---
Julia Barnes
Julia is a Special Needs Teacher and Sensory Co-ordinator at Ravenscliffe High School, a generic special school, in West Yorkshire. Julia trained in the Story Massage Programme just before the pandemic and was seeing positive responses from her learners with PMLD. She decided to continue supporting families at home with a weekly recorded follow-along massage – taken from Story Massage Programme resources or written by herself.
When her school re-opened in September 2020, Julia began using the Story Massage Programme daily with a story for every day of the week as well as those related to their topic. On Thursday, for example, it is always Wind the Bobbin Up. This daily activity has continued whether students are in the classroom or self-isolating/shielding at home.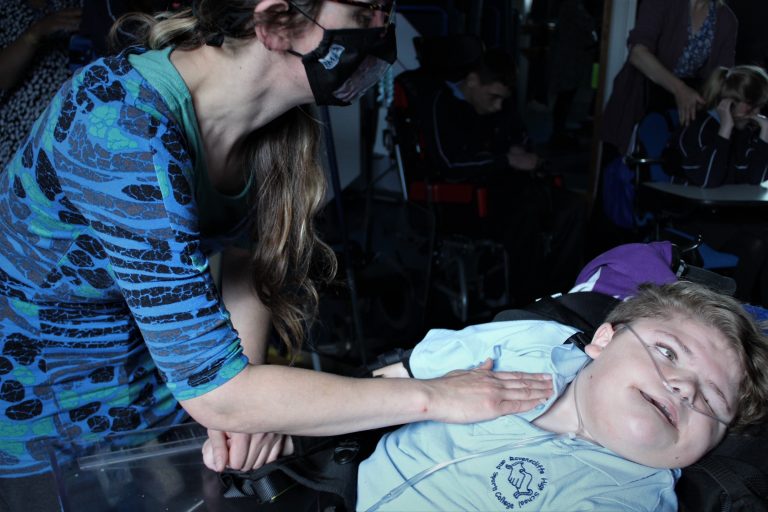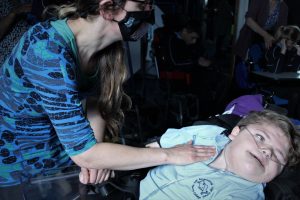 Julia films the massage stories in advance of her sessions so they can be played to help staff recall the strokes and allow the group to participate as a joint experience. Students can also watch/listen if they don't have a massage partner. As soon as the massage has finished, the room stays quiet to give students the opportunity to ask, vocalise, sign or gesture for more – which can be up to 3 times before time pressures kick in.
"We begin the day with a massage story. It is a busy classroom with 11 pupils and staff, and this brings us together. It is one of the only times in the day when everyone is quiet and focused on an activity – extremely powerful as anyone who has worked in a similar classroom can recognise!"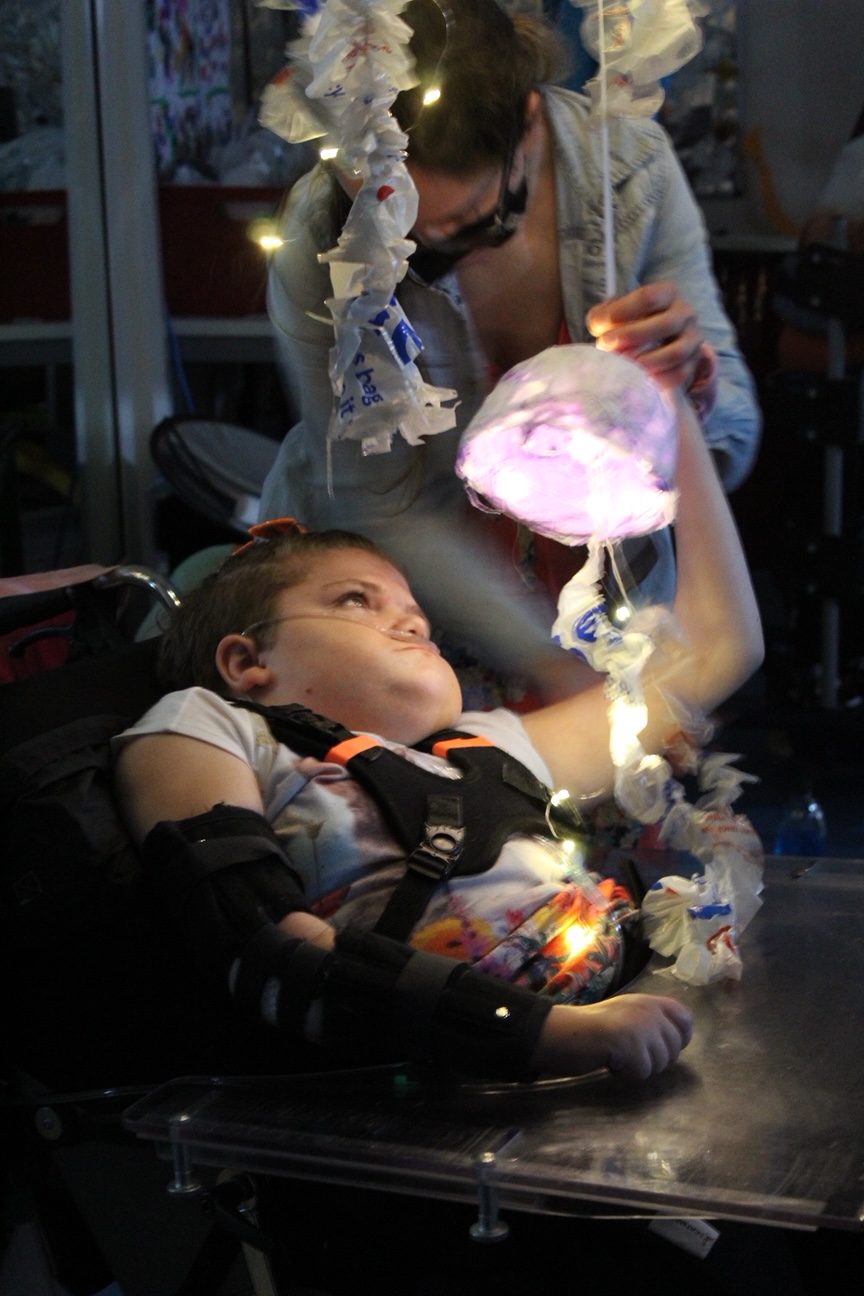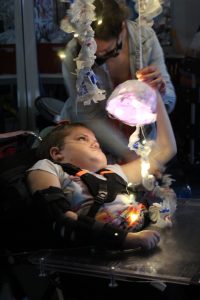 ---
Sara Davis
Sara is a Special Education Teacher at Parkholme School in Ontario, Canada for learners aged 13-21. She is currently teaching online and uses the Story Massage Programme daily with her students. Sara has taught them Self-Story Massage on their hands and arms so they can imitate the movements.
Sara finds a mixture of familiar stories or songs, repeated regularly, with new ones works well. She has adapted pop songs with the Story Massage strokes and also poems by poets including Christina Rossetti and William Blake. She finds that rhythm and rhyme, and a repeated refrain, help with engagement for teens.
Sara has adapted It's You I Like by Mister Rogers as her daily good-bye song. Her students put their hands up to do it as soon as they know it's Story Massage time. She uses this as a chance to talk about self-care, consent and mindfulness.
"My two-year-old often turns his back to me and asks for certain songs. It is a lovely way to ask for touch." 
---
Stef Lord
Stef is a Communication Co-ordinator at Robert Ogden School, part of the National Autistic Society, in South Yorkshire. She works alongside Speech and Language therapists delivering assessments and interventions for learners aged 4 – 19. Since training in the Story Massage Programme, running sessions has become a major part of her job role. Indeed, she now works with five primary classes and two secondary/post 16 classes as well as some individual sessions.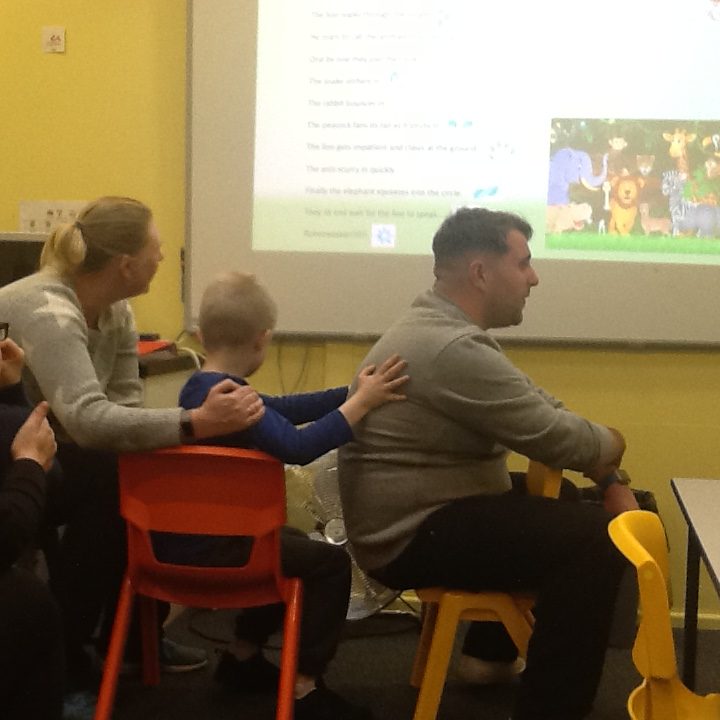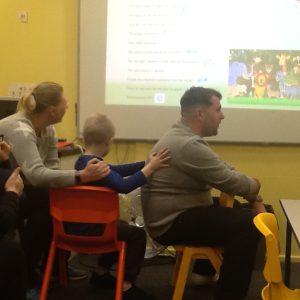 Stef uses themed stories around special dates, writes new stories based on favourite characters and includes names of the children whenever possible. An example is Snow Monster a story that she has created to include each of the pupils. The Snow Monster changes every week so they all get a turn at saying the lines.
Some pupils write their own massage stories, which Stef encourages. She turns them into massage stories that can be enjoyed in the class. One pupil, an avid massage story creator, likes to be Stef's 'helper' and works with other pupils in the class to promote more peer massage. The class now work better together in other activities.
"One pupil dislikes touch but by working slowly at his own pace he is now accepting touch during Story Massage sessions. This has had a positive impact into making personal care more tolerable for him."
---
More feedback for the Story Massage Programme
"At the end of some sessions, we change roles and the children give the staff a massage story. The children love this but the staff enjoy it even more!" Stephanie Lord, Communication Co-ordinator at a Special School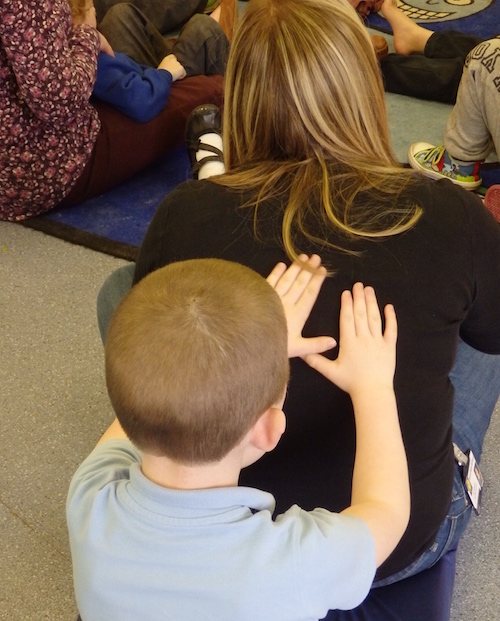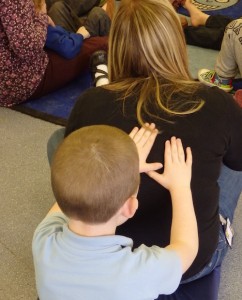 "The Story Massage Programme helps to bring literature alive for my pupils with PMLD and gives them the best chance to interact and engage with a storyline." Katrina Arab, Class Teacher at a Special School
"The Story Massage Programme is easily transferable and can be delivered face-to-face or online. Our Story Massage Community of trained practitioners is very supportive. We encourage each other by sharing massage stories, ideas and experiences." Melanie Murphy, Infant Massage Instructor
"It's so important to talk to parents about the benefits of connection, asking permission and sharing a loving experience as a building block for the future as well as simply a wonderful nurturing time in the present." Claire Currie, Founder and Owner of For Baby and Me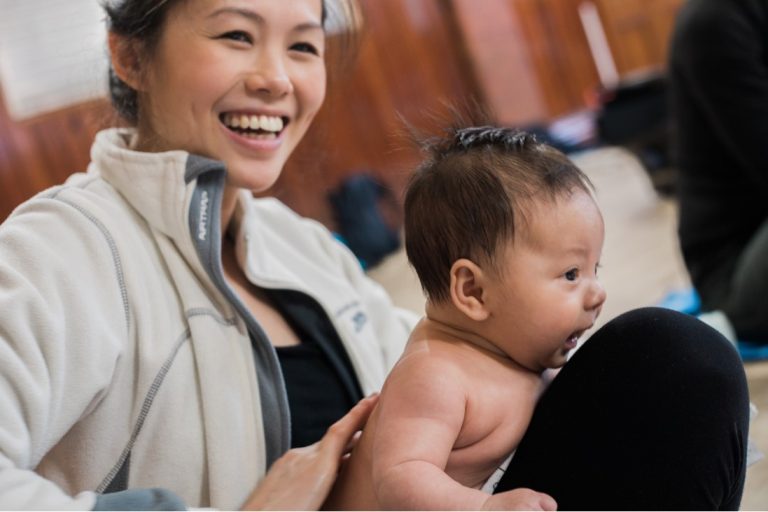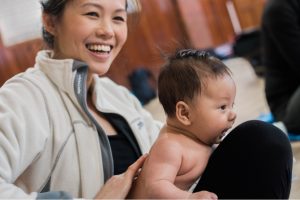 "We demonstrated a massage story when it was our class's turn to lead the Zoom assembly. It was 'Pink Day' as part of Breast Cancer Awareness Month and it was joyful to share a very pink flamingo massage with the school community." Julia Barnes, Special Needs Teacher and Sensory Co-ordinator
The Story Massage Programme enables inclusion into a wonderful world of story, song and music especially for the non-verbal children that I work with." Jen Helmbolt, Additional Support Needs Primary teacher and Makaton tutor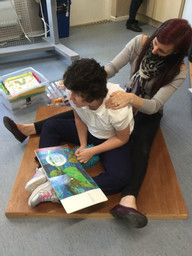 "The Story Massage Programme has helped me open a conversation with my school about consent and the benefits of positive touch for pupils with PMLD who may be touch-deprived. It offers a structured and safe way to share positive touch within the classroom. Consent to touch is now included in Independent Education Plans as 'Express Consent' and 'Express Refusal'." Sara Davis, Special Education Teacher, Ontario, Canada
---
Would you like to train in the Story Massage Programme?
Are you inspired by the work of our amazing Best Practice Award Winners? Find out all about how to train to use the programme at home or work: Story Massage Online Training Option.