We are delighted to present our Best Practice Award to two Story Massage Instructors who are spreading the word in their respective countries with enthusiasm, commitment, and integrity. One of the joys of our flexible online course is that it opens up opportunities for practitioners across the world to share the benefits of the Story Massage Programme. Congratulations to Katja Rinc from Slovenia and Kefaya Al Mubarak from Bahrain.
---
Katja Rinc, Slovenia
Katja is a primary school teacher, certified Infant Massage Instructor and Kid's yoga teacher. She has her own business with the literal translation A Little House of Heart Touches. Katja has worked collaboratively to translate Story Massage materials into Slovene to share effectively with children and parents. She says she has big plans for the future!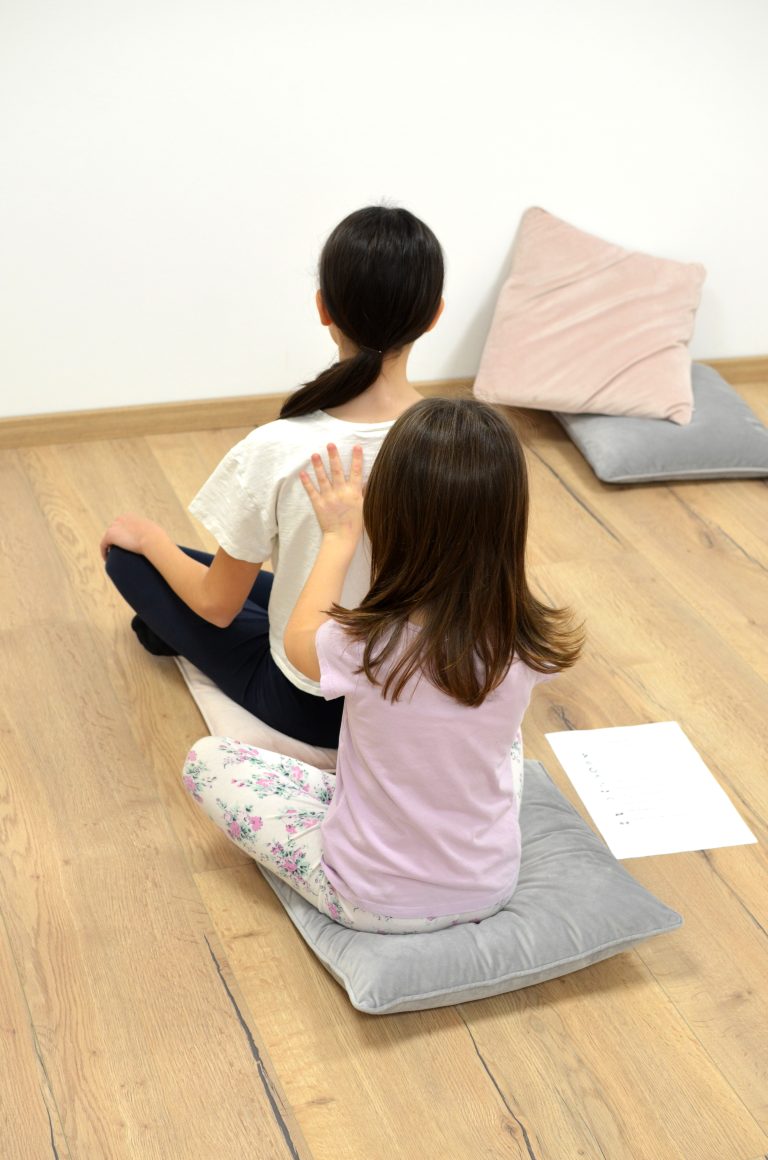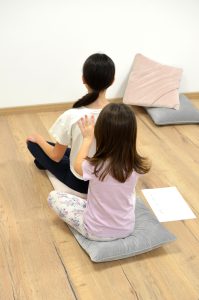 ---
Katja has set up her own YouTube channel with follow-along massage stories. She recorded her first video in December 2021 and shared it with children in schools and kindergartens across Slovenia. The theme was sharing love and kindness. Katja also provided teachers with tips and creative activities to support the massage story. The children wanted more and more… and the teachers were amazed at how the massage story had such a positive and calming impact on the children's behaviour, improved mood and general wellbeing.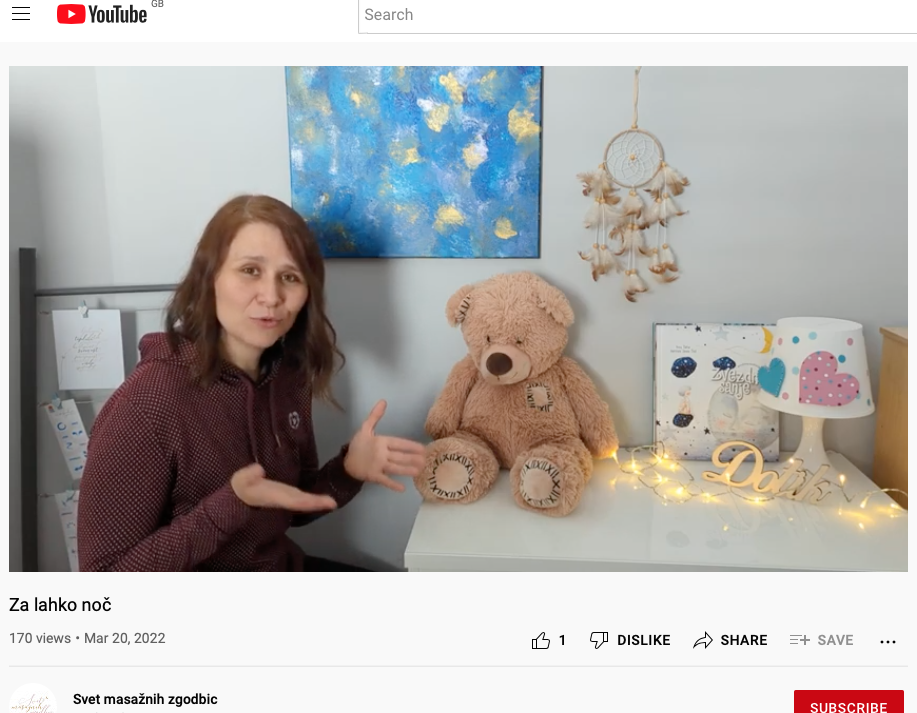 As well as working with schools and running wellbeing sessions for children and families, Katja also uses the programme at home. Her daughter found it hard to fall asleep – always with difficulty and late. Katja wrote a personalised massage story for her and included breathing as an additional relaxation technique. Her daughter now falls asleep easier and faster.
"One good tip is to think carefully about the theme, purpose and length of the massage story. For younger children, it works best when the story is shorter with more repetitions. Older children enjoy longer and more complex massage stories. This has been very successful in my practice." Katja Rinc, Primary School Teacher and Certified Infant Massage Instructor, Slovenia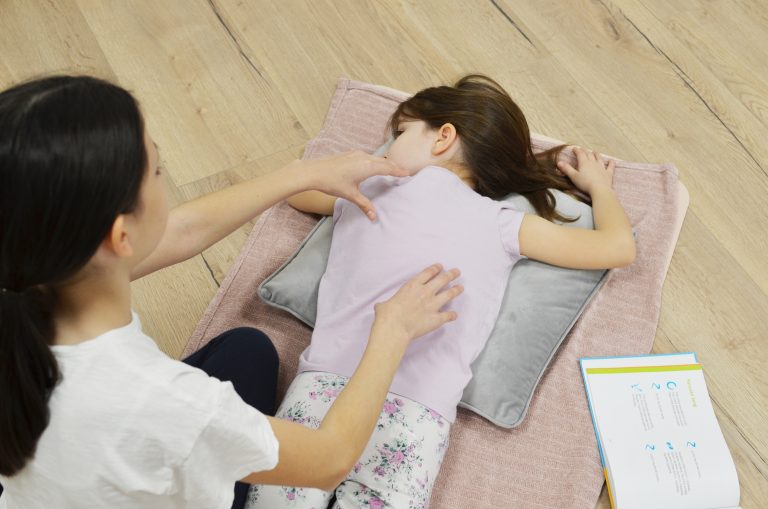 ---
Kefaya Al Mubarak, Bahrain
Kefaya is a Psychologist and Children's Massage Instructor in Bahrain. Initially, Kefaya shared massage stories at home as a way of enhancing communication and encouraging better sleep patterns for her own children. The benefits were so positive that Kefaya took our Story Massage online training with a view helping other parents and children.
She has now developed a programme on the Instagram platform (@Gentletouch.bh) combining the Story Massage Programme with other parenting skills. Kefaya set up a successful interview with Mary Atkinson, co-founder of the Story Massage Programme to introduce the benefits.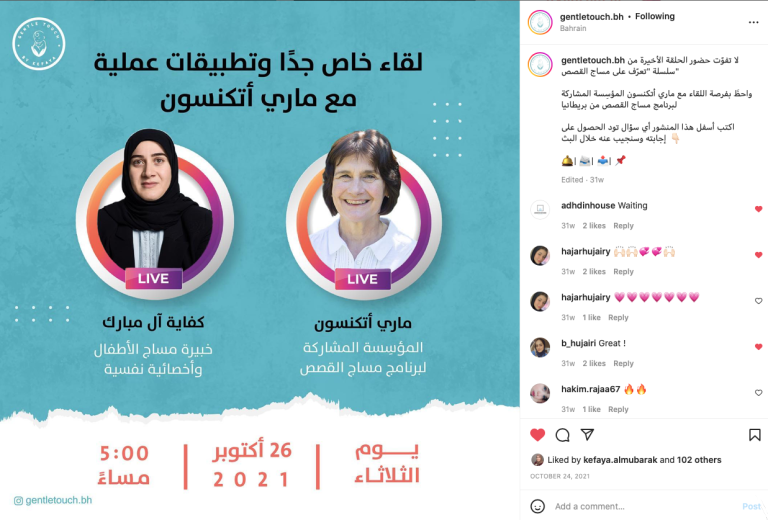 ---
Kefaya says this has helped mothers to deal with problems such as sleep difficulties, bedwetting, anger issues and preparing children for upcoming events such as going to the dentist or doctor, moving schools, or welcoming a new baby to the family. Kefaya's course is held online in Arabic and includes a summary of the Story Massage Programme, the benefits, and some examples of massage stories. This is followed by a one-to-one video call to discuss any issues with the parents and give a step-by-step demonstration of the different Story Massage strokes. Kefaya follows this up every month to support the parents, answer any questions and talk about the benefits.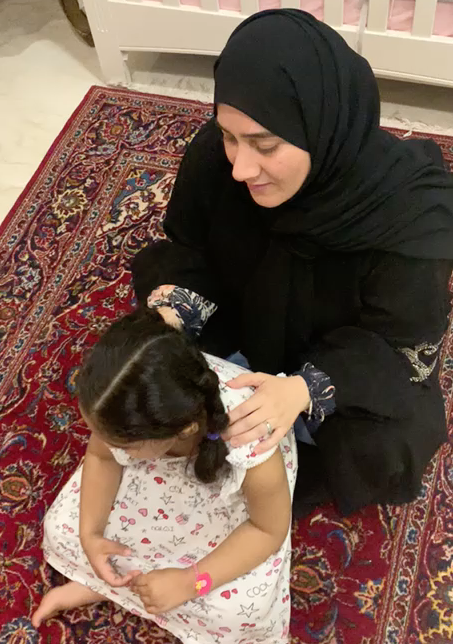 ---
"One mother told me that the programme has made a real difference to her 7 year old ADHD son. It increased his self-confidence and self-esteem and helped him remember facts and lessons from the different stories. The mother is now more patient with her son, and they communicate honestly with each other." Kefaya Al Mubarak, Psychologist and Children's Massage Instructor, Bahrain.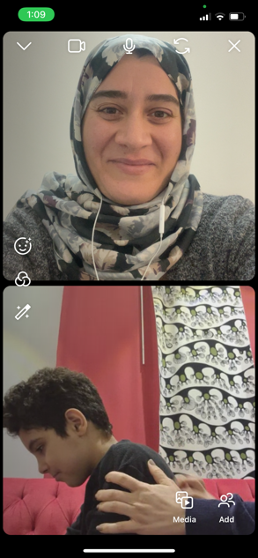 ---
More feedback from Overseas Story Massage Instructors
"Combining the Story Massage Programme with teaching parenting skills, can be very effective for managing anger issues for children. A popular massage story is all about how animals deal with anger and this helps teach ways of dealing with feelings of anger in an easy to understand and practical way." Kefaya Al Mubarak, Psychologist and Children's Massage Instructor, Bahrain.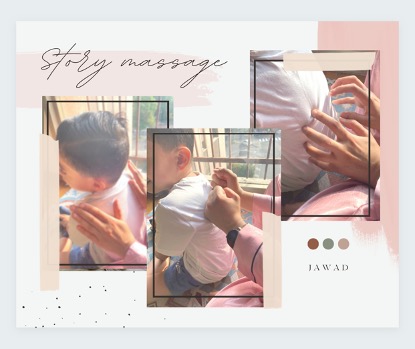 "What excites me most about the Story Massage Programme is that it eventually attracts those children who may be sceptical at first and don't want to participate. The most reserved children are usually the ones who become the most eager to be involved." Katja Rinc, Primary School Teacher and Certified Infant Massage Instructor, Slovenia

"Mothers tell me that massage stories soon become part of their routine and are the most valuable time that they spend with their children. Sharing positive touch with a relevant story can promote effective communication and encourage children to express their feelings in a safe environment." Kefaya Al Mubarak, Psychologist and Children's Massage Instructor, Bahrain.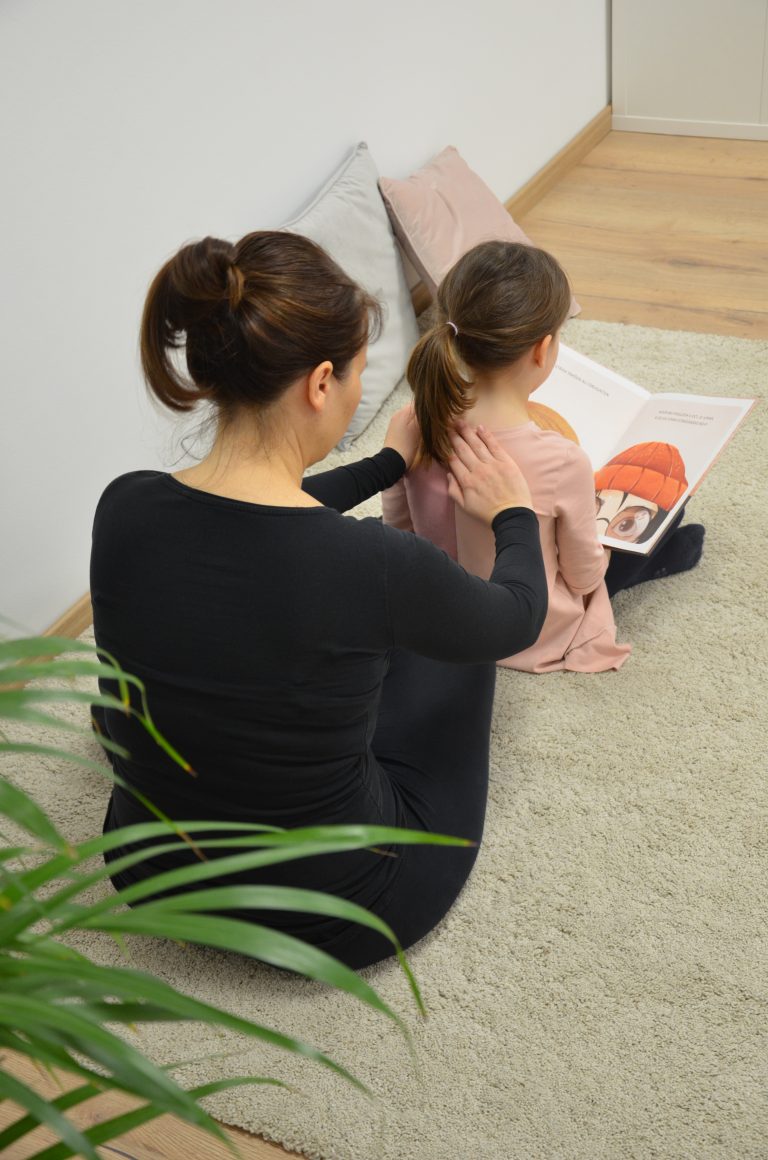 "I recommend starting a Story Massage session with some form of physical activity. Participants can balance their energy so it is easier for them to relax and benefit from the positive effects of the programme." Katja Rinc, Primary School Teacher and Certified Infant Massage Instructor, Slovenia
---
Would you like to train in the Story Massage Programme?
Are you inspired by the work of our amazing Best Practice Award Winners? Find out all about our flexible Story Massage Programme online course here: Story Massage Training Online.