Six pupils from Lochside Primary School in Montrose make weekly visits to a local care home as part of lessons in social skills. The hour long sessions include talking, singing songs, playing games and sharing the Story Massage Programme with elderly residents with dementia. And everyone is enjoying the benefits!
---
Learning Social Skills
The pupils, aged between 6 and 11, take an active role in planning each visit and help with decision-making for the variety of songs, games and massage stories they will share. It is a team effort with the group working closely together and supporting each other. Their nurture practitioner, Pam Davey, who is trained in the Story Massage Programme, encourages them to practice the massage stories on each other so they know the strokes and how to use a gentle pressure for elderly people.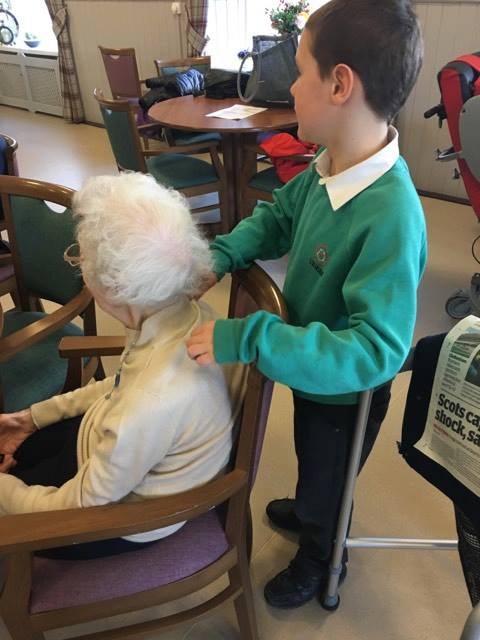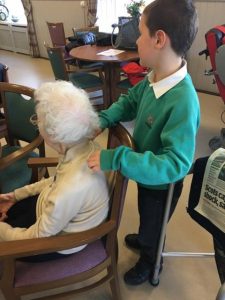 As part of the social skills lessons, Pam helps them to develop an understanding of how dementia affects people and how to choose appropriate songs and activities. They also have a group discussion to prepare them for the sadness of decline in health and death of their elderly friends.
---
Spending Quality Time with Residents with Dementia
Pam Davey and Diane Inglis, another nurture practitioner at the school, have been taking pupils to visit Dorward House care home in Montrose every Tuesday morning for over a year. Each visit begins with a question prompt to start a discussion. Examples are: "Name 5 things that are red?" or "Name 5 things you have in a kitchen." This helps the pupils and residents begin talking to each other and further encourages the learning of social skills.
Next they sing a song together. Popular songs include 'Twinkle, Twinkle Little Star' and 'Mary had a Little Lamb'. Makaton signs are often used to accompany the singing. Then there's a game of cards, dominoes or a sensory activity such as a playdough challenge. It is an interactive, no-screen, no-tech hour so the pupils are fully present and engaged.
---
Sharing Respectful Touch
The session ends with a Story Massage session which is always popular as many residents miss the comfort of positive touch, especially from a child. Pupils are taught respect for their elders. They ask permission to give Story Massage and say 'thank you' at the end. Traditional songs and poems can be easily adapted for Story Massage so everyone can join in. Pam and Diane have access to a whole variety of scripts from the training day, the Story Massage book and social media updates.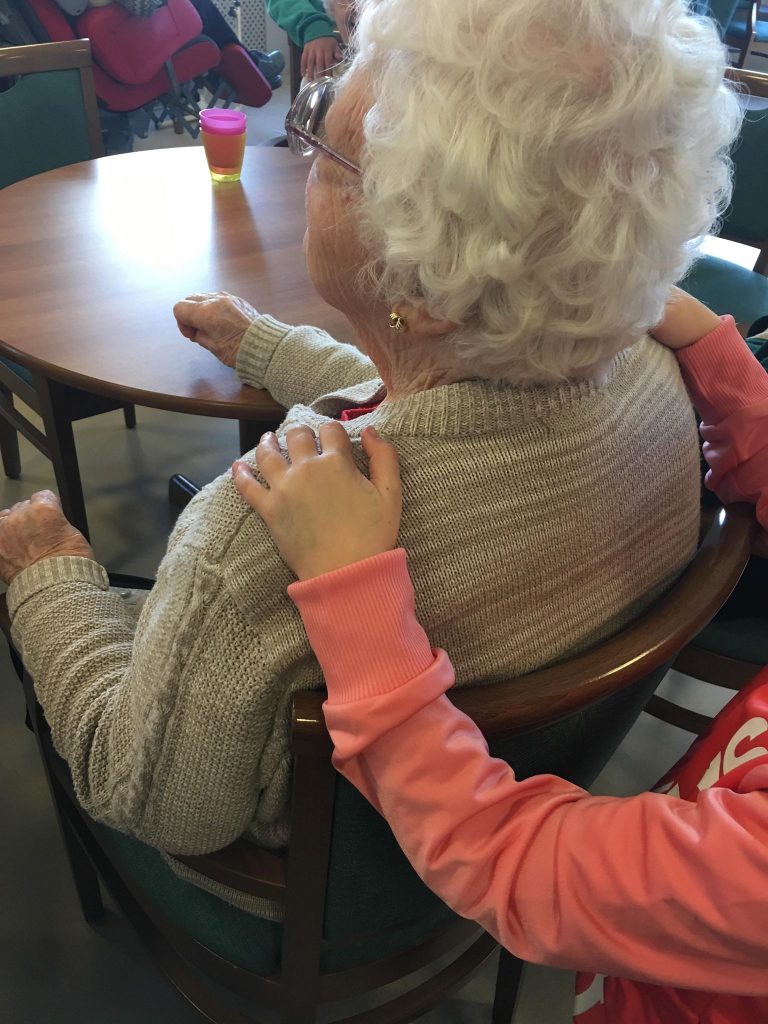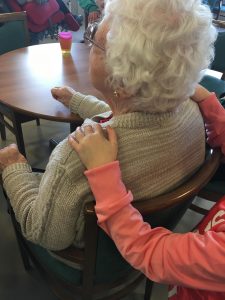 Staff from the care home also enjoy the sessions and comment on the big smiles on the residents' faces.  They enjoy seeing the residents relax with gentle touch and the fun of sharing a story with massage strokes.  It brings a sense of calm and inter-generational connection for all involved. And the pupils gain self-confidence and self-esteem with positive feedback from the residents.
---
Building Positive Relationships
Pupils are encouraged to say 'goodbye' as they leave. Initially, they were rather shy. But now they make eye contact and many of the pupils choose to give the residents a big hug. This has been a big step for those who were rather fearful of the older generation before sharing activities together. They all enjoy looking back on the session, seeing photos and remembering the special moments during the session.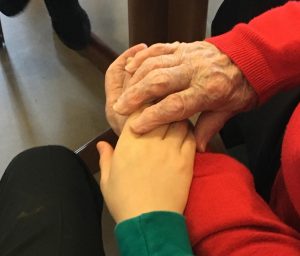 ---
More about the Story Massage Programme
The Story Massage Programme combines positive, respectful touch with the fun and creativity of storytelling. Ten simple massage strokes form the basis of the Story Massage programme. These strokes have a name, such as The Circle or The Sprinkle, and an easy to recognise symbol making it accessible for all. It is a fully inclusive activity. No clothing is removed and no oil is used.
---
Would you like to train in the Story Massage Programme?
Would you like to train to use the programme in your work or home? Then do consider our flexible online course. All the information is here: Online Training Course.
You will learn how to share the ten Story Massage strokes, adapt familiar stories and even create some sensory stories of your own. Ideal for well-being coaches, therapists, teachers, SEN staff, support staff, Early Years practitioners, those working with people with additional needs, everyone with an interest in sharing positive touch activities with adults or children.