The Story Massage Programme is now integral to the work of Caroline Hill, founder of Making SENse Creative Services Ltd, a company offering sensory-based activities for young adults with complex and profound disabilities in residential care homes. We talk to Caroline about her special way of encouraging creativity and fun with activities including sensory drama and sensory art sessions.
---
Story Massage in Sensory Drama and Art sessions
Many young adults living in residential care homes have limited opportunities to engage with stories so Caroline offers one-to-one sessions which tap into an individual's particular interests. "I love to incorporate massage stories in my creative sessions," says Caroline, "It provides the benefits of positive touch as well as an interactive and sensory way to share stories and songs. Sessions can be tailored to an individual's needs and can vary in length and content. They can choose their favourite strokes and receive the massage on whatever part of the body is best for them. I find that the Story Massage Programme is a wonderful way to connect with young adults with complex needs."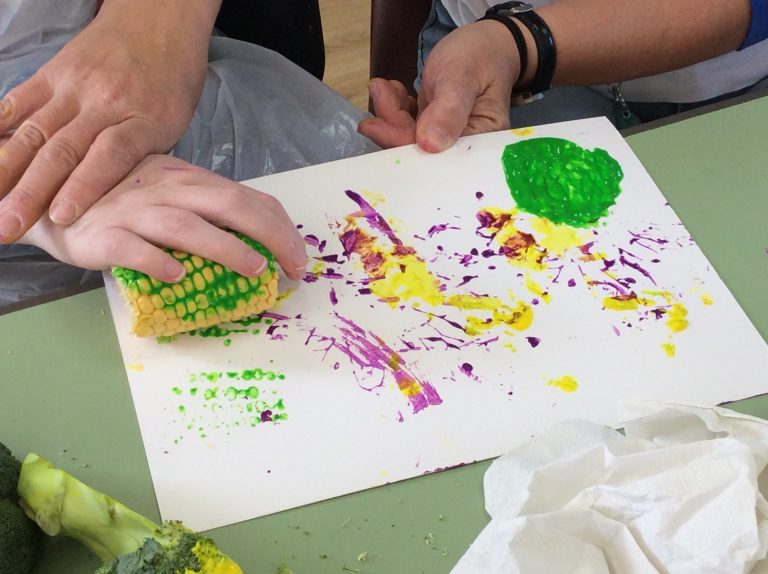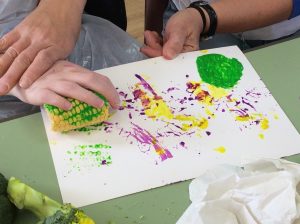 ---
Wellbeing and Relaxation
For Caroline, one of the key benefits of combining hands-on massage with stories in sensory drama and sensory art sessions has been promoting well-being and relaxation. "I try to make a relaxing and safe space," she says, "I use calming music, projected video clips and photographs. I keep the lighting low to create a cosy atmosphere. I always ask the individual's permission before starting a sensory Story Massage session and stop if there is any agitation or unease. I take my time and pace my speech at a slower speed. And I always remember to thank the individual when the massage is finished."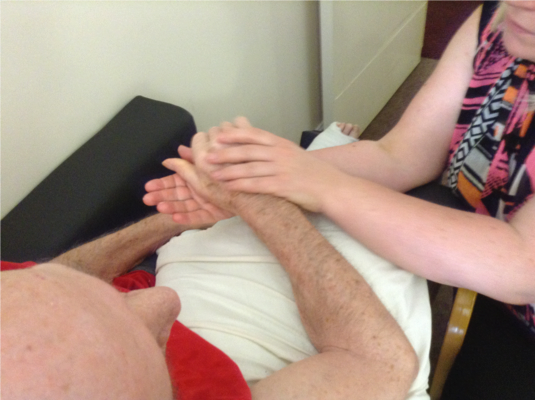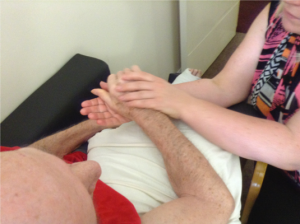 Caroline was recently working with a lady who became agitated very quickly. "I introduced the Story Massage Programme in a one-to-one sensory drama session to help settle her anxiety," she says, "It really helped to calm her down. At first I used massage stories from the Story Massage book but once I could see how much she was enjoying it, we sat down together and created a more bespoke sensory story especially for her. It's all about drinking tea and coffee. She loved it!"
---
Time for a Cuppa
We love our cups of tea. (The Circle)
The tea must be hot and steamy to be enjoyed. (The Wave)
Sometimes instead of tea, we drink a cheeky coffee. (The Drum)
It tastes different but just as good, drunk from my flowery cup. (The Walk)
Some people add sugar, but I like it without. (The Sprinkle)
When we have a drink it makes us relax. (The Squeeze)
And then we feel very calm and focus on what we are doing. (The Calm)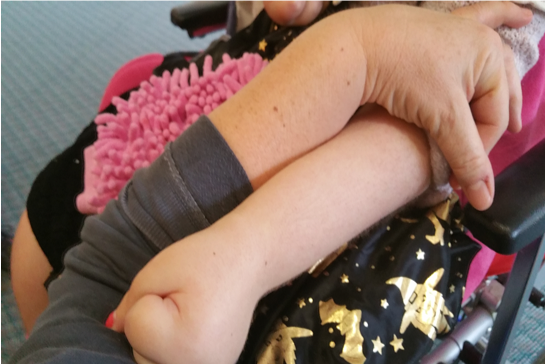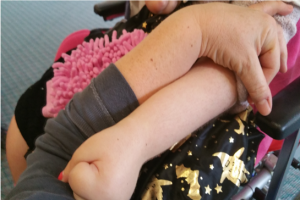 ---
More about the Story Massage Programme
The Story Massage Programme combines the benefits of positive, respectful touch with the creativity and engagement of storytelling. Ten basic massage strokes are the foundation of the programme. These strokes have a simple name, such as The Circle or The Sprinkle, and an easy to recognise symbol making it accessible for all. It is a fully inclusive activity, no clothing is removed and no oil is used. Stories can be taken from our Story Massage book, adapted from favourite stories or songs or you can create your own massage stories such as Time for a Drink.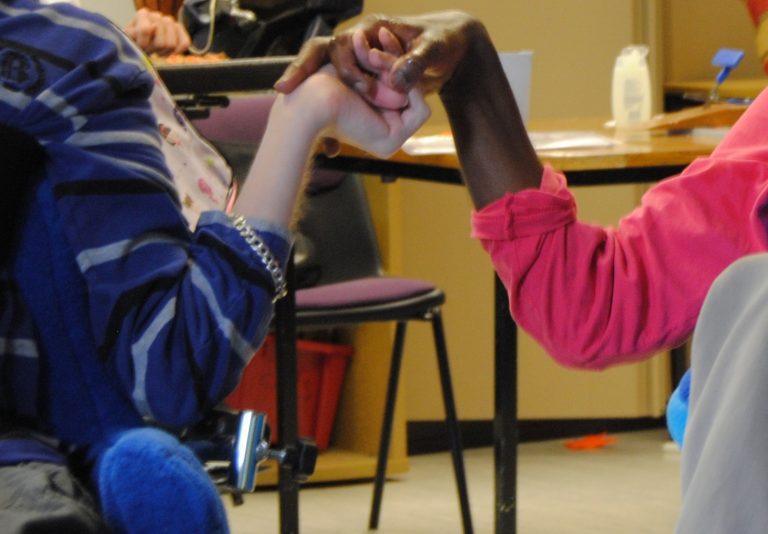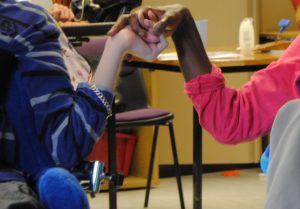 ---
Would you like to train in the Story Massage Programme?
Are you inspired by the way that Caroline (pictured below) is using the programme bring fun and creativity to young adults in residential care homes? Caroline is also using it with people with dementia and young adults with epilepsy.
If you would like to share the programme at home or work then you will love our flexible online course. All the information is here: Online Training Course.
You will learn how to share the ten Story Massage strokes, adapt familiar stories and even create some sensory stories of your own. Ideal for well-being coaches, therapists, teachers, SEN staff, support staff, Early Years practitioners, those working with people with additional needs, everyone with an interest in sharing positive touch activities with adults or children.