By special request from so many people around the world, here is a copy of the heart-warming Smiling Flowers Story Massage. This massage story was written in collaboration with Cocoro charity to share with the children affected by the tsunami in Japan in 2011.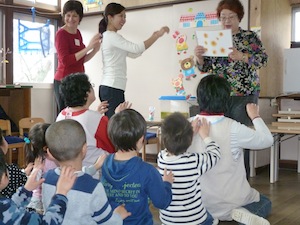 ---
Healing Power of Nature
Mary Atkinson, co-founder of the Story Massage project worked with members of Cocoro charity to share the Smiling Flowers Story Massage in kindergartens and schools. The massage story focuses on the healing power of nature. It was the success of Mary's visit that inspired the creation of the Story Massage Programme training and resources. You can read more here: Story Massage for Japanese Children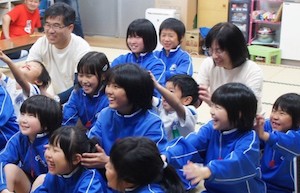 ---
Smiling Flowers Story Massage
The round, round sun rises in the sky (The Circle)
And the flowers grow – one, two, three (The Fan)
But one little flower is very tired (The Circle, small)
So the sun looks down and brings rays of light and hope (The Circle)
The wind sings songs of courage (The Wave)
The rain sprinkles the little flower with strength (The Sprinkle)
Every night, the moon watches over the little flower (The Half Circle, crescent shape)
And the stars twinkle brightly in the darkness (The Bounce)
So the little flower can sleep very peacefully. (The Calm)
Slowly, slowly the little flower gets taller and stronger (The Fan)
It grows and grows in a field of colourful flowers (The Circle)
And if you stop and look very carefully, (The Calm)
You can see that all flowers are smiling. Smile and smile. Be Happy today. (The Half Circle, smiling face).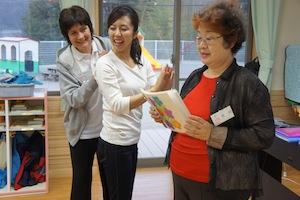 ---
What is Story Massage Programme?
The Story Massage Programme combines the creativity of storytelling with the benefits of massage. Ten massage strokes form the basis of the programme. These strokes have a simple name, such as The Wave or The Bounce, and an easy to recognise symbol making it accessible for all ages and abilities. The Story Massage Programme is fun, interactive and educational.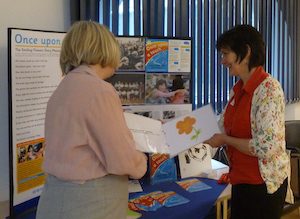 The online training is ideal for therapists, teachers, SEN staff, support staff, Early Years practitioners, parents, those working with people with additional needs, Baby Massage Instructors, Relax Kids Coaches… everyone with an interest in sharing sensory stories and positive touch activities with children and adults. All the information is here: Story Massage Online Training.