Positive touch can bring comfort and a sense of peace and calmness to adults in hospitals and care homes. We talk to Clare Gibbons from New Zealand, about her one-to-one sessions of the Story Massage in care homes for clients living with dementia, memory loss and those having experienced trauma.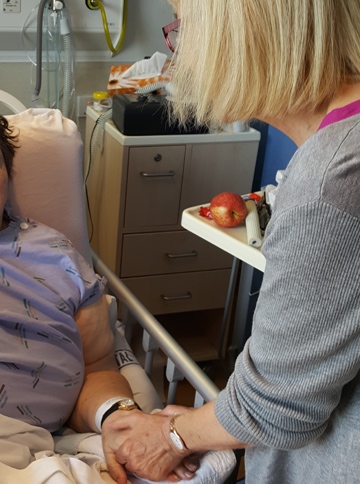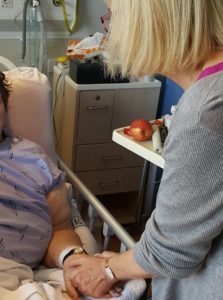 ---
What are the benefits of Story Massage in care homes?
It never ceases to amaze me how positive touch, where appropriate on the body, can have such a wonderful calming effect for the receiver. I find that clients who is slow and non-communicative to begin with start to show signs of being uplifted and they are definitely more peaceful after a session. Not only is their communication more open, but the client often wants to talk and express themselves (as best they can). The client is positive, more co-ordinated and generally more receptive to the world around them.
As a trained reflexologist, I find that the Story Massage Programme works well alongside reflexology for dementia clients and those in facilities such as hospitals and recovery units. Story Massage in care homes helps residents to relax and this seems to enhance the benefits of reflexology.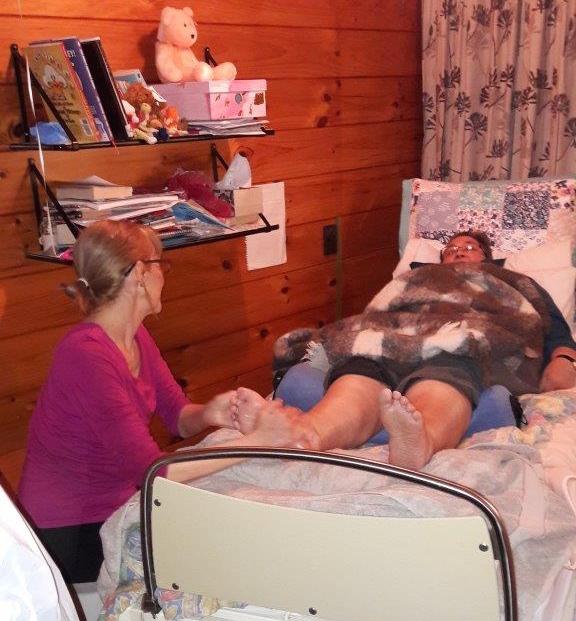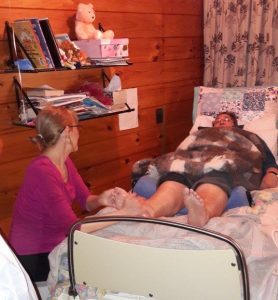 ---
Can you give an example of how the Story Massage Programme has made a difference?
One client who particularly benefitted from Story Massage had been admitted to hospital (and then later a care facility) after a fall. This was a traumatic event for her. It was noticeable in the early weeks and the beginning stages of her rehabilitation that she was confused and sometimes unable to understand and grasp what was going on. Because of the trauma she was confused and unable to understand what was going on. To this day, she is unable to remember what caused her fall.
I began by holding her hand and using gentle Story Massage strokes to soothe her. I related this to a sense of peace and calm for her. I also kept sessions very short. As she healed (and this was very slowly), I began incorporating familiar interests to create longer massage stories. She loves to sing so I often support the Story Massage moves with familiar songs such as Somewhere Over the Rainbow or make up my own.
The Story Massage Programme helps my client to find healing in mind and body. Her response is always so affirming, she loves the positive touch and the joy and fun it brings to her. She loves books and receiving Story Massage has helped her keep the love of books and stories alive in her heart and mind. The last time I saw her and I used Story Massage, her words were "oh that is so wonderful and relaxing."
---
Where do you apply the Story Massage strokes?
Story Massage strokes can be applied to any part of the body that is accessible and appropriate for the individual client. So I adapt my sessions to suit the changing needs of clients in care homes and hospitals. My client who had the fall was mostly confined to a hospital bed for the first three months. Because of her injuries and very limited mobility working on her hands and arms was the best option. As she improved, she also enjoyed massage to her feet and legs but this had to very gentle. She is walking with some support now and can sit and receive a massage story on her back. The Story Massage Programme is wonderfully flexible so can be made very personal to the client.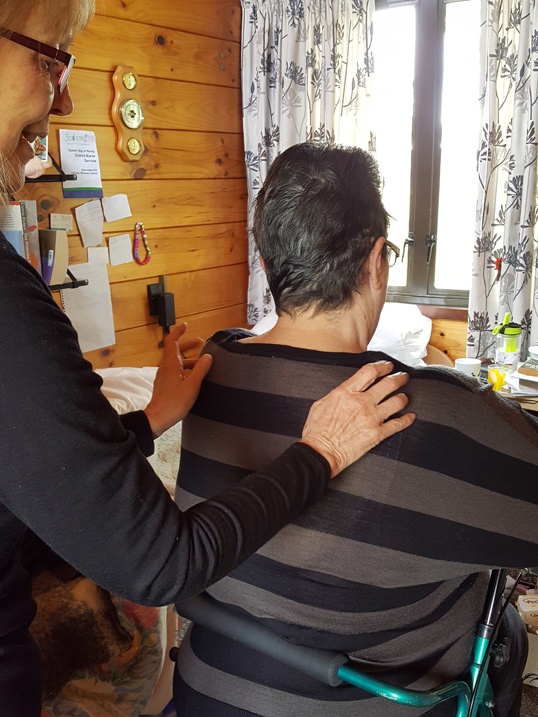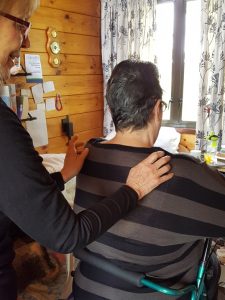 It is interesting to note here, that she now (just a year after her fall) is a wonderful help to staff in the care home and will often sit voluntarily with others, particularly those with dementia. She holds their hands and gives them her gentle touch sharing the peace, calm and comfort which she once enjoyed as she healed through my touch.
---
How do you approach your one-to-one sessions?
It is always important to know a little about the client's background. So, I ask questions such as 'How can I help you?' and 'What do you like/ What are you interested in?' Feedback may be through a family member, nurse or caregiver. I believe that it is important to empower the client, as this can help them make choices connected to their well-being. If the client is reluctant or unable to speak, then information gathered beforehand is an important task for the Story Massage practitioner to know and respect.
---
Do you use props?
I like to use props that may be appropriate for the client to relate to/connect with. It may be that the client chooses their own prop such as a rug or a soft toy that can bring comfort. I also like using objects related to the New Zealand lifestyle. By embracing the different cultures in New Zealand it can add a linkage to their identity.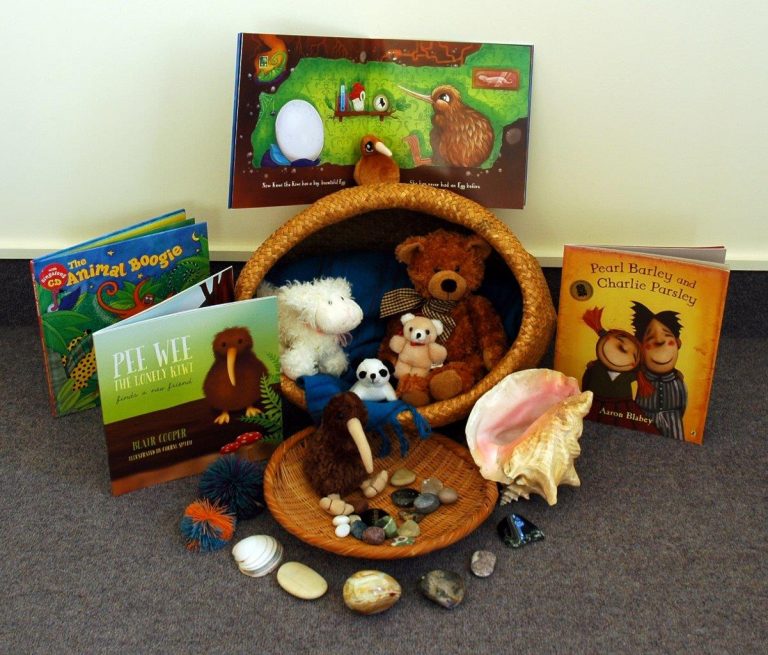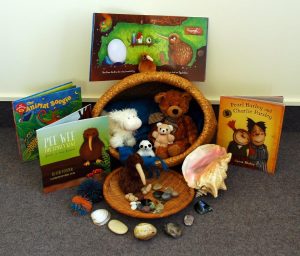 ---
More about the Story Massage Programme
Story Massage combines the benefits of positive, respectful touch with the creativity and engagement of storytelling. Ten basic massage strokes are the foundation of the Story Massage programme. These strokes have a simple name, such as The Circle or The Sprinkle, and an easy to recognise symbol making it accessible for all. It is a fully inclusive activity, no clothing is removed and no oil is used. Stories can be taken from our Story Massage book, adapted from favourite stories or songs or you can write your own personalised massage stories.
---
Would you like to train in the Story Massage Programme?
Are you inspired by the way that Clare is using the Story Massage in care homes and hospitals? She is also using it with children as part of her company Pohutukawa Kids.
If you would like to use the programme at home or work then you will love our flexible online course. All the information is here: Online Training Course.
You will learn how to share the ten Story Massage strokes, adapt familiar stories and even create some sensory stories of your own. Ideal for well-being coaches, therapists, teachers, SEN staff, support staff, Early Years practitioners, those working with people with additional needs, everyone with an interest in sharing positive touch activities with adults or children.