Are you working with clients with dementia? Or does a family member have dementia? We talk to two daughters about connecting with her mothers through the Story Massage Programme. They both find that the combination of caring touch with familiar stories brings comfort and relaxation – and is a fun activity for them both. The programme is now shared in many care homes with people with dementia.
---
Choosing Massage Stories for People with Dementia
"At first, I wrote quite elaborate massage stories about my mother's childhood," says Aly, who has trained in the Story Massage Programme, "It is a wonderful way to share memories about getting ready for a tin bath by the fire, remembering the gas mask for school, going down to the shop with the ration book etc. It was lovely to see her relax and listen to the words the story."
"When Mum's dementia got worse she preferred simple nursery rhymes or simple songs … and she still does," says Aly, "She isn't able to join in the words but she hums or whistles along. She often puts her hand where she wants me to massage – arms, head, hands or back – and she sometimes copies my movements with her hands so I know she is enjoying it."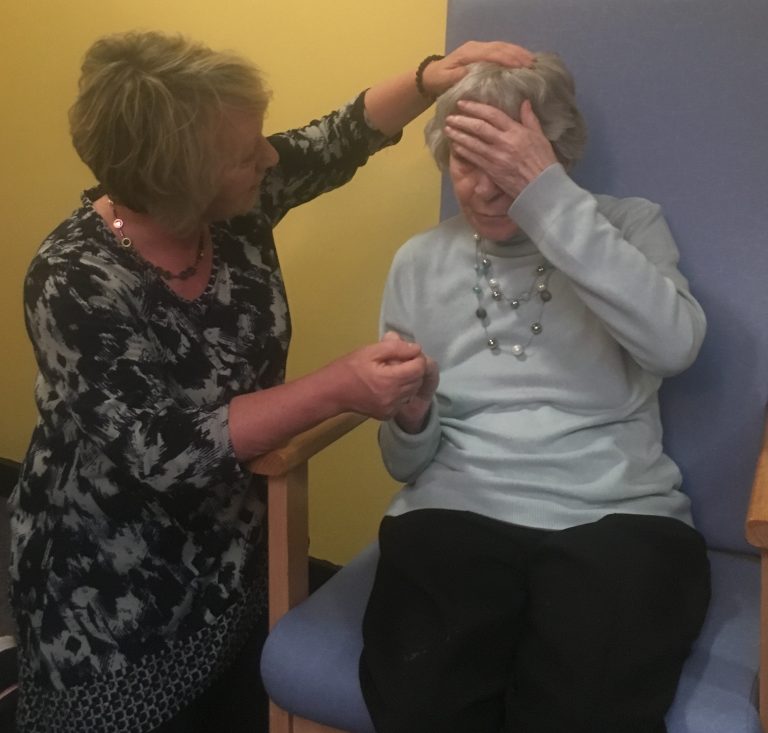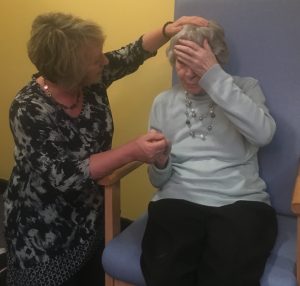 ---
Making a Connection with a Mother with Dementia
"My mother has vascular dementia. I have used some of the nursery rhymes with the strokes from the Story Massage book with her and she loves it," says Kathleen. "She also has a doll that she loves and sometimes, if she is not in the best of form, she helps me to give the doll a massage story.  To be able to interact with my mum in this way is very fulfilling."
Kathleen sent us this heartwarming video of sharing a massage story with her mother as part of her assessment for her online training. Kathleen wrote the story about a much-loved dog Flynn. You can't help but feel uplifted and inspired by the joy, connection and laughter.

---
More about the Story Massage Programme
Massage stories can bring comfort and reassurance for people with dementia. The programme of ten simple massage strokes combines the benefits of nurturing touch with words. It is enjoyed by people of all ages -from babies to the elderly.  The strokes each have a name, such as The Circle or The Sprinkle, and an easy to recognise symbol making it accessible for all. It is a fully inclusive activity, no clothing is removed and no oil is used.
---
Would you like to train in the Story Massage Programme?
If you would like to use the programme at home or work then you will love our flexible online course. All the information is here: Online Training Course.
You will learn how to share the ten Story Massage strokes, adapt familiar stories and even create some sensory stories of your own. Ideal for well-being coaches, therapists, teachers, SEN staff, support staff, Early Years practitioners, those working with people with additional needs, everyone with an interest in sharing positive touch activities with adults or children.