Girls at a foster home in Vietnam are enjoying Story Massage sessions run by Sophie McLeish, a teacher and MISP Instructor, who trained in Story Massage. Sophie, who is currently living and working in a school in Hanoi, writes about the rewards and challenges of sharing Story Massage in the foster home. Sophie has won our Best Practice Award for her inspirational work with Story Massage in Vietnam.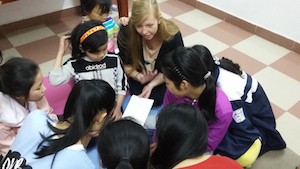 ---
Sophie's Story
The foster home opened in 2011 by the Humanitarian Services for Children of Vietnam and houses 14 girls aged between 5-18 years old. It provides refuge to girls who have been living in abusive environments or who are unable to stay with their family for various reasons, and supports the girls through school and other interesting activities. I got in touch with them about holding Story Massage sessions there and within a couple of weeks we were doing it.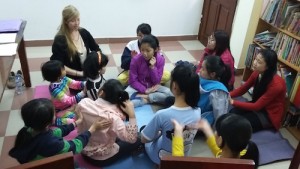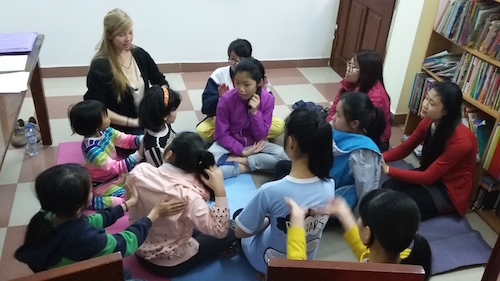 ---
Story Massage in Foreign Language
This is the first time I have done any Story Massage with non-English speakers so I wasn't sure if this would pose a challenge but I have to say the language barrier wasn't an issue at all. One of the staff members, Giang, translated for me and the girls enjoyed learning and practicing their English at the same time.
They all asked their partners in English 'Can I give you a massage please?' and did their introductions, writing their names on their partner's back with their hands. I taught them the first 5 Story Massage strokes and they were really getting into it – giggling away and experimenting with the shapes and motions. I had learnt the 10 basic Story Massage strokes on the training day and also had the Story Massage Book and Resources to support the session and give a visual aid to learning.
---
Story Massage for All Ages
The older girls (oldest were 14 years old) also helped the youngest ones who were only 7 years old so the mix of ages actually worked very well. After the first strokes they were eager to swap so the ones giving could relax while their partner's tried it. One girl was extremely tickly so I encouraged them to experiment to find out what was comfortable. It certainly didn't put her off though!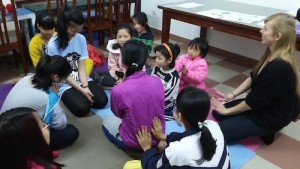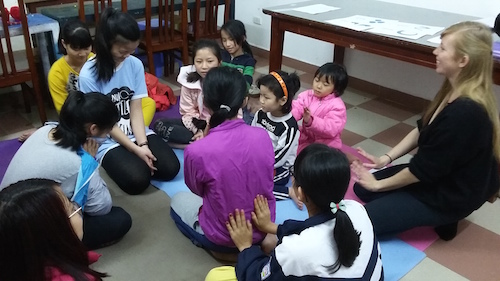 We did a simple massage story, which had been translated for me, incorporating the first few strokes, and then sang Twinkle Twinkle Little Star as this is a song I know all children are familiar with here. I taught the next 5 Story Massage strokes and they had so much fun doing them they asked if they could go through all 10 again from start to finish!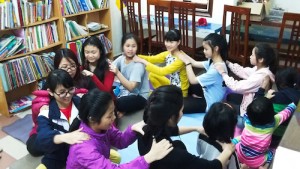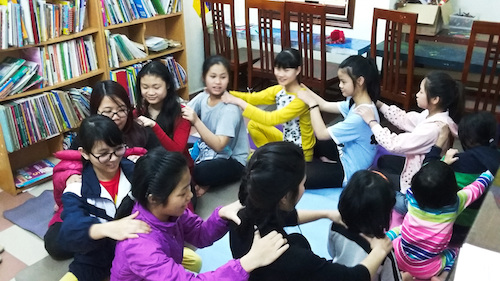 For a bit of fun they made a massage train circle which I always think is such a good way to bring the group together and encourage bonding between all participants. And it was lovely to see them all smiling away and enjoying this new and unfamiliar activity.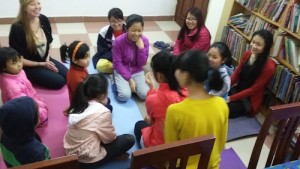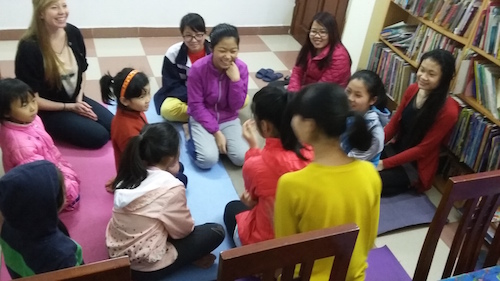 ---
"We Want More Story Massage!"
At the end Giang asked if they would like me to return next week and they all shouted 'YES' very enthusiastically. Sophie now runs regular Story Massage sessions and the girls have created their own Story Massage book with photographs and drawings. Mary Atkinson, co-founder of Story Massage, visited Sophie to meet some of the girls and tool the chance to award Sophie with her Best Practice Certificate in person.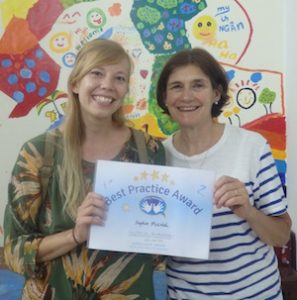 ---
Story Massage for Teenagers – Some Tips from Sophie
The teenagers liked it at first but after some feedback and discussion, they decided that the stories were too young for them to do every week. Instead we came up with idea of playing some music of their choice and putting the strokes to the music.
They love being in a massage train with one person choosing the strokes and everyone else following suit. Afterwards, they get into pairs and share more massage strokes with each other. They find this very relaxing and express how good it feels for them.
Using favourite music is a good way of introducing Story Massage for teenagers who need something a little different. It's also a great warm-up for lessons. It works well to help them relax before teaching them English!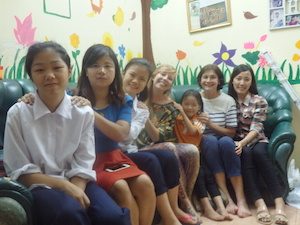 ---
More about Story Massage
Ten simple massage strokes form the basis of Story Massage. These strokes have a descriptive name such as The Wave or The Bounce and an easy to recognise symbol making it accessible for all ages and abilities. Our Story Massage book, which contains instructions with illustrations for the strokes and over 25 massage stories, is available from the resources page of our website. Story Massage Book
---
Training in Story Massage
If you'd like to know more about training to use Story Massage in your work or home life then do take a look here: Story Massage Training