The best way to explain the benefits of the Story Massage Programme is to see it in action. So here are six video clips showing children and young adults engaging with the fun and interaction of a Story Massage session. You can see the wide variety of settings where the programme brings benefits to people of all ages and abilities.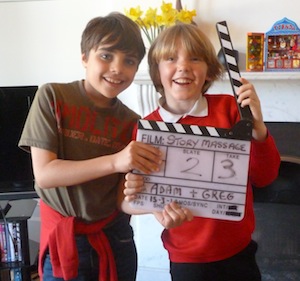 ---
In a Mainstream School Classroom
This video shows a class of P7 pupils using the programme at Thorntree School in Glasgow. The session uses 'What Do You do with the Mad that you Feel?' by Fred M. Rogers as a focus for sharing positive touch followed by a discussion about emotional regulation.
---
With Young Adults with Special Educational Needs
This massage story was created especially for Lily, a 20 year old girl with Down Syndrome who enjoys massage. Written and demonstrated by Mary Atkinson, co-founder of the Story Massage Programme, the massage story was used to help boost self-esteem and confidence – and it proved very successful. Just wait for Lily's reaction at the end.
---
With Babies and Toddlers
The Story Massage Programme is very popular with babies and parents – in infant massage classes and at home. This video shows Lauren Burgess-Edwards from Lollitots Baby Massage, Wolverhampton, giving a one-to-one session to teach the strokes to the baby's mother. Lauren is sharing a massage story adapted from 'Guess How Much I Love You?' by Sam McBratney.
---
In Care Homes and for People with Dementia
Story Massage sessions are a wonderful way of interacting and offering comfort to elderly residents in care homes and people with dementia. These photos show some of the ways that it can be enjoyed by residents, staff, and visitors (of varying ages and abilities).
---
In Special Schools
Story Massage sessions encourage engagement and communication for children with special educational needs. This video shows a St David's Day Story Massage session led by Lisa Lawrence, Sensory Learning Leader at a special school. The children are clearly enjoying the session and so are the staff!
---
In the Family Home
Watch this lively three year old enjoying the benefits of a massage story with Mary Atkinson, co-founder of the Story Massage Programme. You can see how even the most energetic young children will engage with the words of the nursery rhyme and stay calm and focussed. It is perfect for bedtime.
---
Training in the Story Massage Programme
Are you inspired by these videos? Ou popular online training course is open to all.  We teach you how to share the ten strokes and adapt stories or create your own. The programme is supported by a book, DVD, wallcharts and stickers. Once trained, there are no further costs involved in implementing the programme. You can find out more here: Story Massage Programme Online Course