Story Massage is not only for children! We share Jayne Burke's reflections on a successful networking event for National Massage Day. "Story Massage is a wonderful way of breaking down barriers at meetings, conferences and even team bonding days," says Jayne who has won our Best Practice Award for her work. We hope that Jayne's experiences will inspire you to share positive touch activities with your colleagues. Go on, give it a go….
---
Jayne steps out of her comfort zone
"When I heard that National Massage Day was on 16th May 2017, I decided to put on my big girl pants and ask my business coach if I could do a group activity in his monthly networking meeting (StroudNet). He usually has two high profile speakers at each event so when he said yes, I was delighted that I had been brave enough to pluck up the courage to actually ask him.
"On the morning of National Massage Day I arrived at the venue slightly earlier than usual and I noticed that I had butterflies in my tummy, I was excited about being able to share my passion. I had my carefully thought out massage story with me and, at the appropriate time, I was introduced and invited to stand up in front of the 50 people from local businesses."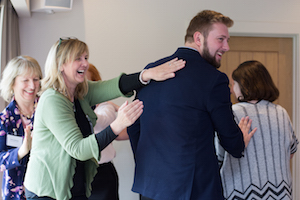 ---
Encouraging others to share Story Massage
"I took a few slow deep breaths then demonstrated a few Story Massage strokes in the air and asked them to join in as I talked them through my massage story (see below). I could hear giggles as I asked them to imagine a map of Gloucestershire on the back on the person stood in front of them. I asked them to perform a Story Massage stroke at the appropriate place on the map to represent those travelling from Winchcombe (where I live). Everyone started to get involved and I heard someone call out the 'Forest of Dean' and another called out 'Stroud'. I revelled in their verbal engagement with the activity."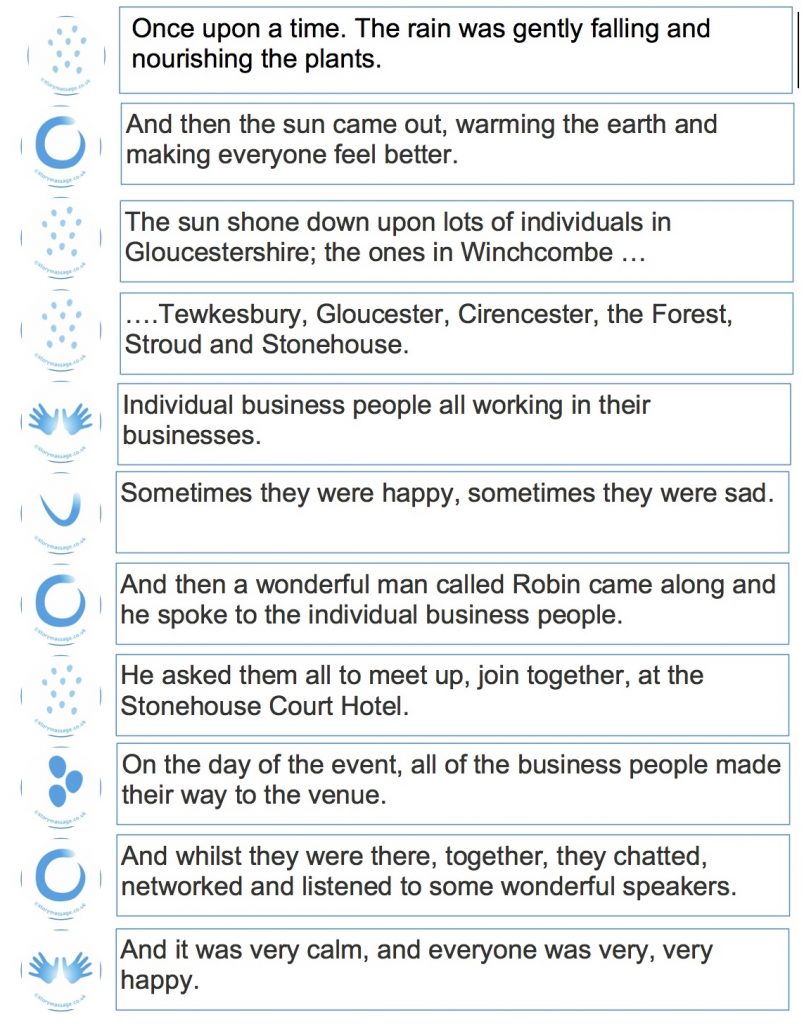 ---
Creating a happy atmosphere at networking events
"I made my way back to my table amid a huge round of applause which seemed to go on for ages. However, although delighted, I was fascinated by the amount of love and laughter that had been released into the room and showed on people's faces. Story Massage is a great way of getting our happy hormones flowing!
"Even after 20 years as a Holistic Therapist, I still love seeing the way people change when they experience my PAT (Positive Appropriate Touch) instruction and I feel very privileged every time it happens. Luckily, one of the attendees at the event was a photographer so I now have a wonderful record of the wonder, delight and happiness in the room. I was also deeply touched when many of the attendees made the effort to find me later on; both to thank me, and to share their experiences.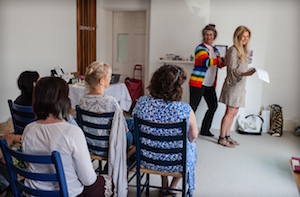 "Since then I have shared Story Massage at an IWork4UGlos Networking event and will also be sharing it at a Women's Business ClubNetworking event later on in October.
---
Sharing Positive Appropriate Touch with all ages
"Story Massage is a fantastic way to share the benefits of positive touch with children and adults. And it is so much fun…! Take a look at my video to find out more."
---
More about the Story Massage Programme
The Story Massage Programme combines the benefits of positive, respectful touch with the creativity and engagement of storytelling. It is enjoyed by all ages and abilities. Ten simple massage strokes form the basis of the Story Massage programme. These strokes have a name such as The Circle or The Sprinkle, and an easy to recognise symbol. It is a fully inclusive activity, no clothing is removed and no oil is used.
If you would like to use the programme at home or work then you will love our flexible online course. All the information is here: Online Training Course.
You will learn how to share the ten Story Massage strokes, adapt familiar stories and even create some sensory stories of your own. Ideal for well-being coaches, therapists, teachers, SEN staff, support staff, Early Years practitioners, those working with people with additional needs, everyone with an interest in sharing positive touch activities with adults or children.