Story Massage is now an integral part of tutorials and class sessions for Astrid Gilmartin, a Life Skills Lecturer within the Inclusive Learning Department at Hertford Regional College. "Story Massage has helped our learners to achieve their goals and targets, especially for communication and interaction, as well as aiding relaxation," says Astrid who has won a Best Practice Award for her inspiring work with adult learners at the college. 
---
Meeting Life Skills Targets with Story Massage
Astrid (second right, below) began using stories from the Story Massage book and was so impressed by the benefits that she organised an in-house training day for staff in July 2018.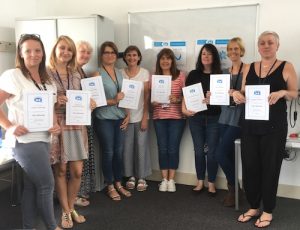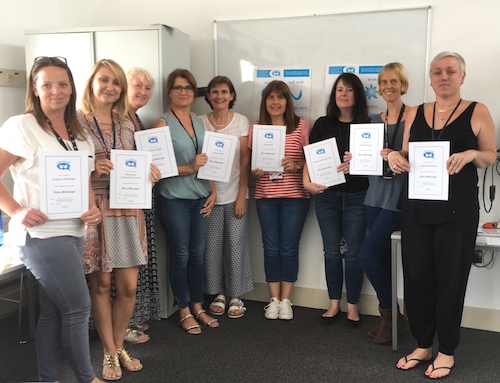 Story Massage is now regularly used at the college and Astrid is seeing real benefits.  "Our learners are set demanding goals and targets based on their individual starting points," she says. "Sometimes these can be quite hard to achieve but we have found that Story Massage is a fun and helpful activity for learning life skills."
---
Kym asks for Cinderella as a Massage Story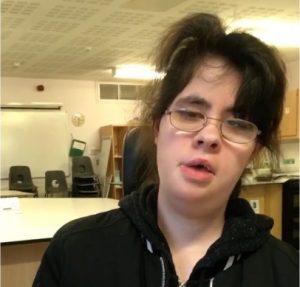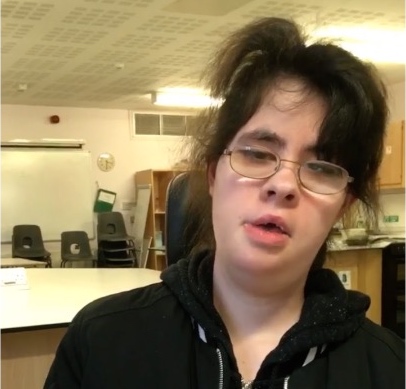 For 19 year old, Kym Shepherd (above), the most challenging target was 'to be able to request desired activities'. However, this target has been met through Story Massage. "Now Kym shouts across the college to me that she would like a Cinderella massage story," says Astrid, "She is able to re-tell the story and sign the words. She gives staff a massage and is very proud of her new skills. She even volunteers to read the story with me in class. It has given a real boost to her personal confidence and social skills."
Here is a video of Kym talking about Story Massage and Cinderella, her favourite story from the Story Massage book.
---
Story Massage for Adult Learners with Disabilities
Astrid and fellow staff members have noticed many different social, emotional, physical and educational benefits of Story Massage for their adult learners with disabilities at the college. Here are some key ways it can be helpful for learning Life Skills.
Building positive relationships between staff and students, as students experience staff in a different way.
Increased knowledge of positive touch and the ability to differentiate between touch that feels safe, and touch that doesn't feel safe.
Students can say they don't want a massage but prefer to just listen. This is a brilliant starting point to learn to say 'no' to unwanted touch. They and the others in the group learn that 'no' is fully respected and hopefully will empower them to say a confident 'no' if they need to in their future.
Better retention of story content, and empathy and imagination of events in the story. Students often prompt the next word or sentence or the next move, or, request to read the story.
Students are proud that they have a special talent and can give massage to a peer, parent, sibling or member of staff.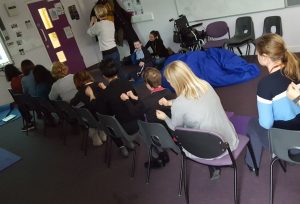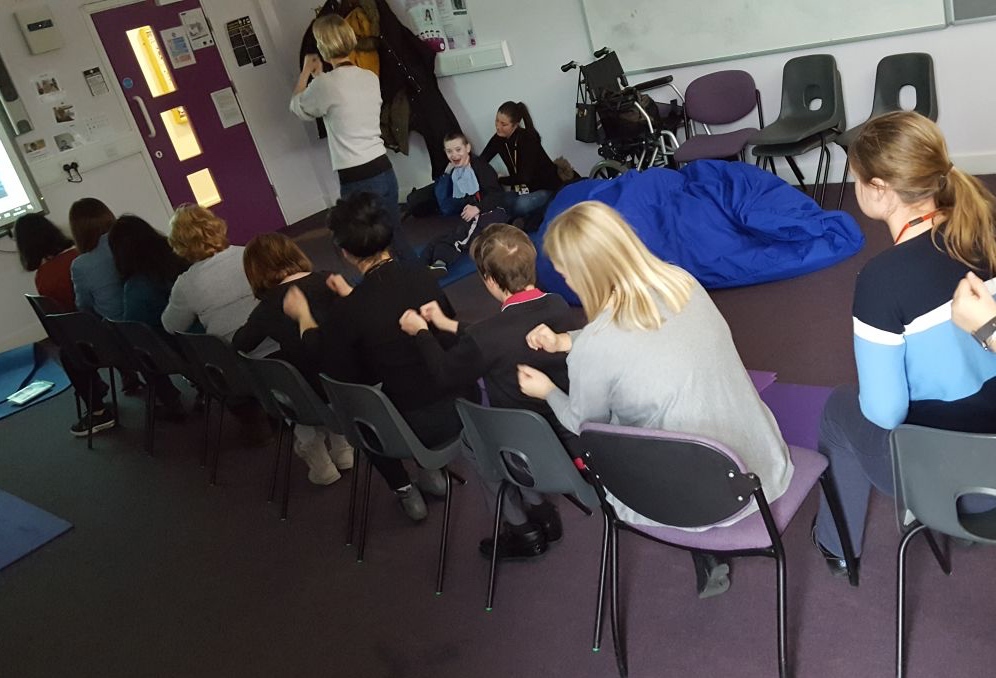 ---
More about Story Massage
Story Massage combines positive touch with the fun and creativity of storytelling. Ten simple massage strokes form the basis of the Story Massage programme. These strokes have a name, such as The Circle or The Sprinkle, and an easy to recognise symbol making it accessible for all. It is a fully inclusive activity. No clothing is removed and no oil is used.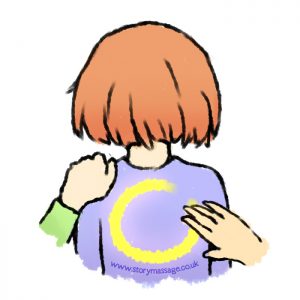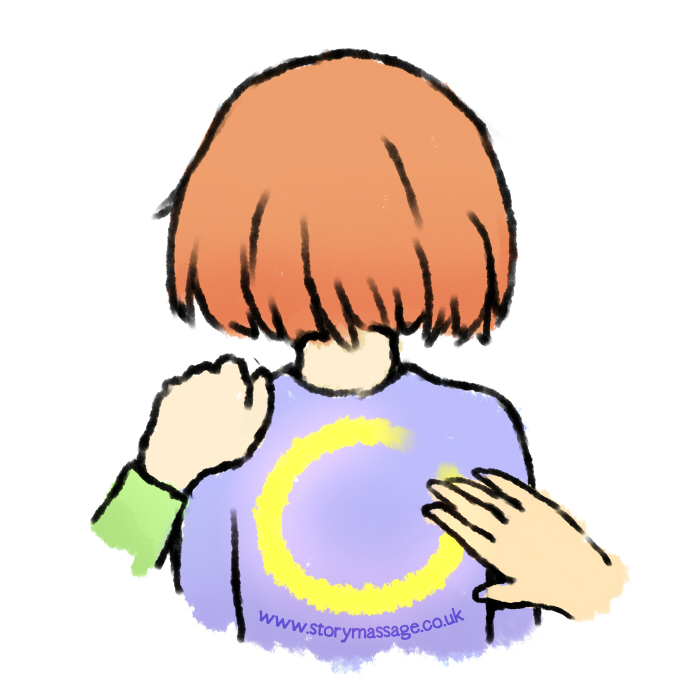 ---
Would you like to train in Story Massage?
Are you inspired by Astrid's work as a Life Skills Lecturer? Would you like to train to use Story Massage in your work or home? We run a one day accredited training course held around the country for individuals and groups. These days can also be organised as in-house training sessions.  And we also have a new online training option.
We teach you how to share the ten Story Massage strokes and work with you to adapt familiar stories and even create some sensory stories of your own. Ideal for Relax Kids coaches, teachers, SEN staff, support staff, therapists, Early Years practitioners, those working with people with additional needs, everyone with an interest in sharing positive touch activities with adults or children. All the information is here: Story Massage Training