Well-being teacher, Una Curran, shares important lessons around mental health and well-being for pre-school children in Ireland. "I teach classes for children from two and half years of age," says Una, "It is amazing how quickly self-help and relaxation techniques become a way of life for them."
---
Well-Being for Pre-School Children
Una teaches weekly classes at two pre-schools – Forever Friends and Happy Days – in Ratoath, County Meath, for under-fives. The classes last around 35 minutes with a mix of ages and individual needs. "I always come home with a smile on my face," says Una, "the children are so full of energy, life and curiosity. They soak it all up. Mental health and well-being are normalised, it becomes part of their daily lives and part of who they are."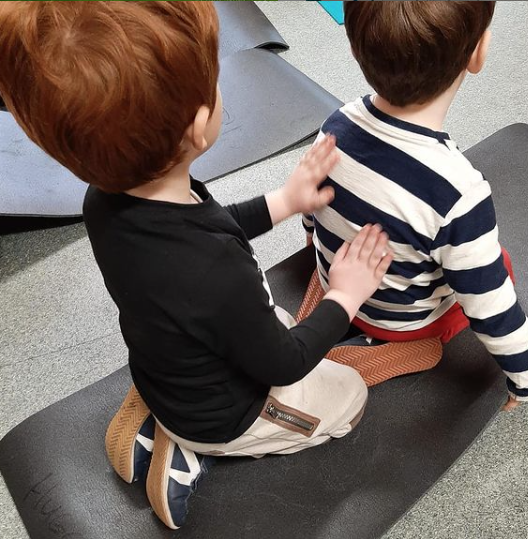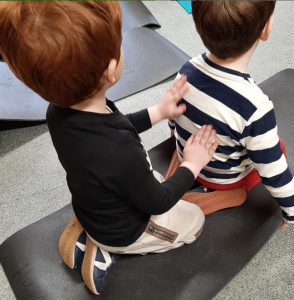 Una's classes include breathing exercises, mindfulness, simple yoga and movement, sensory props and, of course, sharing massage stories. "Hickory, Dickory Dock is a real favourite," says Una, "but we share a whole variety of massage stories around different topics such as Earth Day or Mother's Day." Una posts videos of her massage stories plus well-being ideas and inspiration on her Facebook page: Finding Your Wings – Well-being with Una Curran.
---
Discussing and Regulating Emotions
An important part of Una's work supporting well-being for pre-school children is discussion around emotions. Una adapts books and writes her own massage stories to encourage young children to talk about their feelings. "This helps young children understand more about their changing emotions," explains Una, "It helps them understand that is okay to feel angry, sad or scared, for example, and what they can do to stay calm in difficult situations. It is a challenging time for many children and stories and positive touch can really help their sense of well-being."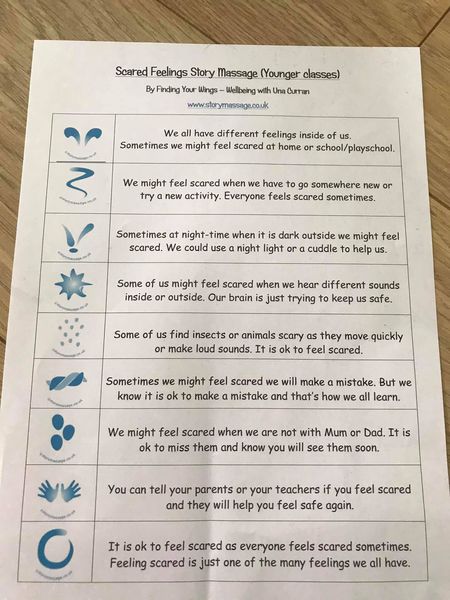 "I love doing mindfulness with Una because she is so nice and we learn that we can be kind or happy or it's ok to feel angry or sad. I love the songs and stories, and I like relaxing time when we get our blankets out. I like feeling my heart as it makes me feel loved." Minnie, aged 4.
---
Sharing Massage Stories
The children team up with a friend and share the massage stories on each other. They always ask permission and thank each other at the end. "This helps to share kindness and to build positive relationships," says Una, "If children don't want to take part then they watch or massage a teddy."
In this short video, three children from Forever Friends Playgroup share their thoughts about their Story Massage sessions with Una.
---
Learning Self-Help Strategies in Pre-School
Una says that teachers notice a real difference in the children after the classes, saying there are less arguments and everyone is calmer and more focussed. "Learning self-help strategies at a young age is so important," explains Una, "If young children recognise the benefits of techniques such as deep breathing and self-massage, then hopefully this will prevent the overwhelm that so many teens experience."
"We can really see the progress the children are making. For children so young to be so interested and involved is fantastic. We are amazed at how well the children are doing. Your sessions bring a sense of calm to the room for quite some time afterwards!" Audrey Fitzpatrick, Pre-School Teacher.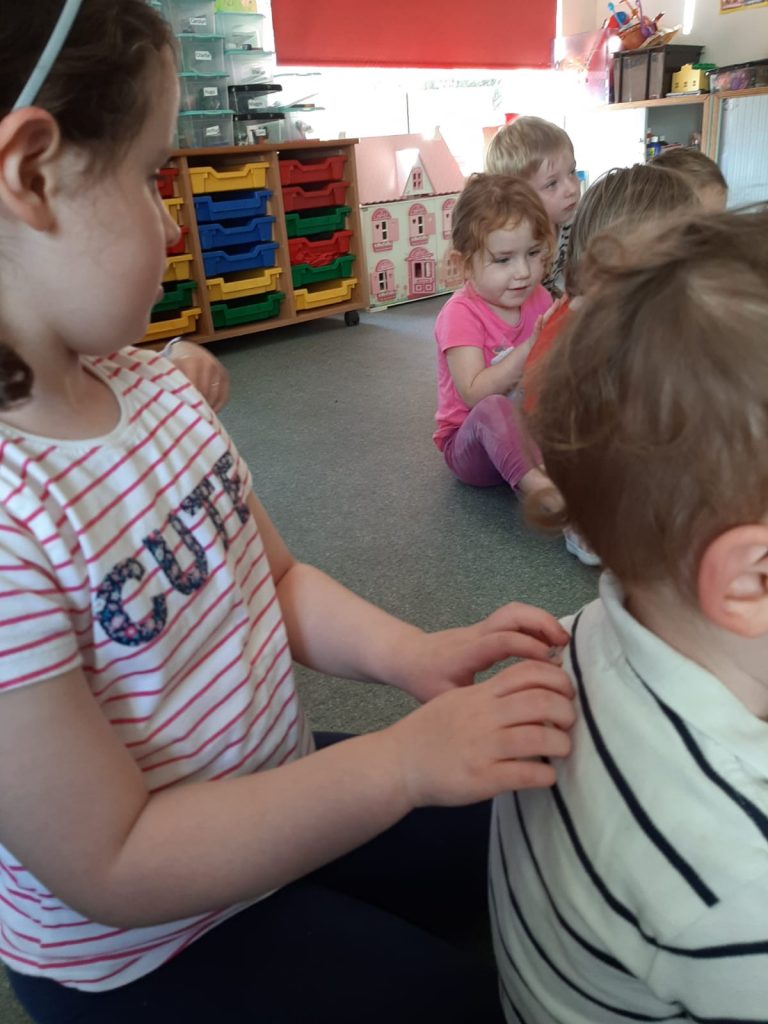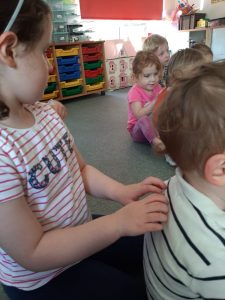 ---
Story Massage in Libraries
Una also works with Tipperary County Library Service and Laois Libraries to help promote early literacy skills for pre-school children. She says, "It was great to see how quickly children learnt and enjoyed nursery rhymes through the Story Massage Programme on their first attempt. It is also a wonderful opportunity for parents to share special time with their children."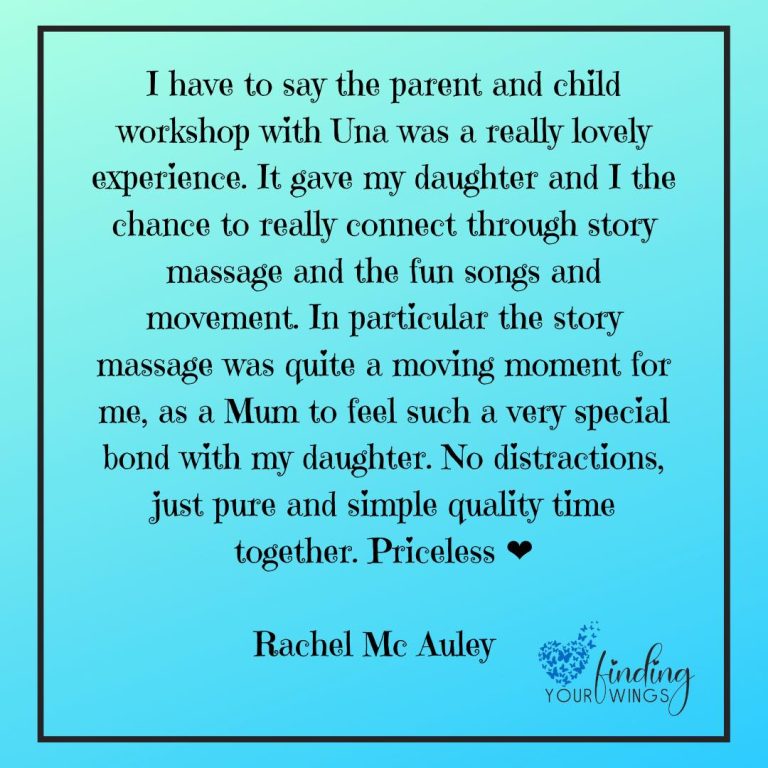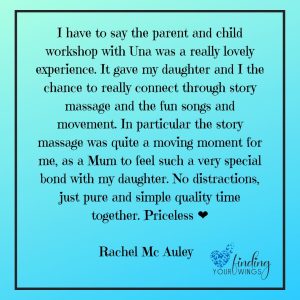 ---
Story Massage Programme for Older Children
Whilst this blog is about Una's work in pre-schools teaching well-being for young children, she also works in schools with younger and older classes, offers 121 sessions for families and runs summer groups for children of all ages.
---
More about the Story Massage Programme
The Story Massage Programme bring the benefits of positive, respectful touch together with the creativity and engagement of storytelling. Ten simple massage strokes form the basis of the programme. These strokes have a name, such as The Circle or The Sprinkle, an action and an easy to recognise symbol. It is a fully inclusive activity, no clothing is removed and no oil is used. The strokes are all explained in our Story Massage book Once upon a touch…story massage for children. 
You can download a free article about benefits of the Story Massage Programme in pre-school settings published in Parenta magazine: Well-Being for Pre-School Children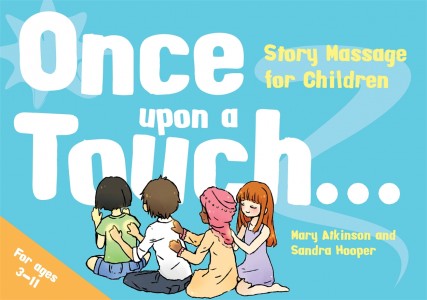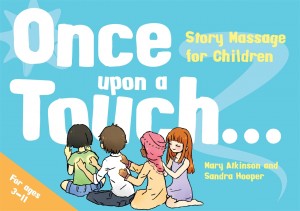 ---
Would you like to train in Story Massage?
Are you inspired by Una's work with well-being for pre-school children?  Would you like to learn more? Sign up for our Story Massage Online Course and help share the benefits with the children or adults in your care – at home or at work.
We teach you how to share the ten Story Massage strokes and work with you to adapt familiar stories and even create some sensory stories of your own. Ideal for all teachers, SEN staff, support staff, therapists, Early Years practitioners,  those working with people with additional needs, Baby Massage Instructors, Relax Kids Coaches… everyone with an interest in sharing positive touch activities with children and adults of all ages and abilities.