The Early Focus Project in Dublin shares the Story Massage Programme as part of the Emotional and Wellbeing Curriculum. We talk to Melissa Hogan, Project Co-ordinator and Una Curran, mindfulness and well-being coach, about their award-winning work in helping children feel safe, secure, comforted and regarded.
---
Wellbeing Curriculum
The Early Focus Project is based within a Southside inner city school. The project aims to provide children with a safe place to be listened to and supported as they explore a range of difficult emotions.
Teachers and Special Needs Assistants (SNA) are trained in the Story Massage Programme so it can be widely used in the emotional and well-being curriculum. "The combination of positive touch and words helps children to explore and discuss their emotions while forgetting their problems and anxieties for a while," explain Melissa and Una. "Our well-being lessons are structured around a theme such as angry feelings, gratitude or making mistakes. The massage story is based on the theme of the lesson." Here is an example for you to download.
---
What are the key benefits of the Story Massage Programme?
1.Positive and Respectful touch
Nurturing touch raises the levels of oxytocin, the feel-good hormone, making us feel happy, relaxed and connected. Not all children enjoy positive touch for a variety of reasons. Story Massage helps children to experience respectful touch in a safe and supportive environment.
Children are asked if they want a massage story as part of being respectful to each other.  Sometimes children refuse and they know this is okay. They are often more willing to join in because they do have a choice.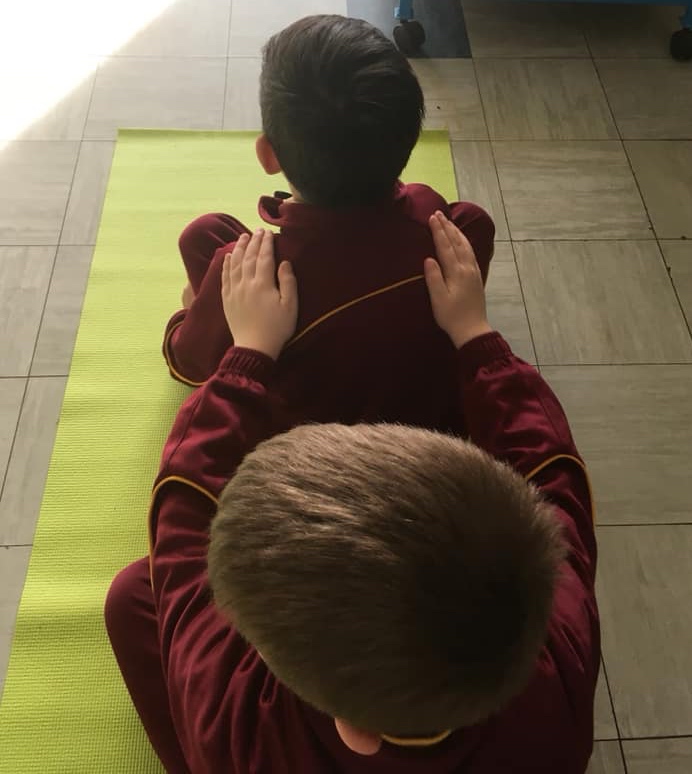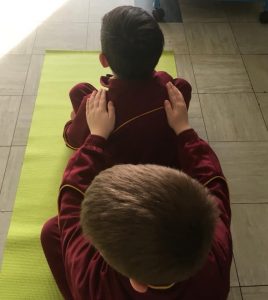 ---
2. Engagement and Focus
Many children, especially those with ADHD and autism, find it hard to sit still and listen in lessons. But they give their full attention when they give and receive a massage story. And there is increased eye contact as they watch for the next stroke. One boy refused to join in most of the activities in the well-being sessions but after a few weeks he began to join in the Story Massage sessions with an SNA or another boy. He gradually started taking part in more activities and now sits calmly for the meditation at the end of the lesson.
---
3.Emotional regulation
"Some emotions and feelings can be hard to express in words, but during a Story Massage session, children melt into the chairs and listen to ways they can deal with their feelings" explain Melissa and Una. "We use different books and adapt them using the Story Massage strokes so the children can actually 'feel' the words. Some of the children may have been sitting under a table or having a meltdown to prior the lesson. But after hearing a story and then 'feeling' the words they become calm and connected within their own body."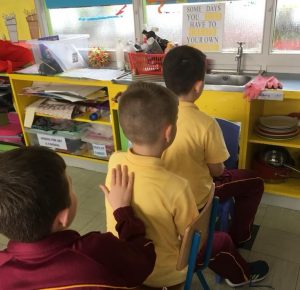 ---
4.Mental Processing
The Story Massage Programme encourages mental processing of visual, auditory and kinaesthetic information in the brain. Children watch, listen and then copy each massage stroke. It can be used as an assessment tool as it clearly shows when children are struggling with using right and left sides of their brain and body together. As it is such a visual activity our EAL (English as an Additional Language) children can take part and begin to learn the language of the strokes – such as The Circle or The Wave.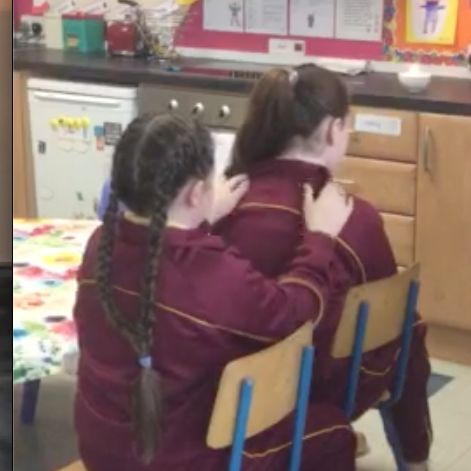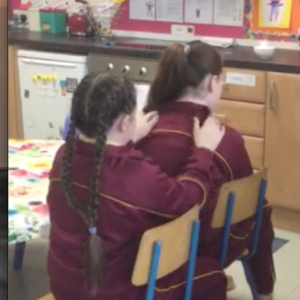 ---
5.Positive Relationships
The shared experience of positive touch through Story Massage helps build trust with adults and develop friendships among peers. One child with ADHD was very argumentative and found it hard to communicate positively. But he has really taken to Story Massage and it has given him a way to calm himself and show 'kind hands' to his friends. He now asks his peers if they would like a massage story outside in the yard. Some children have given a massage story to their parents or guardians – and even their dogs!
---
More about the Story Massage Programme
The Story Massage Programme combines positive touch with the fun and creativity of storytelling. Ten simple massage strokes form the basis of the programme. These strokes have a name, such as The Circle or The Sprinkle, and an easy to recognise symbol making it accessible for all. It is a fully inclusive activity. No clothing is removed and no oil is used.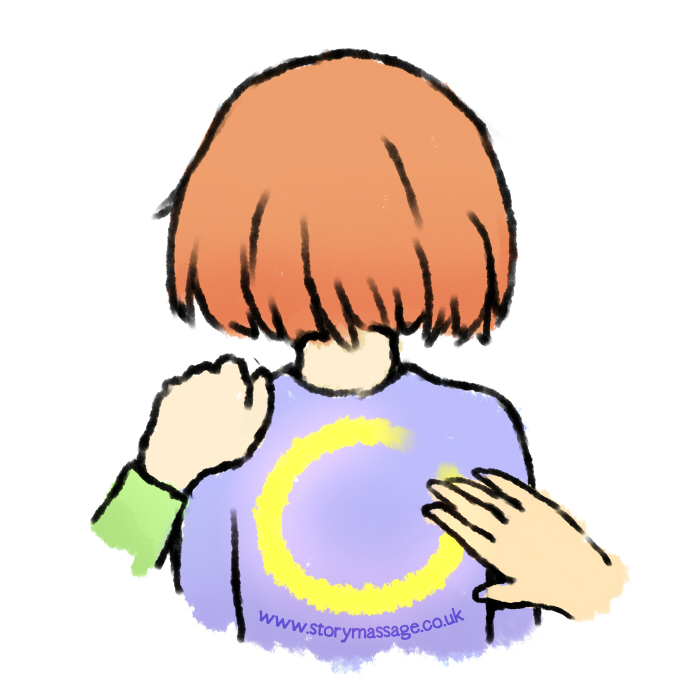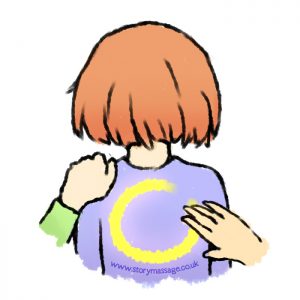 ---
Would you like to train in the Story Massage Programme?
Are you looking for ideas for your emotional and wellbeing curriculum? Then do consider our flexible online course. All the information is here: Online Training Course.
You will learn how to share the ten Story Massage strokes, adapt familiar stories and even create some sensory stories of your own. Ideal for well-being coaches, therapists, teachers, SEN staff, support staff, Early Years practitioners, those working with people with additional needs, everyone with an interest in sharing positive touch activities with adults or children.