We are thrilled to announce our four latest Centre of Excellence Award winners – all Special Schools supporting learners with a range of educational needs. This prestigious award is presented to schools, charities and organisations where at least four members of staff are trained in the Story Massage Programme, and they have been using it for over a year. Our four new Centres of Excellence have embraced the challenges of the pandemic and shown continued enthusiasm for sharing the benefits of the programme.
---
Our Centre of Excellence Award Winners June 2021
Cherry Garden School
Tor Bank School
Two Rivers Primary School
Springside Primary School
Cherry Garden School
The Story Massage Programme is now fully embedded in classes across this London-based Special School for children aged 2 to 11. During lockdown, Story Massage resources became part of home-learning activities, and this introduced many families to the benefits especially at quiet times and as part of bedtime routines. Indeed, one of the Story Massage Programme trained class teachers, Jack Leonard, has written a blog for the school website to encourage parents to find out more – Cherry Garden School. 
"The accessibility of the Story Massage Programme for all children means that it is a session that can be enjoyed by the whole class. It is a rare opportunity to have all of our children learning and working alongside each other." Stephanie Luck, Class Teacher, Cherry Garden School.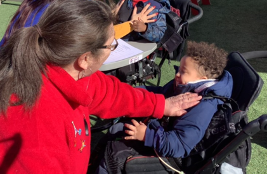 There has been a noticeable improvement in communication skills since the introduction of the programme especially for children working on the lower levels of the school's assessment system. It has also become a valuable part of a 'sensory diet' to help children regulate their behaviours. Some children have really benefitted from 1-1 massage stories and are now much calmer and more focused on their learning.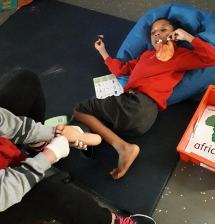 Massage stories are also used regularly to support transitions. The children in Starfish Class, for example, use a massage story before lunch. The class teacher has written a story which is personalised for the school, referencing the school cook and menu options. The children have a 5-minute Story Massage session after a busy morning, reflecting and refocusing their attention towards lunch. As a result, they enter the hall in a calmer state which leads to improved progress in eating and drinking skills.
"We use the Story Massage Programme in school usually after periods of heightened activity to establish a calm atmosphere, and also with individual children who may be having a tricky time and need an activity that both comforts and reassures them." Jack Leonard, Class Teacher, Cherry Garden School.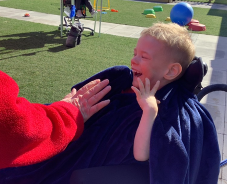 ---
Tor Bank School
The Story Massage Programme formed an important part of the 'Recovery Curriculum' for pupils aged 3-19 at this Special School in Northern Ireland. The programme, which has been widely used across all ages in the school since 2019, proved especially beneficial in exploring changing emotions during such a challenging time.
"Using pro-active tools such as the Story Massage Programme has had a big impact on our pupils as it helps them progress through crisis periods and successfully come out the other side. Helping pupils to self-regulate and remain calm and relaxed throughout the day increases a child's ability to focus, attend and learn in school." Rachael Donald, Class Teacher and Co-ordinator of the Multi-Sensory Department, Tor Bank School.
During lockdown, the school shared massage stories as part of their home-learning programme. Trained Story Massage Programme teachers worked together to adapt stories such as Why We Can't Hug by Eoin McLaughlin with Story Massage strokes to help pupils understand why life had changed so much for them.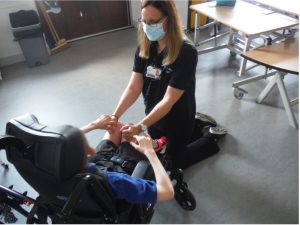 Then when the school returned in September 2020, massage stories around emotions were used in the multi-sensory department as part of the topic of Myself. They continue to play an important role in identifying and talking about feelings. Stories based on emotions, feelings and mindfulness help pupils to understand that it is okay to feel sad, worried or anxious. The variety of speed and pressure of the different Story Massage strokes also supports pupils in experiencing what these changing emotions may feel like on their skin, so they have some understanding.
The Story Massage Programme offers the staff and pupils the opportunity to build, extend and develop relationships. After being apart for so long during lockdown, the pupils benefitted from 1 to 1 time with an adult to interact, communicate, respond and develop good working relationships. 
"Massage stories are an excellent teaching tool to help pupils relate to the language they hear in stories, poems and rhymes and try to develop a concept of what it actually means." Rachael Donald, Class Teacher and Co-ordinator of the Multi-Sensory Department, Tor Bank School.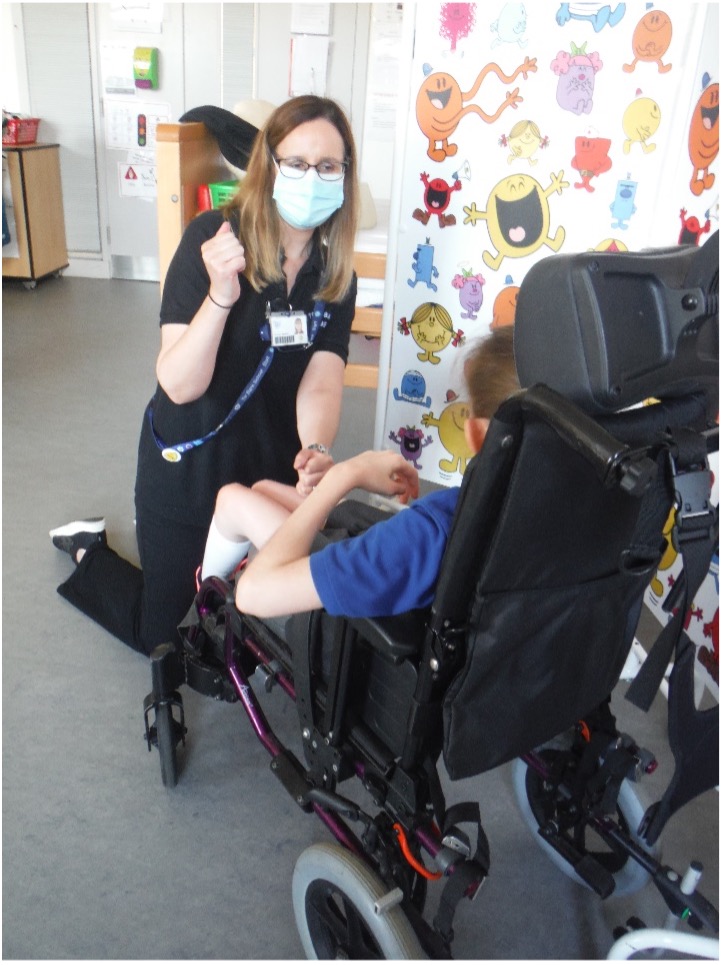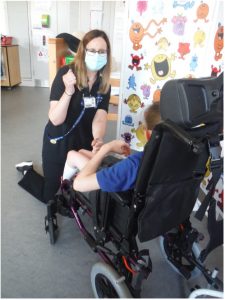 ---
Two Rivers Primary School
Parental involvement with the Story Massage Programme has been a great success at this Special School in Tamworth for children aged 4 – 11 years.  Following a school INSET training in January 2018, Special Needs Teacher, Claire Cope-Collins immediately set up a workshop for parents to learn the Story Massage strokes and try it on their child. She provided topical stories and rhymes to enjoy at home.
"We have shared massage stories in the dark room, outside on the playground and in the classroom. We have sat on chairs, on the floor, on beanbags … anywhere that is comfortable and quiet. The flexibility of the Story Massage Programme means that it can be easily adapted to individual needs and situations." Claire Cope-Collins, Special Needs Teacher, Two Rivers Primary School.
Claire also organised an afternoon tea to celebrate Mother's Day. They all enjoyed a massage story written about mothers and why they are so special. It was a new intervention in the school at the time and a welcome surprise for parents who could experience the calming benefits of the programme first-hand. Parents said that it helped to build relationships and it became a fun part of the bedtime routine or calming time in many homes.
As most of the parents and children were already familiar with the Story Massage strokes, the school was able to support parents over lockdown with massage stories linked to topics and recorded videos. They also shared stories to help the children understand what was happening in the world around them.
Within the school, a key benefit has been helping children, including Looked After Children and Previously Looked After Children, to accept positive touch. Staff always ask permission to touch and allow time to watch for gestures and reactions, always taking the lead from the child.
"Story Massage sessions are a favourite time in our time-table. We have used the book Once Upon a Touch… Story Massage for Children many times and have now built up a bank of massage stories that relate to our themes and different situations. Sharing massage stories have helped develop eye contact and increased concentration spans." Claire Cope-Collins, Special Needs Teacher, Two Rivers Primary School.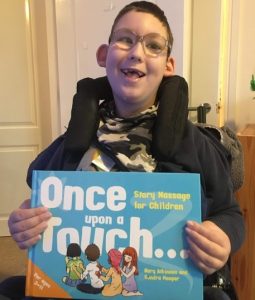 ---
Springside Primary School
Since the Story Massage Programme was introduced in this Rochdale-based Special School in 2018, pupils, staff and families have noticed many benefits including increased communication and engagement. These are described in an informative blog written by a teaching assistant at the school and published on the Story Massage website: Story Massage Programme for PMLD Learners
As the blog describes, listening to feedback – both verbal and non-verbal – during a Story Massage session is integral to sharing the programme within the school. Becky Drury, Class Teacher, has devised an Aided Learning Display to give our pupils the opportunity to tailor the massage to their individual needs on the day. You can find out more about Becky's Aided Learning Display here:

As part of the planned return in September 2020, the school were supported by a local psychology service to devise a 'recovery pathway' for the whole school community that included the Story Massage Programme. The team recognised the therapeutic benefits of the programme, especially for emotional regulation, but the climate of social distancing at the time meant that peer massage could not continue. So, Becky Drury, Class Teacher, found the answer – Self-Story Massage – which provides a self-soothing and enjoyable group activity.
Becky adapted the ten Story Massage strokes to be used by children on the hands and arms and demonstrated her ideas to the Story Massage Community of trained practitioners. It proved so popular and beneficial that many pupils in both mainstream and special schools all over the world are continuing to enjoy Self-Story Massage.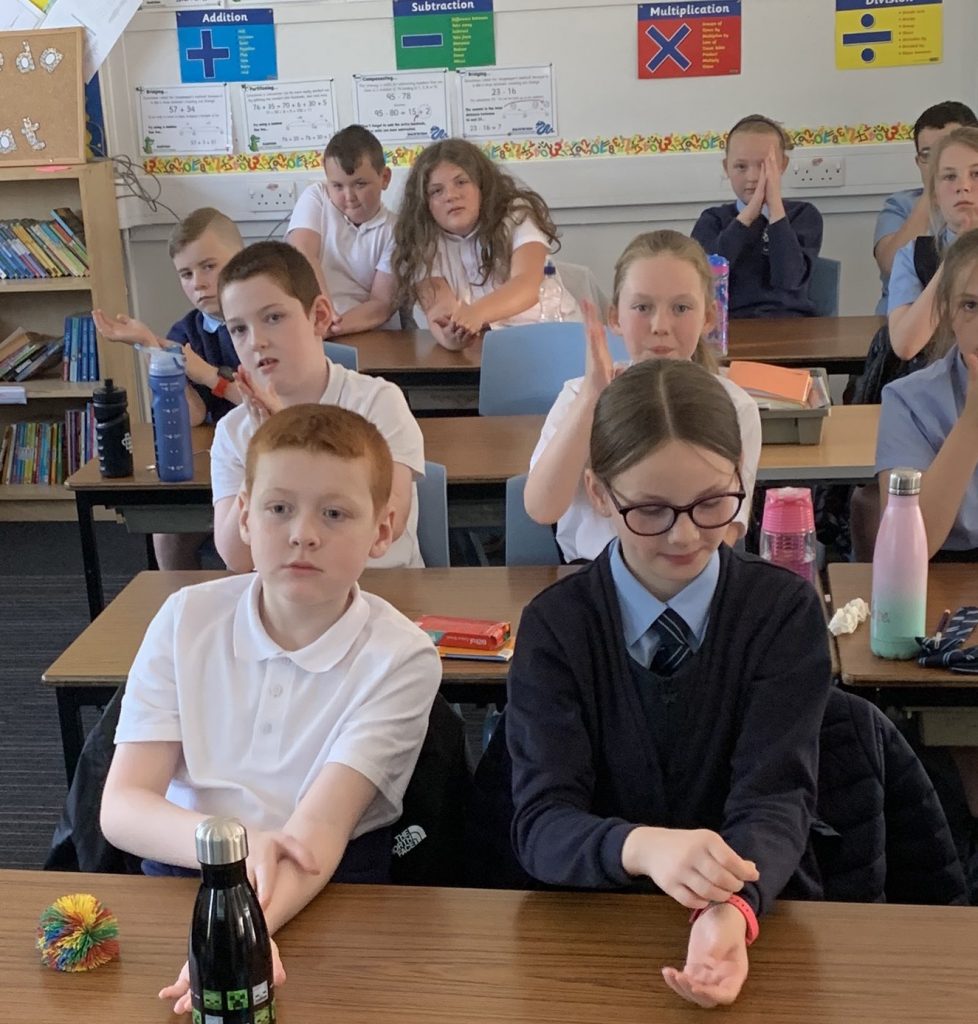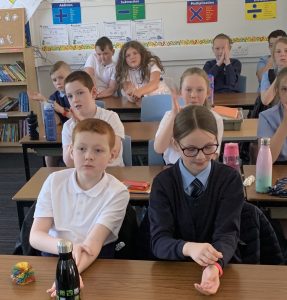 "The Story Massage Programme provides an opening for important conversations on consent and appropriate touch. Learners understand the need to ask permission to touch and say 'thank you' afterwards. We include this respectful approach as part of Self-Story Massage group sessions too." Becky Drury, Class Teacher, Springside Primary School.
---
Would you like to train in the Story Massage Programme?
Are you inspired by the work of our amazing Centre of Excellence Award Winners who shared nurturing touch during and after the pandemic? Find out all about the Story Massage Programme online course here: Story Massage Training.